Sweet baked Lemon Pudding Recipe (UK)
Lemon Pudding is a delicious and refreshing dessert that can be enjoyed any time of year. This recipe is quick and easy to make, and can be tailored to your own taste preferences. Whether you like your pudding tart or sweet, this recipe will leave you satisfied. The recipe comes in UK and US measurements.
Lemon pudding is a traditional British dessert that is both tart and sweet. Serve this quick lemon pudding with fresh fruit, whipped cream, or simply on its own.
Homemade lemon pudding dessert
This recipe for lemon pudding is simple to make and can be enjoyed by people of all ages. The tartness of the lemon is offset by the sweetness of the sugar, making it a perfect balance of flavours. The pudding can be served plain or with a dollop of whipped cream or ice cream. It is best served warm, but can also be enjoyed cold.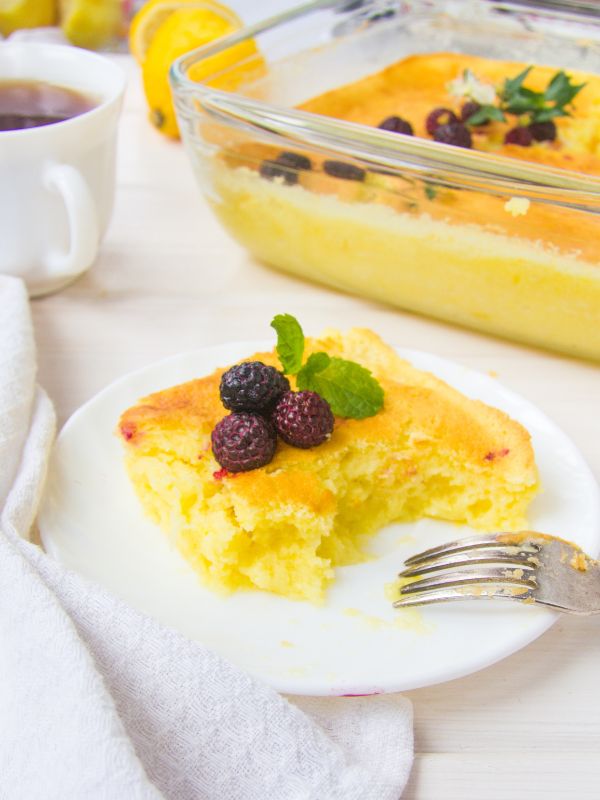 Tips for a perfect result
Preheat your oven to the correct temperature – not too hot, or your pudding will be overcooked on the outside and raw in the middle.
Use a good quality lemon – fresh if possible. The zest and juice will flavour your pudding perfectly.
Be precise with your measuring – too much or too little of an ingredient can ruin the pudding.
Cook the pudding until it is just set – don't overcook it or it will be dry.
Allow the pudding to cool slightly before serving – this will help it to retain its shape. Serve with a dollop of fresh cream or lemon curd for extra deliciousness!
How long does lemon pudding last?
Lemon pudding will last for 3-4 days in the fridge. If you want it to last longer, you can freeze it for up to 2 months.
What can I do with leftover lemon pudding?
There are many ways to use up leftover lemon pudding! You could turn it into a trifle by layering it with cake and fruit, or use it as a filling for tartlets or cupcakes. You could also simply enjoy it on its own as a delicious and tangy treat!
Also try our Fresh Lemon fridge Cake or Lemon Drizzle Cake Recipe.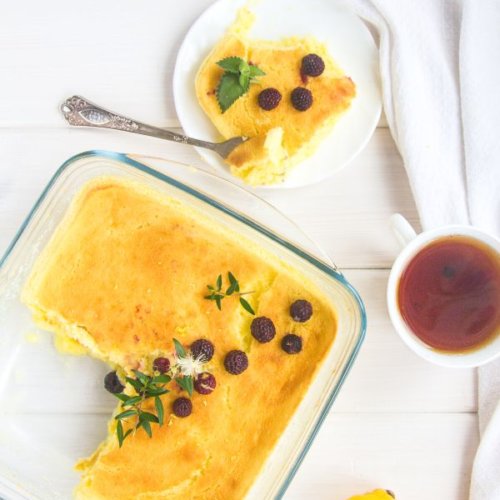 Oven Baked Lemon Pudding (UK)
This traditional dessert recipe for lemon pudding is sure to please. It is both sweet and tart. Give it a try today!
Ingredients
90

g

butter

115

g

caster sugar

2

lemons

Zest and juice

60

g

self raising flour

2

large eggs

separated

140

ml

milk
Instructions
Preheat oven to 180° C (350° F). Lightly grease an 18 cm ovenproof dish .

Cream the butter, sugar and lemon zest until light and fluffy. Add the flour and beat until just incorporated. Then add egg yolks, milk and lemon juice and mix thoroughly.

In a fat free bowl, beat egg whites until stiff peaks and fold into the creamed mixture.

Pour the mixture into the ovenproof dish and place this dish into a roasting tin.

Pour enough water into the roasting tin at the base until the base is covered by approx. 2cm of water.

Bake in the oven until top is golden and springy to the touch.
Share on Facebook
Share on Twitter
Share by Email