Amazing homemade Carrot and Parsnip Soup
There's a reason why carrot and parsnip soup is a classic winter dish, not only around christmas time. It is hearty and warming, but it's also incredibly delicious. This recipe is easy to follow, and the end result is sure to impress your guests. Give it a try!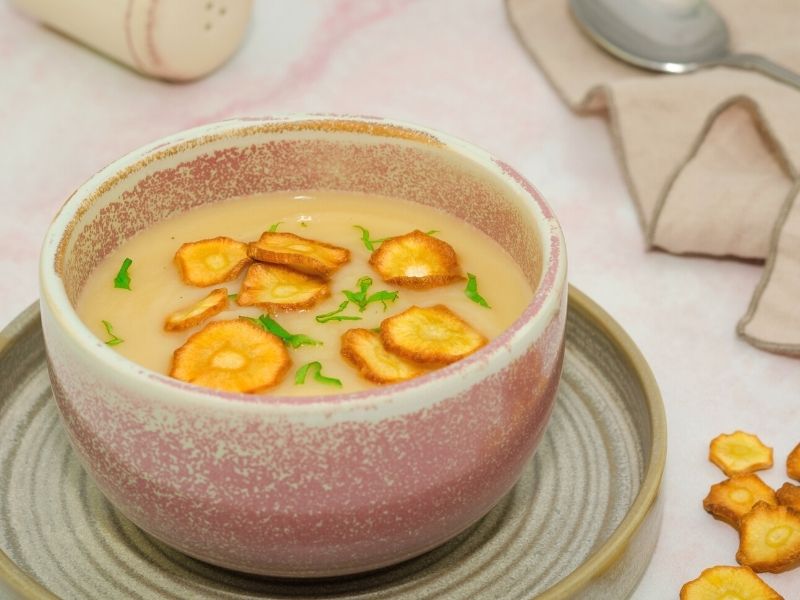 Variety is king and queen!
One of the best things about this carrot and parsnip soup recipe is that there are so many variations you can make. For example, you can add different herbs like thyme or rosemary for a different flavor profile. Or if you're looking for something a little bit more substantial, you can add in some diced bacon or croutons. No matter how you make it, this carrot and parsnip soup is sure to be a hit!
Cream of parsnip soup
If you add a dash of double cream, you easily turn your parsnip soup into a creamy parsnip carrot soup. Make sure to blend the soup properly.
Do I need to peel parsnips and carrots for soup?
No, there is no need to peel neither parsnips nor carrots for soup. Given that they are fresh and not dehydratet, simply give them a good scrub with a vegetable brush and you're good to go.
Do you have to core parsnips for soup?
While the core of a parsnip is edible, it can be tough and fibrous, so you may want to remove it for a smoother soup. On the other hand, if you're using a food processor or blender to puree your soup, the core will likely get pulverized anyway.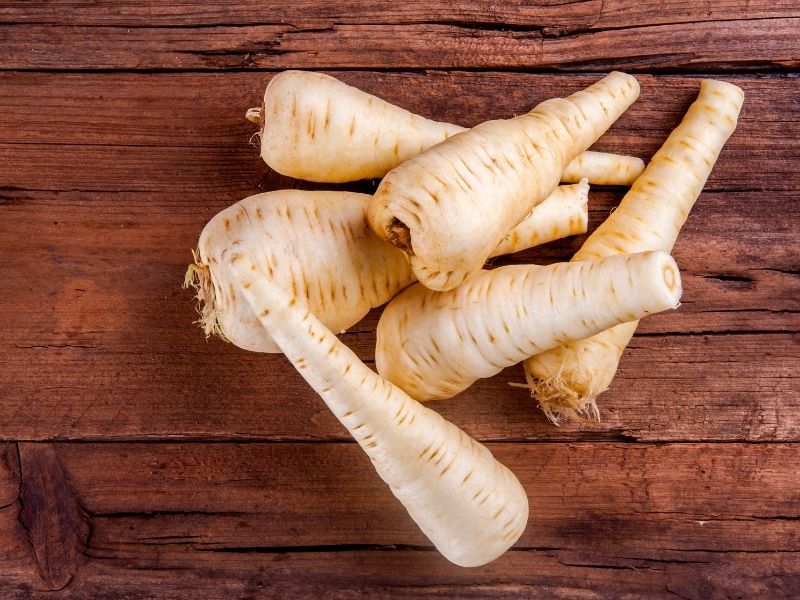 What goes with carrot and parsnip soup?
If you want something simple, a few slices of crusty bread would be perfect. Or if you're looking for something a bit more decadent, why not try some grilled cheese sandwiches?
Serving your homemade soup
Serve your soup in individual servings in a pretty bowl or cup. If you're serving a larger group, ladle it into a communal bowl. If you're feeling fancy, you can also add some croutons or diced bacon to the soup before serving.
Storing leftovers
If you have any leftovers, store them in an airtight container in the fridge. They should last for 3-4 days. You can also freeze the soup for up to 2 months. When you're ready to eat it, thaw it in the fridge overnight and reheat it on the stove or in the microwave.
Also try our Hearty Pea and Ham Soup, German lentil and bacon soup or Traditional Hungarian fish soup "Halászlé".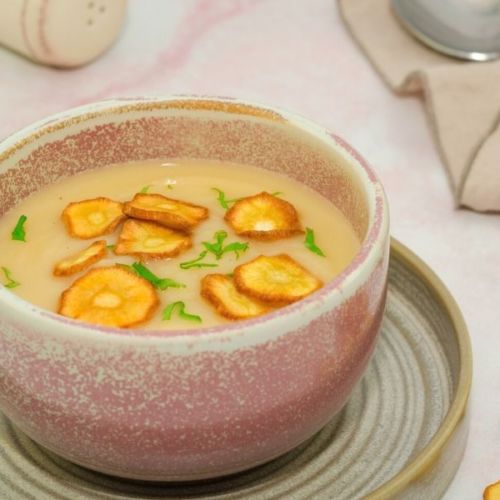 Tasty carrot and parsnip soup
This easy carrot and parsnip soup recipe is perfect for a chilly winter day. Follow this easy step by step recipe for this tasty dish.
Ingredients
1

tablespoon

olive oil

1

large onion

chopped

3

cloves

garlic

minced

2

carrots

peeled and diced

2

parsnips

peeled and diced

1000

ml

chicken or vegetable stock

Salt and pepper to taste
Instructions
Heat the oil in a large pot over medium heat.

Add parsnip and carrots first and let roast on high heat for about 10 minutes. Now add onion and garlic, lower the heat and let cook for 10 minutes more.

Add the stock and bring to a boil. Reduce heat to low and simmer for 20 minutes.

Puree the soup with a blender and add cream, if desired. Season with salt and pepper to taste. Serve hot.
Share on Facebook
Share on Twitter
Share by Email