I love desserts! Do I have a favourite? Without a doubt it would have to be Creme Brulee or the Spanish equivalent – Crema Catalana. Once you have tapped into the thin crispy caramel topping you have the silky smooth custard underneath. Absolute perfection. This Crema Catalan recipe is a really easy recipe that has never failed me.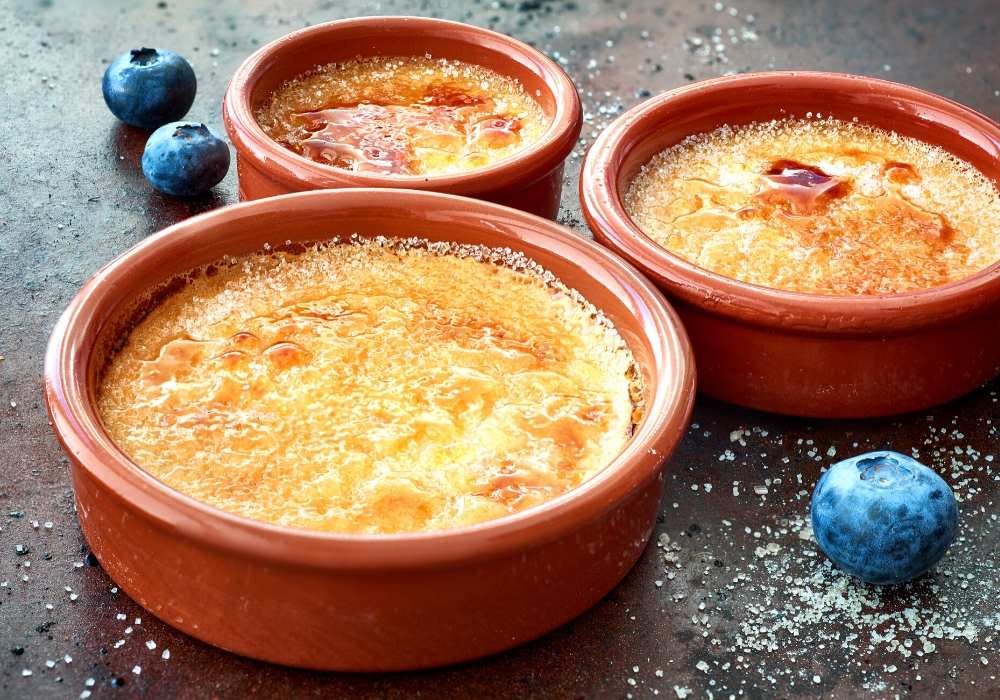 The lighter sister of the French Cremé Brulee ist the perfect dessert after a dinner with friends or family. The Spanish Crema Catalan is slightly easier to make because they add cornflour which helps to set the custard.
How to get the perfect crust
The caramelization process has to be really quick so that you don't heat up the custard underneath (this would make it too runny) and I have never found a household grill hot enough to do this. Both my Mum and I are dedicated to our Brulees and have stepped up a notch and use plumbing torches – perfect brulee in seconds.
To get a real crusty topping, you need to use either a branding iron, which is typically used in Spain or a cook's blowtorch*.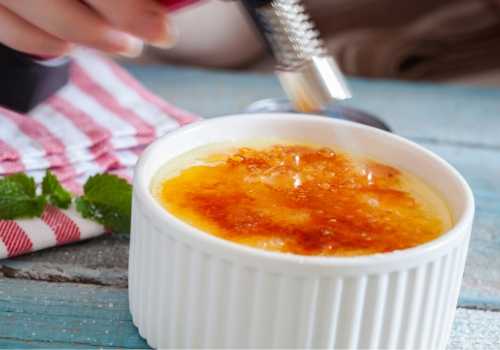 Can Can I keep leftovers?
The custard base can be made 1 to 2 days in advance but once you caramelize the topping it cannot go back in the refrigerator and needs to be eaten within half an hour or so.
The last thing I need to say is: Please don't miss out on the step of straining the custard. Even if you have made a perfect, lump free custard you still need to strain out the lemon zest to get that silky smooth result.
Try these desserts also: White Meringue Dessert with Strawberries and Cream, Juicy Plum Crumble with red wine or Classic homemade Vanilla Ice Cream.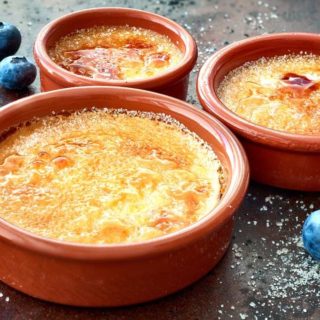 The most delicious Crema Catalan
This recipe for Crema Catalan, the famous spanish dessert, is easy to follow and guarantees a mind-blowing result. Try our recipe!
Ingredients
150

g

caster sugar



4

tsp

cornflour

6

large

egg yolks

750

ml

full fat milk

1

lemon

Grated zest

1

cinnamon stick

caster sugar

r for the topping
Instructions
Put the milk, zest, and cinnamon in a pan and heat gently until it reaches boiling point. Remove from the heat.

Mix the caster sugar and the cornflour in a bowl. Stir in the egg yolks until smooth – do not whisk or the mixture will form a froth.

Pour the cream mixture onto the egg mixture, stirring to combine well.

Rinse out the pan and return the mixture to it.

Stir over low heat for 5 minutes until thickened. It must not cook! Set aside for 30 minutes to infuse and thicken further.

Strain into a large jug and pour it into your serving dishes. Cover with cling wrap and chill overnight or longer to set

Just before serving – sprinkle some caster sugar evenly over the top of the custards and caramelize quickly with a cooks blowtorch. As the caramel cools, it will harden.

Eat within half an hour but do not chill in the refrigerator as this will cause the caramel crust to soften
Nutrition
Serving:
1
serving
Calories:
363
kcal
Carbohydrates:
52
g
Protein:
11
g
Fat:
13
g
Saturated Fat:
6
g
Polyunsaturated Fat:
1
g
Monounsaturated Fat:
4
g
Cholesterol:
314
mg
Sodium:
86
mg
Potassium:
353
mg
Fiber:
1
g
Sugar:
47
g
Vitamin A:
702
IU
Vitamin C:
14
mg
Calcium:
282
mg
Iron:
1
mg
Share on Facebook
Share on Twitter
Share by Email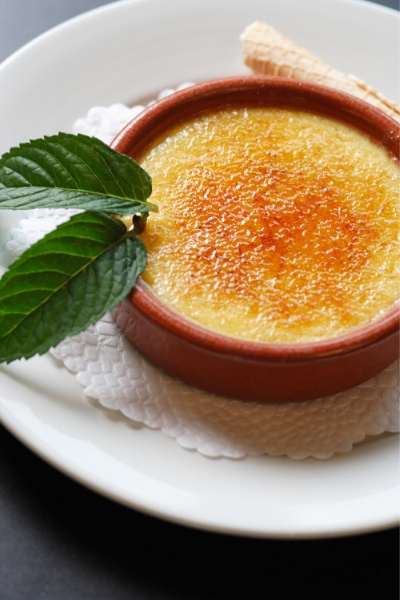 Image credits: Unless otherwise stated: ©Angela Darroch, ©Pro Stock Media via Canva.com or ©Unsplash.com. As an Amazon affiliate, I earn from qualifying purchases. The links marked with an asterisk (*) are so-called commission links. If you click on one of these links and make a purchase, I receive a commission from your purchase. This income helps us to run this website and to provide our recipes free of charge. The price does not change for you.