Easy and quick Lemon Tart
This recipe for an easy and quick lemon tart with condensed milk is perfect for those who want to enjoy a delicious dessert without spending hours in the kitchen. This tart features a creamy crust and a tangy lemon filling that will leave you wanting more. Best of all, it can be made in just a few simple steps.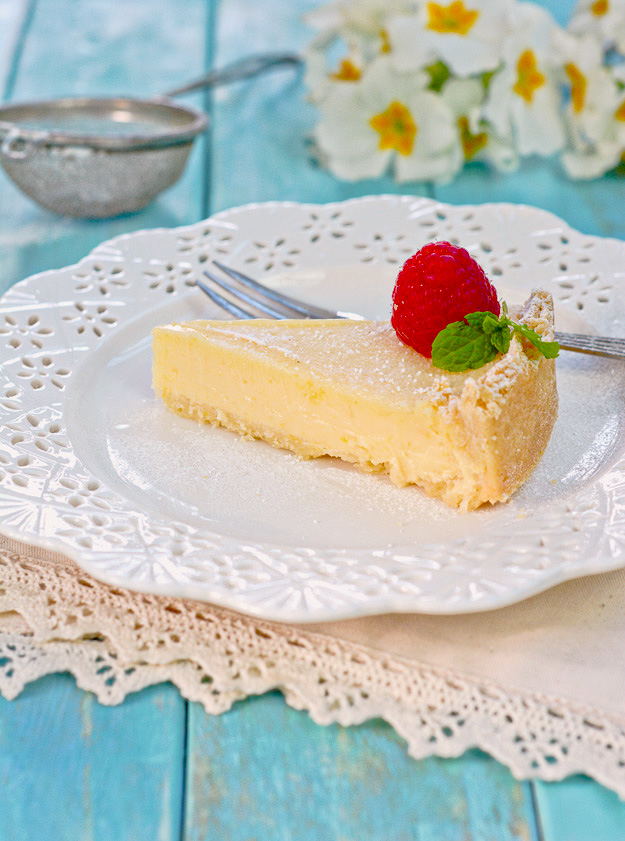 This is not a traditional lemon tart, but a lighter one and easy peasy, also for busy ladies or gentlemen. 🙂
You can find the classic French recipe for a baked lemon tart here.
Lemon tart with condensed milk
The creamy filling for our lemon tart is sweetened with condensed milk, which adds a great creaminess to the filling. Our recipe is for a simple dessert if you don't want to spend a lot of time baking. It is cold and fresh. Lemon tart with condensed milk is a simple yet elegant dessert that is sure to please any crowd.
Tips for a perfect result
High quality lemons:
The key to making this lemon tart perfect is to start with good quality lemons. Look for lemons that are bright orange-yellow and have a smooth skin. Avoid lemons that are still green or too old, as we need the lemon zest. Starting with fresh, ripe lemons will help to ensure that your tart has a strong lemon flavor.
Full-fat condensed milk:
Be sure to use full-fat condensed milk. This will give the tart a creamy texture and rich flavor.
Fresh eggs:
It should go without saying, but here's another reminder: only use really fresh eggs.
Don't be afraid to experiment with the toppings. You can use anything from fresh berries to shredded coconut. Whatever you choose, make sure it compliments the lemon flavor of the tart.
You like cakes? then also try our Fresh Lemon Biscuit Cake, no-bake or No bake Peanut Butter Chocolate Bars.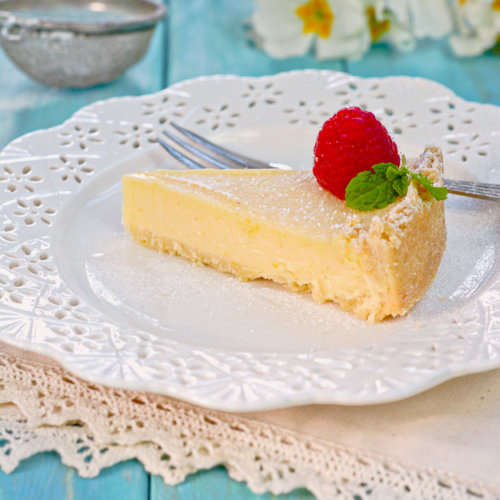 Quick and Easy Lemon Tart
This amazing and quick lemon tart with condensed milk is one of the best desserts for summer. But it is a real treat all year round. Try it out at home.
Ingredients
1

shallow

baked sweet shortcrust pastry case, 20 cm

To the Recipe

3

egg yolks

397

g

condensed milk

1 tin

4

lemons

1

pinch

of salt
Instructions
For the lemon tart filling
Into a large bowl pour the condensed milk, the zest from 3 of the lemons, a pinch of salt and the juice from all 4 lemons onto the egg yolks.

Bring to the boil on low heat and simmer until thickens.

Take it off the heat, filter everything through a strainer and let cool. Put in the fridge for 1 hour.

Heat the oven after 30 minutes to 180 °C (350 °F).

After cooling, mix lemon filling well with a balloon whisk and pour into the prepared pastry case.

Bake for 30 minutes.

Let cool and serve dusted with icing sugar or caramelise the top with brown sugar.
Share on Facebook
Share on Twitter
Share by Email