Calling all fans of fruit-flavoured sweets and almond lovers! Our cherry bakewell recipe (for the UK) is just amazingly juicy. For this fresh cherry bakewell tart recipe uses fresh cherries instead of cherry jam and less icing, allowing the taste of the fresh berries to really pop on the taste buds! It's exactly why I always sprinkle the cherries inside the dough instead of using them as a whole layer.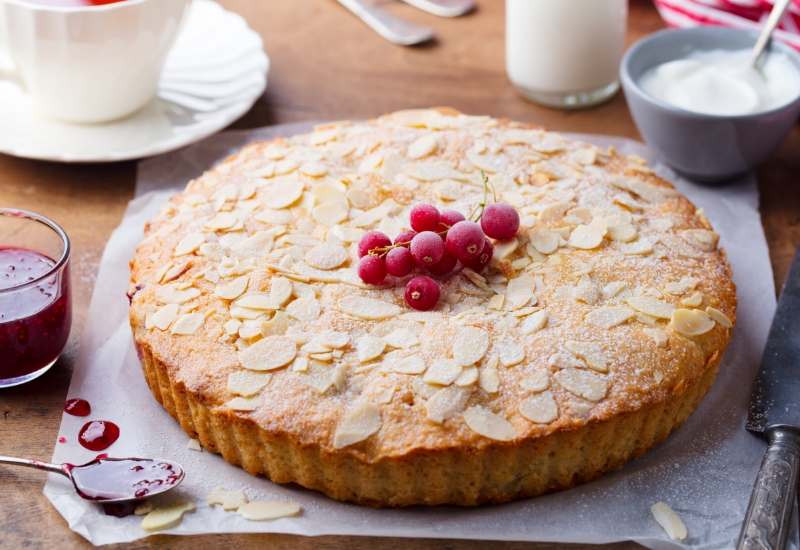 What Is A traditional Bakewell Tart?
For those who are unfamiliar with the Bakewell tart cake, allow me to briefly explain. This not -so-overly-sweet dessert consists of a shortbread crust, fruity jam (or in my case, fresh cherries), spongy frangipane, and flaked almonds.  It's not challenging to make, although fair warning is given that it can be a little time consuming when it comes to chilling the dough….but so worth it!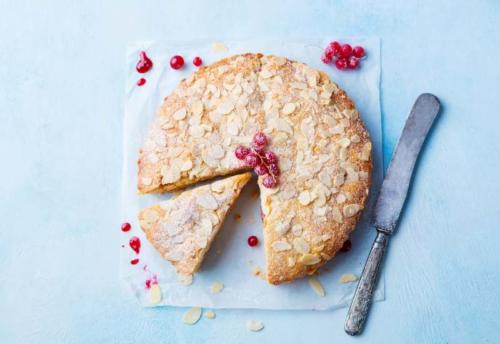 The History of the Bakewell Tart
Those who love the cherry Bakewell recipe are familiar with the story of its origin. The story goes that the landlady of the White Horse Inn in Bakewell (a small English town) instructed her cook to make a jam tart. But instead of stirring the almond paste and eggs into the pastry, her cook spread the mixture on top of the tart, resulting in today's delicious variation of the original Bakewell Tart. It proved to be a favourite amongst the visitors of the Inn during the early 1800's and continues in its popularity today!
How To Make Cherry Bakewell Cake
There are a few layers at play in this fresh bakewell tart of mine:
Shortcrust pastry as the base
The cherry and almond mixture
Almonds
Lemon icing sugar
With these four layers, you will get a variety of delicious textures including the crispy crust, the spongy squishy cherry and almond cake, and the slightly crunchy almonds. All of these layers pair deliciously together.
What's great about making this bakewell tart is that most of the ingredients are pantry staples yet you are left with a treat that will be hard not to demolish in ocherryne sitting! Give it a try as a dessert or breakfast….no one will judge! 
Also try our French sponge cake, our traditional German apple pie or the juicy raspberry cupcakes.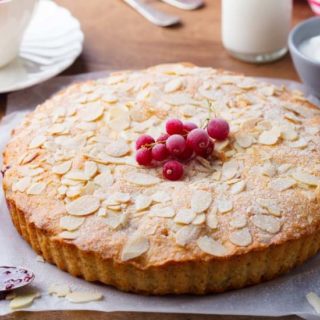 Cherry Bakewell Cake with fresh cherries
Our cherry bakewell tart recipe (UK) is perfect for all cherry lovers and irresistable. Try this easy recipe and give yourself and your loved ones a little treat.
Ingredients
Sweet Shortcrust Pastry

home made, check our recipe

250

g

cherries

fresh, stones removed

125

g

butter

softened

125

g

caster sugar (powdered sugar)

2

eggs

large

150

g

ground almonds

25

g

flaked almonds

2

tblsp

icing sugar

Juice from ½ lemon


Instructions
Preheat oven to 200°C (400°F).



Prepare a batch of sweet shortcrust pastry by following the link above or use ready made pastry. Roll out the pastry and line a 20cm round flan case. Bake blind for 10 – 15 minutes.

Remove baking parchment and baking beans and return the pastry case to the oven for a further 10 minutes. Then reduce the oven temperature to 180°C (350°F).

Beat the butter and sugar together until light and fluffy. Add the eggs one at a time beating until well incorporated. Fold in the ground almonds.

Place the cherries in the pastry case and then spoon the almond mixture over the top, spreading out evenly. Sprinkle the flaked almonds over the top.

Bake for 35 – 40 minutes or until the filling is firm and golden brown.



Mix the icing sugar and lemon juice together and drizzle over the top of the tart. Serve hot or cold.
Nutrition
Serving:
1
piece
Calories:
444
kcal
Carbohydrates:
39
g
Protein:
8
g
Fat:
30
g
Saturated Fat:
11
g
Polyunsaturated Fat:
2
g
Monounsaturated Fat:
7
g
Trans Fat:
1
g
Cholesterol:
75
mg
Sodium:
215
mg
Potassium:
131
mg
Fiber:
4
g
Sugar:
24
g
Vitamin A:
470
IU
Vitamin C:
2
mg
Calcium:
66
mg
Iron:
2
mg
Share on Facebook
Share on Twitter
Share by Email
Image credits: Unless otherwise stated: ©Angela Darroch, ©Pro Stock Media via Canva.com or ©Unsplash.com. As an Amazon affiliate, I earn from qualifying purchases. The links marked with an asterisk (*) are so-called commission links. If you click on one of these links and make a purchase, I receive a commission from your purchase. This income helps us to run this website and to provide our recipes free of charge. The price does not change for you.