No bake Peanut Butter Chocolate Bars
What could be better than a delicious, chocolatey treat that requires no baking? These no bake peanut chocolate bars are the perfect sweet snack for any occasion! Made with just a few simple ingredients, they come together quickly and easily, and will satisfy your sweet tooth every time.
Can you make peanut butter chocolate squares without chocolate?
Yes, you can make peanut butter squares without chocolate. Simply omit the chocolate and continue with the recipe as directed. The peanut butter squares will still be delicious!
How to make peanut chocolate squares with Reese's Pieces?
To make peanut butter chocolate squares with Reese's Pieces, simply add the desired amount of Reese's Pieces to the recipe along with the chocolate chips. Proceed with the recipe as directed.
The best way to melt chocolate
The best way to melt chocolate for peanut butter chocolate squares is to use a double boiler. Place a heat-safe bowl over a pot of simmering water. Add the chopped chocolate to the bowl and stir until it is melted and smooth. Remove from the heat and proceed with the recipe as directed.
Make it vegan
Replace butter with vegan butter and use vegan chocolate, then you get amazing vegan peanut butter bars.
Storing your peanut butter bars
Peanut butter chocolate squares can be stored in an airtight container at room temperature for up to 2 weeks. They can also be frozen. Place them in a container or bag and store them in the freezer for up to 3 months. Let them thaw at room temperature before serving or bake them in a preheated oven to warm them up.
Also try White Chocolate and Cranberry Cookies or Fresh Lemon Biscuit Cake, no-bake.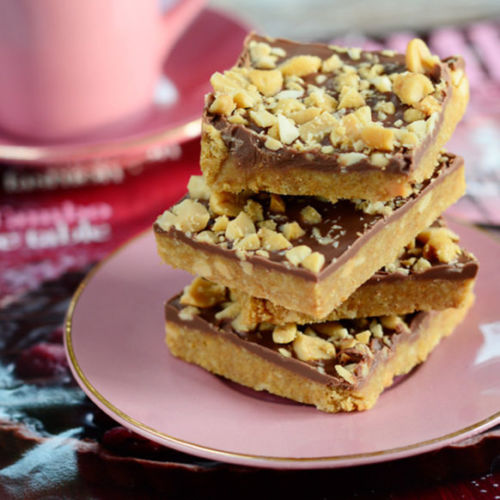 Crunchy Peanut Butter and Chocolate Bars
These amazing peanut chocolate bars are a quick treat and can be stored easily. Treat yourself and your loved ones with this sweet.
Ingredients
60

g

butter

30

g

caster sugar

2

tblsp

golden syrup

4

tblsp

crunchy peanut butter

175

g

digestive biscuits

100

g

milk chocolate

45

g

salted peanuts
Instructions
Lightly grease a 22cm square tin.

Place butter, sugar, syrup and peanut butter into a saucepan and heat until the butter has melted, stirring well to combine.

Crush the biscuits until you have fine crumbs and then add to your melted butter mixture. Using the back of a spoon, press your biscuit mixture firmly down into your tin.

Gently melt your chocolate and pour over the biscuit mixture, spreading out evenly. Roughly chop your salted peanuts and sprinkle over the chocolate. Refrigerate until set.

Cut into 16 squares.
Share on Facebook
Share on Twitter
Share by Email