Homemade Mascarpone Cheese
Mascarpone is a classic dessert originating from Italy and is widely used there. Due to its creamy texture, this fresh cheese has made its way around the world and is also commonly used in our cuisine.
Short history of Mascarpone
Originally, the perishable fresh cheese originates from the cream around the areas of Abbiategrasso and Lodi in Lombardy, Northern Italy. It was primarily produced there, especially during winter, due to limited refrigeration facilities.
In the local dialect, cream is referred to as "Mascarpia" or "Mascherpa," hence the name. However, nowadays, Mascarpone is also produced throughout the year in many other countries.
The longer the whey drains, the firmer the consistency of Mascarpone becomes. To soften it, simply mix in a little of the collected whey.
What can you use Mascarpone for?
This creamy fresh cheese is particularly worth indulging in as a base or ingredient for desserts such as Tiramisu, parfaits, ice cream, cakes, pies, or our Poached Pears with White Chocolate Cream.
You can also enjoy it on its own and enhance it with cocoa, cinnamon, vanilla, or fresh fruits.
For a savoury twist, Mascarpone can be seasoned with herbs and spices of your choice. It finds its place in savoury dishes as a filling in pastries or as an ingredient in casseroles, dips, sauces, or soups.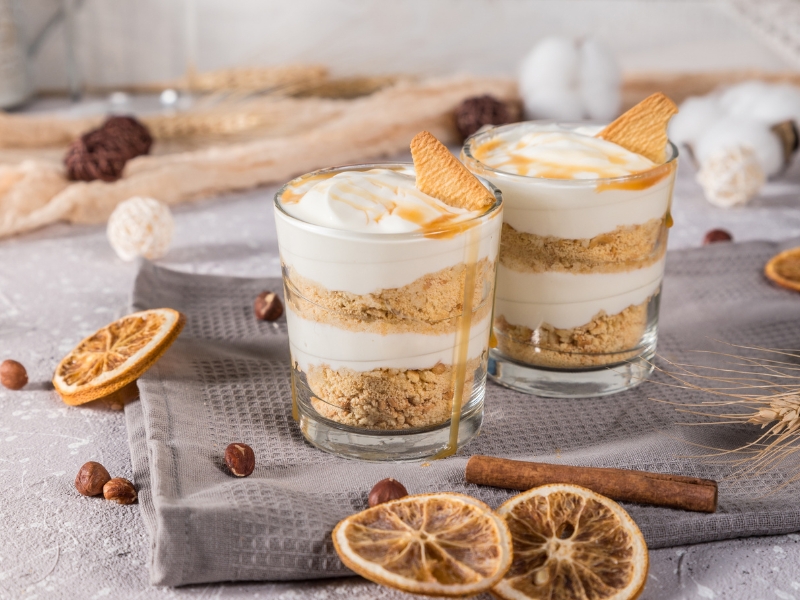 Further processing of the whey
The resulting whey can be consumed as is, transformed into fruit whey drinks by adding fruits, or used to make homemade ricotta.
Storage
When stored in the refrigerator, Mascarpone can last for approximately 8 days.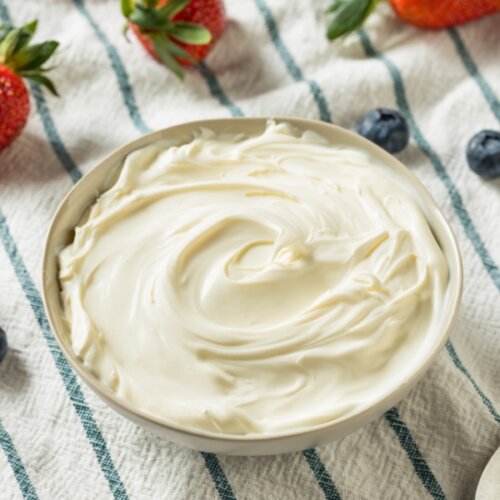 Creamy Mascarpone cheese, homemade
Make your own Mascarpone from scratch! The creamy fresh cheese is easily made by yourself. You will only need a few ingredients. Give it a try!.
Ingredients
500

ml

pasteurized cream

1

Organic Lemon Juice
Instructions
Squeeze half a lemon and collect the juice.

Put the cream in a saucepan and heat to about 85° C (175° F) until simmering. Make sure the temperature stays constant and check with the kitchen thermometer.

Stir the lemon juice into the cream, which will start to curdle. Allow the mixture to thicken for a further 10 minutes while stirring, then remove the saucepan from the heat.

Let the curds and whey cool for about 15 minutes and rest for 1 hour.

Place a sieve on top of a bowl and line it with the cheesecloth. Pour the mixture into the sieve and let the whey drain in the fridge, covered with a kitchen towel, for about 12 hours.

Now you can enjoy the homemade mascarpone immediately afterwards or transfer it to a sterilised, sealable glass jar.
Share on Facebook
Share on Twitter
Share by Email