Delicious, sweet Pear Crumble
Pear crumble is a delicious dessert that can be eaten warm or cold. It's basically pears topped with buttery brown crumble – to die for. Try our homemade crumble with pears right now.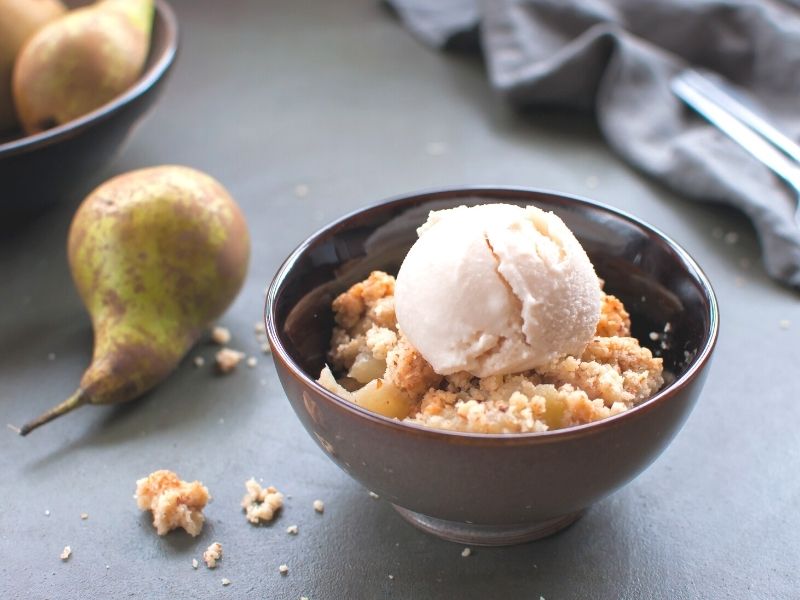 Variations for your pear crumble
You can refine your crumble recipe with the following ingredients:
Add sultanas to the pear mixture.
For adults, red wine or apple cider gives a great extra flavour. Add about 50 ml of it to the pear pieces and cook them for a few minutes on a low heat before mixing everything with the sugar and putting it into the baking dish.
You can also make crumble with other fruits.
Replace half of the flour with oat flakes for a great crunch.
What side dish goes well with it?
You can serve pear crumble with whipped sweet cream, delicious vanilla sauce, homemade vanilla ice cream. Pear crumble with custard is also delicious.
Storing the leftovers
Leftovers can be stored in the fridge for about 1 week. Leftover crumble can also be kept frozen for several months. Just take it out before eating, let it defrost at room temperature and bake it up briefly if necessary.
If you love crumbles, you'll love our other crumble recipes too: Original Apple Crumble, Delicious Plum Crumble, Strawberry crumble, Cherry Crumble with custard.
Sweet Pear Crumble
If you love pears then this one is just for you! This delicious pear crumble is soulfood and a classic. Try the easy peasy recipe.
Ingredients
For the crumbles:
300

g

wheat flour

200

g

golden caster sugar

200

g

butter

1

pinch

of salt
Ingredients for the filling:
500

g

pears

ripe and soft

2

tbsp

golden caster sugar

1

pinch

cinnamon powder

½

vanilla pod

1

tbsp

lemon juice

50

g

flaked almonds
Instructions
Preheat the oven to 180° C.

First prepare the dough for the topping. Put flour, sugar and pinch of salt in a bowl and mix by hand. Now add the cold butter piece by piece. Beat everything together with a hand mixer on high speed until it forms a thick, crumbly dough. If the dough is too runny, just add a little more flour.

Place the crumble in the fridge until ready to use.

Clean and core the pears, cut them into thin slices. Put them in a bowl and add the lemon juice, sugar, a pinch of salt, the cinnamon and scratch the contents of the vanilla pod. Mix well.

Grease a medium sized baking dish well with butter. Pour the pear mixture into the dish, even it out and then crumble the topping dough evenly over it in a thick layer. Everything should be well covered.

Sprinkle the flaked almonds over the top.

Bake the pear crumble for about 30 minutes until the crumble is nice and golden-brown, then remove from the oven, leave to cool slightly and serve warm.
Share on Facebook
Share on Twitter
Share by Email