White Meringue Dessert with Strawberries and Cream
My stars of this white meringue recipe are without a doubt the crunchy meringue, fruity strawberries and rich chocoloate. This meringue dessert is so easy to prepare and so amazing in taste! Impress your guests and family with this little sweet sin.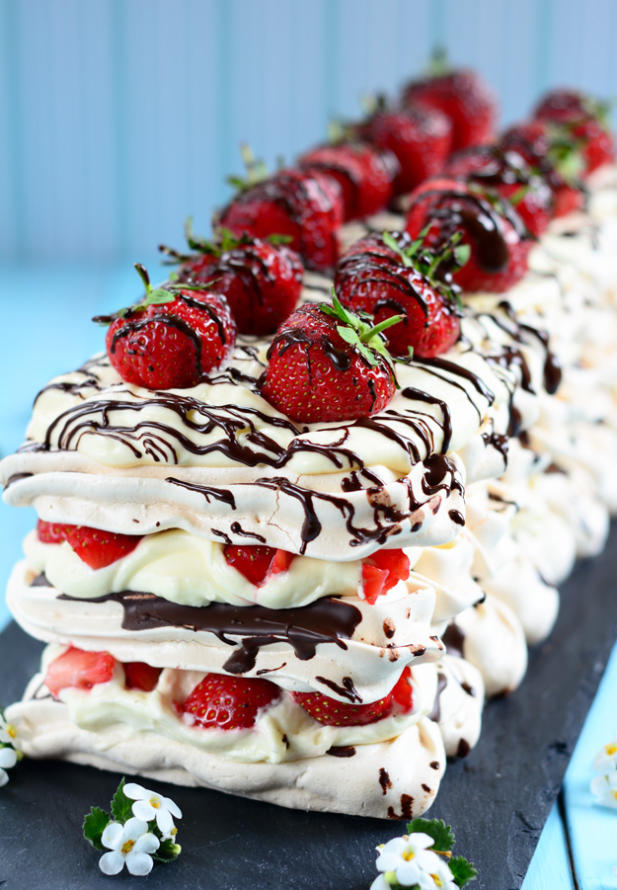 How to make meringue
Meringue, French: "Baiser", basically consists of whisked egg whites, which are brought to stiffness and should have a yummy, glossy shine. The process of whisking adds thousands of little air bubbles into the egg white and makes it having a firm texutre. Adding caster sugar gives this sweetness, we all love so much about it.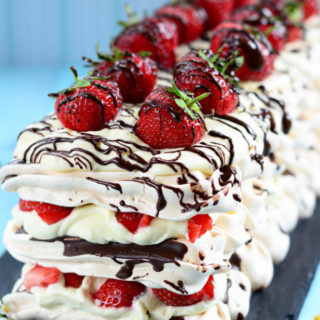 Strawberry and Chocolate Meringue
This meringue recipe with strawberries and cholotate is a treat for your soul. Old and young both love it! Try our yummy recipe .
Ingredients
3

egg whites

at room temperature

175

g

caster sugar

1

tsp

white wine vinegar

1

tsp

cornflour

150

g

dark chocolate

450

ml

double cream

2

tblsp

icing sugar

350

g

fresh strawberries
Instructions
Preheat your oven to 140°C (275°F) (Gas Mark 1).

Line 2 baking trays with baking paper. Draw 3 rectangles, 10 x 25cm on the baking paper. You can just fit two rectangles on the one baking tray.

Whisk the egg whites until the soft peak stage.

Add the caster sugar (I add mine all at once) and continue to whisk until the mixture is stiff and glossy.

Add the vinegar and cornflour and whisk for a couple more minutes. The mixture should be able to hold its shape if the bowl is turned upside down.

Prepare an icing bag with a large star nozzle and fill with the meringue mixture.

Using your template, pipe (10cm) lines until you have filled all three rectangles.

Bake in the oven for 1 hour. After 1 hour turn the oven off and leave the meringues to cool in the oven.

When your meringues are cool, melt the chocolate and spread it over 2 of the meringue layers making sure you go right to the edge.

Place in the fridge for about 10 minutes to harden.

Assemble just before serving by whipping the double cream with some icing sugar and chopping your strawberries (leave about 8 whole ones for decoration).

Place one chocolate meringue on your serving dish and spread with one third of the cream and top with half the chopped strawberries.

Place the second chocolate meringue on top and spread with another third of the cream and the remaining chopped strawberries.

Place the plain meringue layer on top and spread with the remaining cream.

Arrange the whole strawberries on top and drizzle over any remaining chocolate.
Share on Facebook
Share on Twitter
Share by Email