Shortcrust pastry is the basis for many great baking treats. Whether quiches, tarts, pastries or nice christmas cookies. You can simply make them yourself. Just follow our recipe step by step. You can make a sweet dough or one for a savoury dish with only a little adjustment.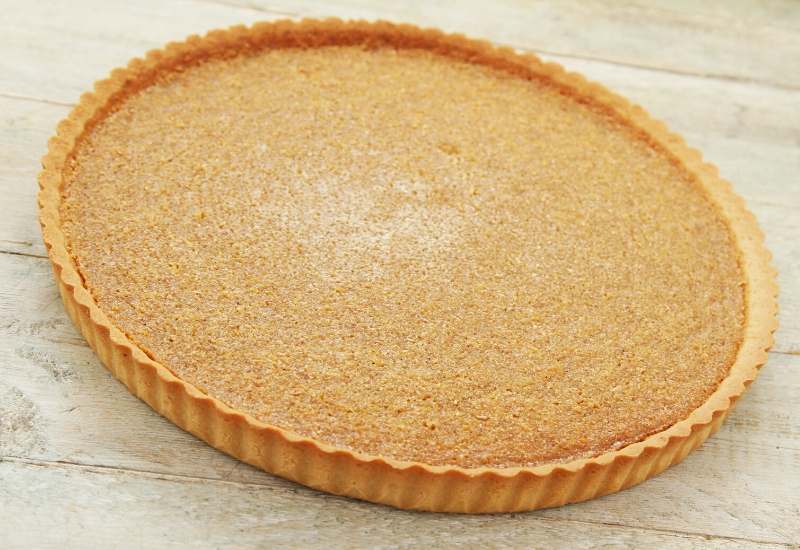 Shortcrust pastry for tarts
If you are making a tart which requires a pastry shell to hold the filling then this is the pastry you will need. Shortcrust pastry is one of the easier pastries to work with because of the low fat content.
How much do I need?
The quantity below is more than enough to make a standard tart using a tin size up to 26 cm.  If you have any pastry left over it can be wrapped tightly in cling film and frozen for later use.  
There are a couple of tips which help to make the process easier:
Measure all ingredients accurately.
Work with cold ingredients and cold hands.
Rest your pastry in the fridge for a minimum of 1 hour to help with the rolling out process and to prevent shrinkage when baking.
Pre-baking the pastry shell for tarts
It is more common to bake the pastry shell first and then add the filling to ensure a nice crisp bottom but the filling can be added to the raw shell and then baked.
If baking the empty shell then always bake blind. Use a piece of baking paper slightly bigger than the size of the tin. Crumple it up and then flatten it out again. Place it in the pastry case and add enough ceramic baking beans to cover the bottom of the pastry case.
You want enough weight from the baking beans to prevent the dough from puffing up during cooking.  If you can keep the pastry in contact with the hot tin whilst baking this will ensure even baking and a nice crisp shell.
What to use the shortcrust shells for
Your homebaked shortcrust pastry is versatile in use. Use it to make Lemon Tart, our mini blueberry tarts, or a Chocolate Ganache Tart.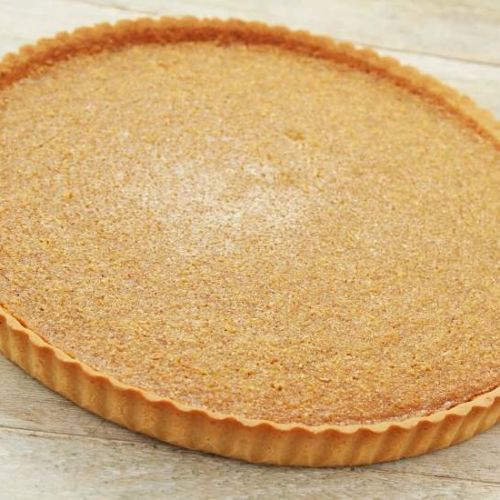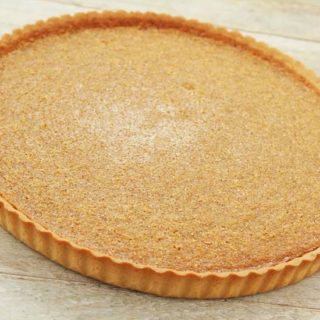 Homemade Shortcrust Pastry
Shortcrust pastry is the basic of many wonderful dishes. Learn how to make your own short crust in no time.
Ingredients
115

g

butter

225g

g

plain flour

1

pinch

of salt

1

whole egg

beaten

1

egg yolk

beaten

60

ml

cold water
For Sweet Shortcrust Pastry
75

g

icing sugar

add to the above ingredients
Instructions
Cut the chilled butter into small blocks (about 1cm in diameter).

Sieve the flour and salt into a mixing bowl. (If making the sweet shortcrust pastry then add your sugar with the flour and salt).

Add the butter and, using your fingertips, rub the butter into the flour mixture until it looks like fine breadcrumbs. If the butter starts to melt then chill your mixture or run your hands under cold water before continuing.

Mix in the beaten eggs and combine with the flour mixture until it forms a stiff dough. You may need to add in some of the water at this stage if the mixture is too dry. Do not overwork the mixture.

Wrap in cling film and rest in the refrigerator for a minimum of 1 hour.

Preheat oven to 200°C (400° F).

Using a floured surface roll the pastry out and place in your desired tin, easing in gently. Try not to overstretch the pastry as this will cause the pastry shell to shrink when baking.

Neaten the edge by running a knife round the top edge to remove excess pastry. With a fork, poke several small holes in the bottom of the dough.

Bake blind (see notes above) for approximately 15 minutes. Then remove baking beans and paper from pastry shell.

Return to oven for a further 10 minutes until nicely golden and crisp.
Nutrition
Serving:
1
base
Calories:
1706
kcal
Carbohydrates:
172
g
Protein:
30
g
Fat:
100
g
Saturated Fat:
61
g
Polyunsaturated Fat:
5
g
Monounsaturated Fat:
26
g
Trans Fat:
4
g
Cholesterol:
411
mg
Sodium:
806
mg
Potassium:
329
mg
Fiber:
6
g
Sugar:
1
g
Vitamin A:
3111
IU
Calcium:
86
mg
Iron:
11
mg
Share on Facebook
Share on Twitter
Share by Email
Discover our tart recipes
All content 100% human written! Image credits: Unless otherwise stated: ©Angela Darroch, ©Pro Stock Media via Canva.com or ©Unsplash.com. As an Amazon affiliate, I earn from qualifying purchases.