Homemade sweet Almond Paste
One of the main ingredients of one of my most favorite cakes, Italian almond cake, is Almond Paste which I have never come across here in the UK. Fresh, homemade almond paste is very different to Marzipan. It comes with a rich almond taste and less sugar.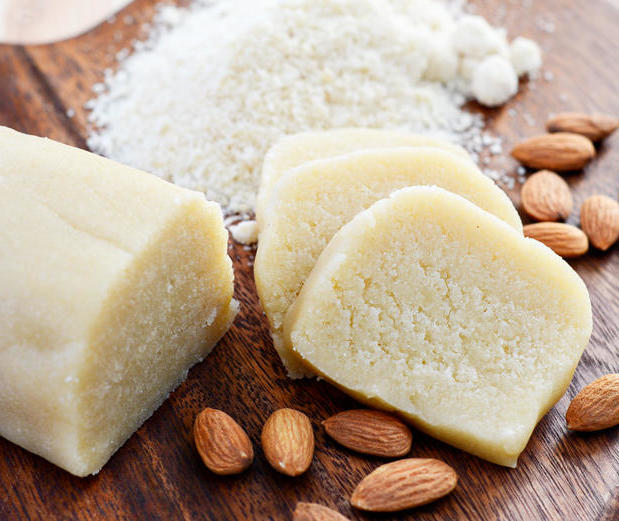 The end result was delicious and made for a perfect Almond Tart. It is really quick and so easy to make and freezes beautifully. No excuses… you have to try and make your own homemade almond paste. You won't regret it.
Almond paste vs. Marzipan
There is quite a heated debate amongst the baking fraternity about the difference between Marzipan and almond paste. But also almond paste means something different depending on which country you come from.
Marzipan (as we know it in the UK) has a much higher ratio of sugar to almonds. Most brands contain only around 25% sweet almonds.
Almond Paste generally has equal quantities of ground almonds to sugar.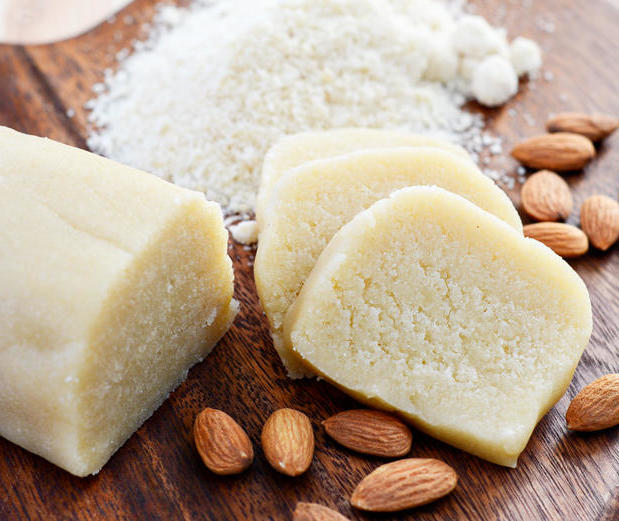 Good almond paste does not only come with almonds and sugar, it needs a binding agent.
Here you can use different ingredients:
Egg white

Egg yolk

Whole egg

a little oil

Sugar syrup

Honey and

some people add some alcohol for a richer taste.
In my recipe for almond paste I chose the whole egg, but only because I didn't want to have to deal with the problem of a stray yolk or 1 egg white to use up.
Add some extra flavour
Some Cointreau adds a nice, fruity flavour to the paste. If you want an alcoholfree version substitute with orange juice.
Also nice for baking: Hazelnut Caramel Praline, Homemade Dulce de Leche or How to make the perfect Shortcrust Pastry.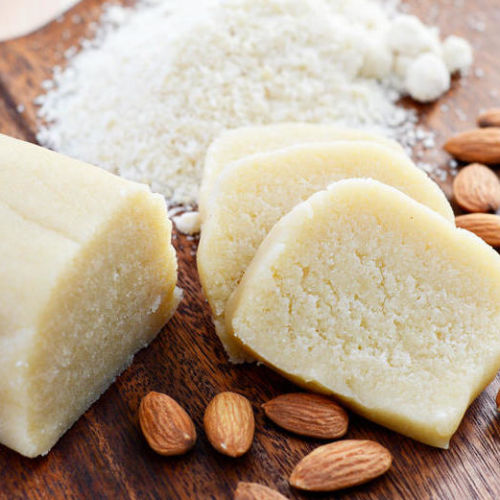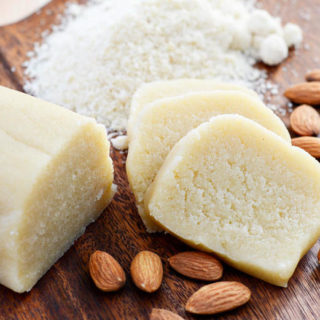 Homemade Almond Paste
This recipes shows you how to make almond paste the easy way. Change it to your taste and give your biscuits and cakes that special something.
Instructions
Sieve the caster sugar and the ground almonds into a mixing bowl.



Give the egg and the Cointreau (if using) a quick mix to combine.



Add the egg to the sugar and almond mixture.



Mix together until a stiff paste is formed.



Use immediately or wrap in cling wrap and store in the refrigerator.


Notes
Almond paste may be kept in the freezer for up to 6 months. Bring back to room temperature before using.
Share on Facebook
Share on Twitter
Share by Email