With our Dulce de Leche recipe you can easily make this sweet delicacy at home. You don't have to buy industrial cans in the supermarket and spoil your friends and family with this milk caramel. Go ahead and try, you won't regret it.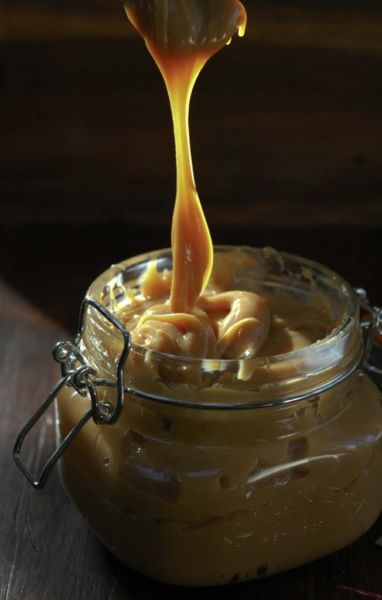 What is Dulce de leche?
What I never knew was that one of my favourite sweet sauces, Dulce de Leche originates from Latin America.
Dulce de leche (Spanish for " candy made from milk "), arequipe, or manjar (blanco) is a cream made from milk, sugar, and vanilla and is a common spread in Latin America.
Dulce de leche is used as a spread on bread and as an ingredient in the preparation of desserts such as pudding, flan or ice cream. It is also often used as a filling for cakes, for example in the torta de mil hojas (thousand-leaf cake) made from puff pastry. Alfajores, which are common in Latin America, are often filled with dulce de leche.
Just do it yourself
As convenient as the tinned version is I have always thought that there is a slightly unpleasant after taste so I was keen to try and make my own. I was surprised to see that the original version of Dulce de Leche uses only milk, sugar and bicarbonate of soda and so I thought I would give it a try…
Tip for the cooking process
During the first hour I did not have to do anything – no checking and no stirring. The next ½ an hour I just kept a close eye on the sauce and stirred every now and again.
For the last ½ an hour I stirred almost constantly to prevent the sauce from sticking to the pan. For the consistency that you see in the photos I stopped when the sauce was still quite runny in the pan (100° C on a sugar thermometer). It firms up once it has cooled down.
How to store the caramellised milk?
It is best to store your Dulce de leche in jars or boxes. You can simply take out a spoonful as much as is needed for your recipes.
Will keep in the fridge for over a month. It may need to be warmed up slightly to soften before use.
Dulce de Leche – the recipe: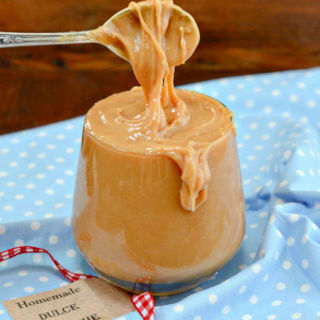 Dulce de Leche
A deliciously sweet and creamy dessert sauce – perfect for filling cakes and cookies, over ice cream or straight out the jar. Finger lickin' good!


Ingredients
2

litres

semi skimmed milk



500

g

sugar


¼



tsp

bicarbonate of soda


Instructions
Place all ingredients in a large, heavy pan. On a medium heat stir until the sugar has melted.



Reduce the heat to as low as possible and leave to simmer for another 2 – 2½ hours.