Red Nose Day – Chocolate Truffle Pops
Red nose day is a special day every year. We have the opportunity to give to charity. I like to combine this occasion with my passion for baking. This is one of my favourite Red Nose Day cake recipes.
Fun with the kids
I always do these truffle pops with my kids. They love to decorate them with funny faces and a big red nose. The kids had lots of messy fun and I did a lot of cleaning up. 😀
Decoration for the truffle pops
To make this Red Nose Day truffle pops for the school cake sale we used our recipe for chocolate truffle balls. You find it also below. It is a great Red Nose cake idea.
I bought a pack of sticks and cellophane wrappers. This full cake pop kit i use normally. The eyes are sugar balls which I had bought previously from my local supermarket.
The noses are smarties and the mouths and pupils were done by using small tubes of readymade icing.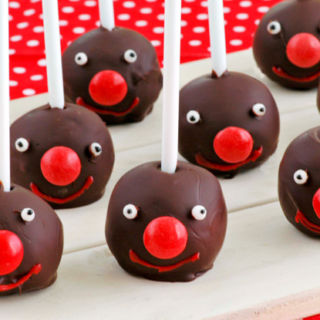 Red Nose Day – Chocolate Truffle Pops
These funny truffle pralines are little treats and perfect Red Nose Day charity events. Making them is fun for the whole family.
Ingredients
1

tin

condensed milk

397g

125

g

butter



400

g

digestive biscuits

finely crushed

1

tbsp

cocoa powder



300

g

milk chocolate

30

red

Smarties

or other chocloate lentils
Instructions
Put the condensed milk and the butter to a non-sticky saucepan and heat gently on low heat until the butter has melted.

Crush the biscuit by placing it in a bag, put a kitchen towel on it and smash it with a rolling pin or other, non breakable, hard object until. Place it then in a bowl and mix in the cocoa powder.

Now add the condensed milk butter mixture to the biscuit crumbs and stir together until well combined. Place it in the fridge for around 1 hour until cooled down fully.

Now roll the mixture into balls by hand to the size of walnuts. Place each one on a baking tray, lined with baking paper. When all are done, return to the fridge to chill further.

Now it is time to melt the chocolate for the coating. Break it into a heatproof bowl and place it over a pan of simmering water. It must only hang in the water by a few centimetres.

Now put a stick into each truffle pop. Dip them in the melted chocolate until fully covered and place back on the baking tray. When all are done, place a red smartie where the nose is supposed to be and the little eye balls on each chocolate truffle pop. We will add the mouth after they cooled down. Now return the tray to the fridge to chill.

When the chocolate has cooled down and become firm, fill red icing or food color into a decorating pen and put a smile on these lovely faces. 🙂

Let chill down fully before you wrap them.
Share on Facebook
Share on Twitter
Share by Email