Our best Roasted Butternut Squash
This roasted butternut squash recipe is made with maple syrup and cinnamon, making it simple enough for weeknights but also fancy enough for any holiday festivities.
You can serve this oven-roasted butternut squash as a healthy side dish or as an ingredient to other favourite squash recipes such as my Butternut Feta and Lentil Salad.
A versatile side dish
I love how versatile butternut squash can be. You can easily add it to soups, salads, pasta dishes, casseroles and even desserts! But if you'd prefer to stick with something super simple, this vegetable is great to enjoy on its own by baking it with some butter, maple syrup, cinnamon and paprika. What you'll get is a delicious contrast of a sweet and slightly spicy dish.
Pro Tip:
Avoid overcrowding your butternut squash cubes on the baking tray otherwise you won't get the desired browning and caramelising. If your tray looks overcrowded, rather divide the squash between two pans and rotate the pans from top to bottom in your oven halfway through the baking time.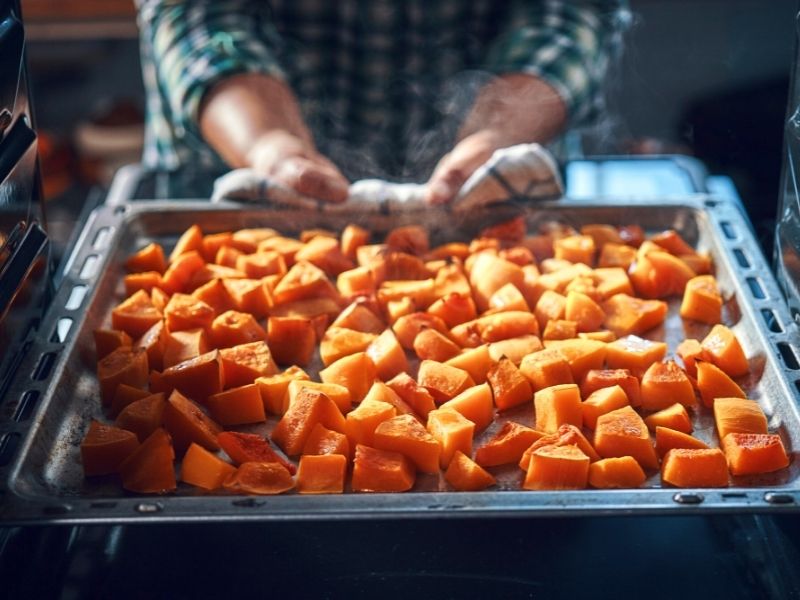 Oven-roasted butternut squash
Roasting butternut squash is by far the best way to cook it. The heat of the oven caramelizes the edges of the butternut squash cubes and enhances the natural flavour and sweetness of the butternut.
In this roasted butternut squash recipe, I have chosen to oven-bake the butternut in cubes but there's nothing stopping you from cooking whole roasted butternut squash in halves. For this reason, I've set these two methods for roasting butternut.
You can also use grilled pumpkin.
How to prepare the butternut squash for roasting
If you choose to roast butternut squash in cubes, you'll want to first peel the butternut. Simply follow these steps:
Start by slicing off ½ inch of the stem and base of your butternut. 
Using a sharp vegetable peeler, start to remove the skin, one half of the squash at a time. Hold firmly whichever end of the butternut that you are not peeling at present while you peel the skin off of the other end, rotating the squash as you go.
Once completely peeled, cut it in half lengthwise and then scoop the seeds out. 
Cut your butternut into cubed pieces that are all roughly the same size. This will ensure that the cubes cook evenly.
Toss your squash cubes with your seasoning before roasting. My recipe calls for cinnamon for seasoning as well as the use of maple syrup and butter to offer a sweet and salty contrast but you can easily add some other herbs (like rosemary which goes well with butternut) or even just stick to the simple use of olive oil, salt and pepper. 
At this point, you can either opt to cover your butternut cubes with tin foil for the majority of the time in the oven or you can keep them uncovered in the oven, flipping them halfway. The second option will provide a delicious browning and caramelization of the butternut cubes which offers a crunchy texture on the edges but soft inside.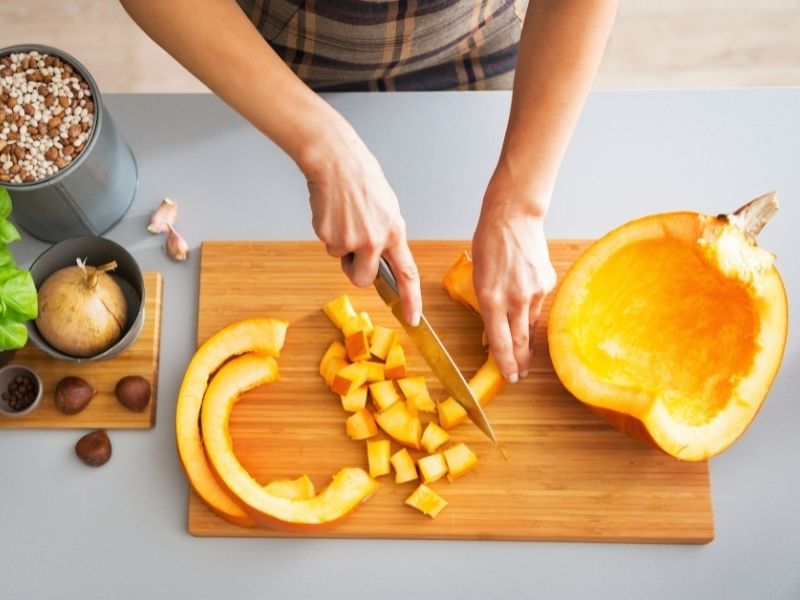 Roasting Butternut Squash Halves
Follow these easy steps to roast butternut squash halves:
You can roast butternut squash halves with its peel or without. To roast without the peeling, halve your squash lengthwise and remove the seeds. Rub the butter and maple syrup (or olive oil) over the squash and sprinkle with the seasoning. Skip the oil and seasoning if you intend using the baked butternut squash for puree when wanting to make pancakes, muffins or other recipes.
Place the squash halves, cut-side-down, in a baking tray or dish. Add 1/2 cup water to the tray and bake at 375 degrees F for 35-45 minutes. You should be able to pierce through the skin and flesh of the butternut halves easily with a fork or knife at this point which means that the butternut is fully cooked through.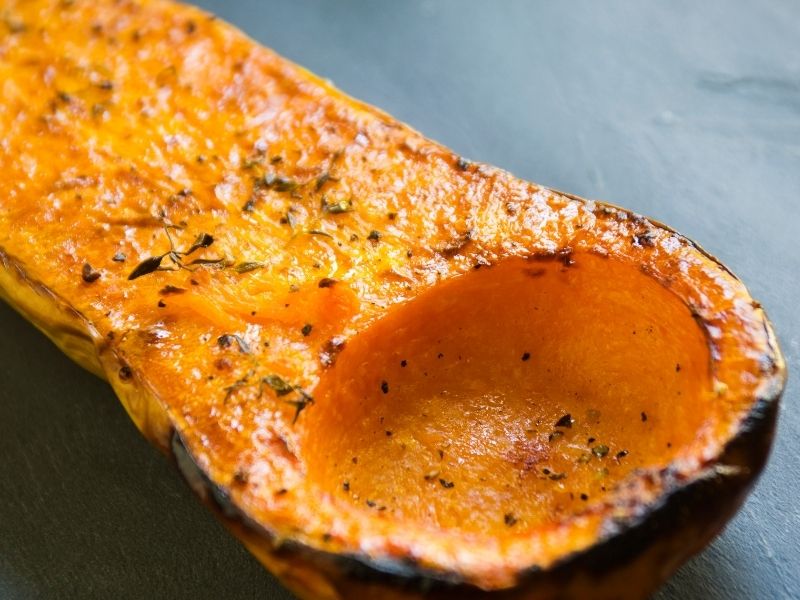 Additional Tips When Roasting Butternut Squash
When it comes to selecting a butternut squash, make sure that it is firm and heavy for its size. The stem should be intact and the skin free of any green lines (which indicates an unripe squash). You want your squash to also be free of cuts, bruises and soft spots.
If you hate additional cleaning up, you can line your tray or dish with parchment paper.
Roasted butternut squash can easily act as a substitute for pumpkin puree in recipes for pancakes and muffins. Once roasted, simply puree using your food processor or blender, following the same method that you use for homemade pumpkin puree.
Before tossing your butternut squash seeds away, remember that you can roast them just like roasted pumpkin seeds. They make for a delicious snack that you can have at a later stage during the week!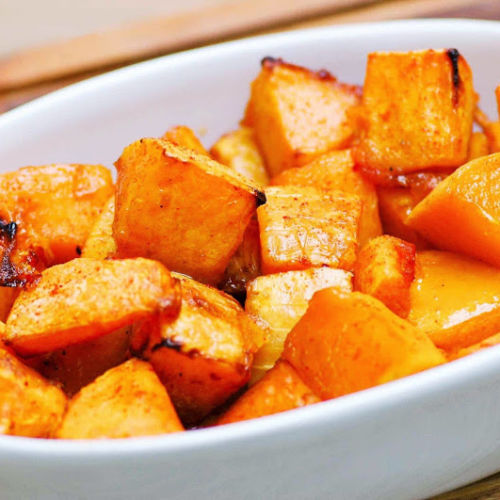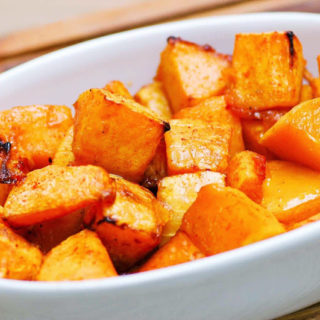 Roasted Butternut Squash
An aromatic addition to many dishes is the butternut squash out of the oven. Delicious, not only in autumn. Try out our recipe.
Ingredients
500

g

butternut, peeled and cut into large chunks

2

sticks

cinnamon

50

g

butter

2

tblsp

maple syrup
Instructions
Preheat oven to 180°C (350°F).



Place the peeled and cut butternut in a roasting tin with the cinnamon sticks.

Melt the butter and syrup together and pour over the butternut.



Lightly dust with smoked paprika.



Baked, covered with foil for 45 to 60 minutes.



For the last 10 minutes, remove the foil to let the liquid evaporate.


Nutrition
Share on Facebook
Share on Twitter
Share by Email