Easy Tres Leches Cake (Milk Cake)
Tres leches cake, or milk cake, is an amazing Latin American dessert that has become popular in the whole world. It is a light sponge cake soaked in not one, not two but three different kinds of milk: mix rich cream, condensed milk and sugared condensed milk.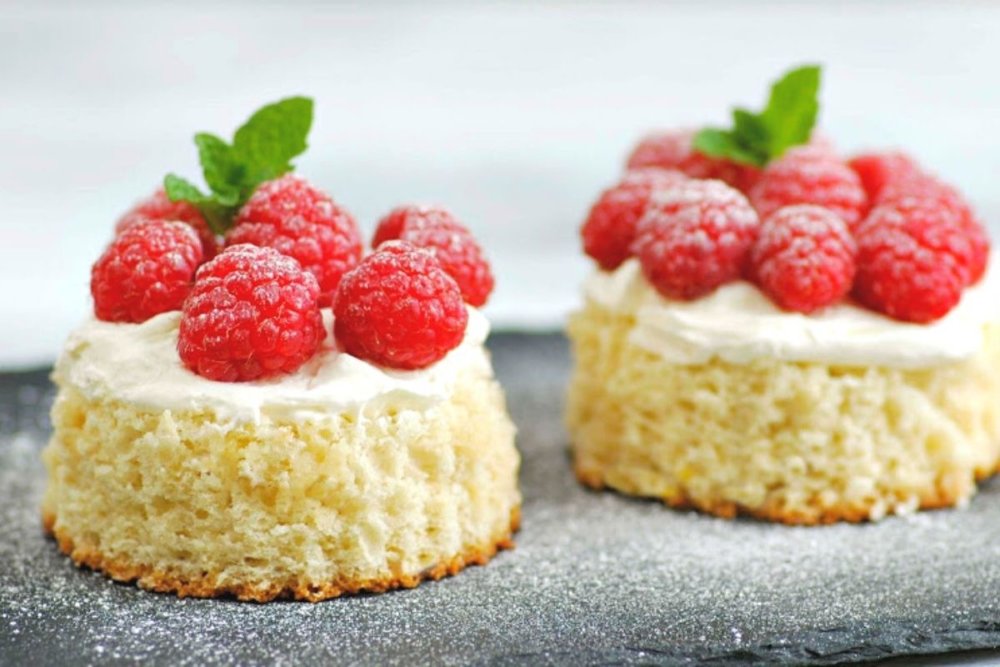 It is then topped with whipped cream and sometimes fruit. You really have to try our recipe from scratch, you will love this homemade delicacy.
Although you can find this lovely dessert in coffee shops all around, you can make the best tres leches cake at home also. Even unexperienced cooks will find it easy to make. Step by step we will show you how to make a cake of tres leches.
Tres Leches Cake requires 3 steps:
Whip up, and bake a sponge cake (or buy one).
Mix the 3 to 5 different types of milk and soak the sponge cake overnight.
To serve, top with a layer of whipped cream and fruit, or other toppings.
The name might sound like something that would be sweet and rich in calories – imagery we associate with desserts such as cakes or pies! But these Latin American delicacies aren't heavy at all; actually 3 milk cake is relatively light compared to classic cake or dessert recipes.
Where does Tres Leches Cake come from?
This cake is believed to have originated in Spain, where it was called "tres leches" or "three milks cake". It is thought to have made its way to Latin America with the Spanish settlers. The first recorded recipe for a soaked cake was in an Mexican cookbook from 1884.
Another theory is that this version of milk cake with canned ilk products was invented by a manufacturer of canned milk for advertising purposes. There is evidence of a Nestlè can from the 1940s in Mexico with a recipe for tres leche cake printed on it.
However this delicious cake was invented, it is incomparably tasty and delights young and old alike. Beyond that, soaking a cake was and is still a simple method to reuse old or stale cake all the time in history.
Tips for a perfect result
The perfect sponge cake is light and fluffy, with a delicate crumb. Follow these tips for success every time.
When baking a sponge cake, it's important to use room-temperature ingredients. This will help the batter to reach the optimum consistency, resulting in a light and airy cake.
Be sure to sift the flour before adding it to the batter, as this will also help to create a lighter texture.
When adding the eggs, do so one at a time.
Only mix the batter until just incorporated, over-mixing can result in a tough cake. Use only a spatula and fold in the ingredients, do not mix or stir.
Finally, be careful not to overbake the cake. The edges should be golden brown and the center should spring back when lightly pressed.
Pour over the milk mixture right after taking the cake out of the oven. The cake absorbs better when still warm.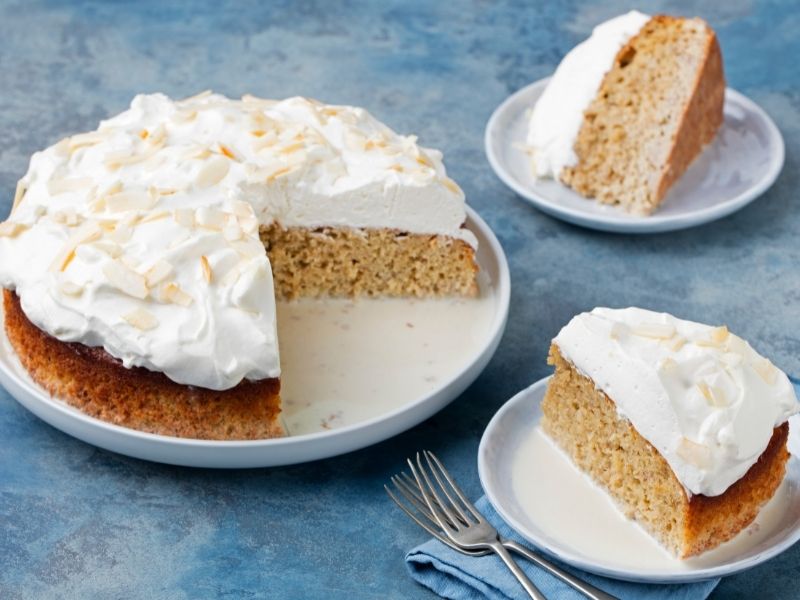 Variations
While the dessert is called tres leches with 3 types of milk, there is also cuatro leches when dulce de leche is also added. The further addition of coconut milk creates cinco leches, which have a more subtle but still distinct flavor than their counterparts made with traditional dairy ingredients alone.
How long do you soak Tres Leches cake?
Leave the sponge cake soaking overnight to avoid the soggy texture. Even after that the ends can be still a little wet but it is always sure to be delicious. The final result is more sticky than wet and should not deintegrate in texture.
You like sponge cake? Also try our French almond sponge cake or Filled Chocolate Cake.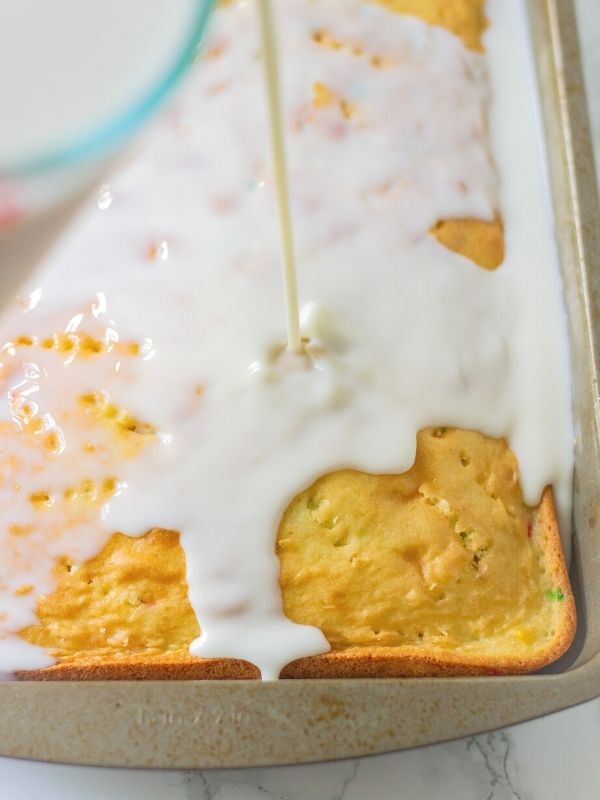 How to substitute evaporated milk in Tres Leches
The authentic milk cake uses condensed and evaporated milk. If you cannot find tins of these, you can substitute with whole milk and whipping (single or double) cream and add a little sugar to it.
Storing leftovers
You can keep your homemade three milk cake in the fridge for up to 1 week. You can easily freeze leftovers, just wrap them securely and keep them in the freezer for up to 4 months. Then just leave it to defrost at room temperature.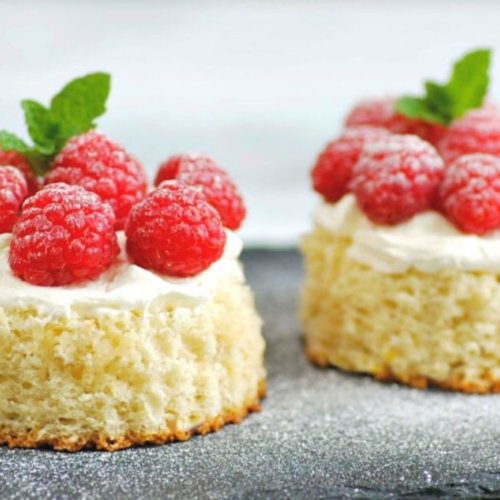 Delicous Tres Leches Cake (Milk Cake)
With this authentic recipe for the famous tres leches cake, you spoil yourself and your loved ones. The Latin American delicacy is easy to make, even for inexperienced cooks. Try it at home.
Ingredients
For the soaking:
200

g

sweetened condensed milk

½ standard tin

200

g

evaporated milk

½ standard tin

200

ml

single cream

heavy cream
Instructions
Preheat oven to 180°C/350°F/Gas 4. Grease and line a rectangle or square cake tin (around a 23cm/9in square).
The sponge cake
Beat the egg yolks with the sugar on high speed until the yolks are pale and creamy.

Add the milk and vanilla extract and combine well. Then add flour and baking powder to your mixture and combine loosely and briefly. Do not overmix.

Beat the egg whites in a fat free bowl on high speed until soft peaks form. Add the remaining sugar and beat until egg whites are stiff. Fold the egg white mixture into the batter very gently until just combined.

Pour into prepared tin and bake for 35 – 40 minutes until a skewer comes out clean.

While the cake is baking – combine the condensed milk, evaporated milk, and or cream in a small bowl.

As soon as the cake comes out the oven, prick all over with a skewer and slowly pour over your milk mixture.

Leave the cake overnight (in the fridge) to absorb all the liquid.

To serve, spread a thick layer of whipped cream on the surface and cut. Top with fresh fruit or serve as is.
Share on Facebook
Share on Twitter
Share by Email
[playht_player width="100%" height="90px" voice="Emilia"]