Cream-Filled Chocolate Cake
This chocolate cream cake with a filling is an impressive and decadent cake that is perfect for any special occasion. The rich chocolate cake is filled with a creamy chocolate filling, and then glazed with a buttery chocolate frosting. It's sure to be a hit with anyone who loves chocolate!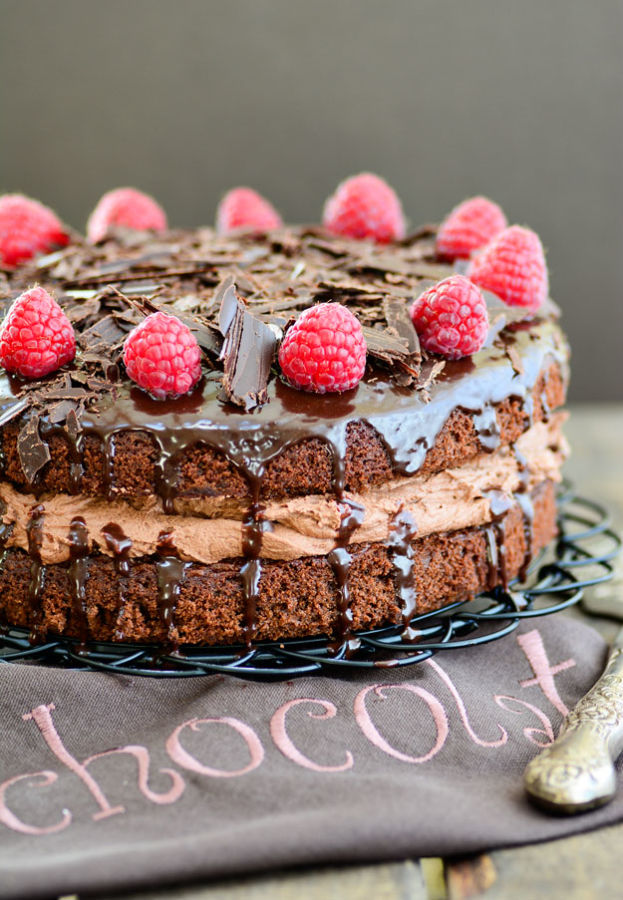 Make it different
There are many variations of this cake that you can try. For example, you could make a triple chocolate cream cake by adding an additional layer of chocolate cake on top of the other two layers. You could also add a layer of caramel or another type of filling in between the layers for some extra sweetness.
For something a little different, why not try a chocolate cream cake with raspberry filling? The tartness of the raspberries pairs perfectly with the sweetness of the chocolate for a truly decadent treat. This, by the way, also works with our Creamy Raspberry Cupcakes with buttermilk.
Store your filled chocolate cake
Chocolate cream cake with a filling can be stored in the fridge for up to 3 days. Simply cover the cake with plastic wrap or aluminium foil to keep it fresh.
Try the Tres Leches Cake (Milk Cake)
If you want to freeze the cake, make sure to do so without the filling. Wrap the cake tightly in cling film and then place it in a freezer-safe bag. It will keep in the freezer for up to 2 months. When you're ready to eat it, simply thaw overnight in the fridge before adding your desired filling.
The cake will keep well in a covered container for 4 – 5 days.
Try our recipes for Cherry Bakewell Tart, Chocolate cake with Apples or Filled Italian Almond Tart.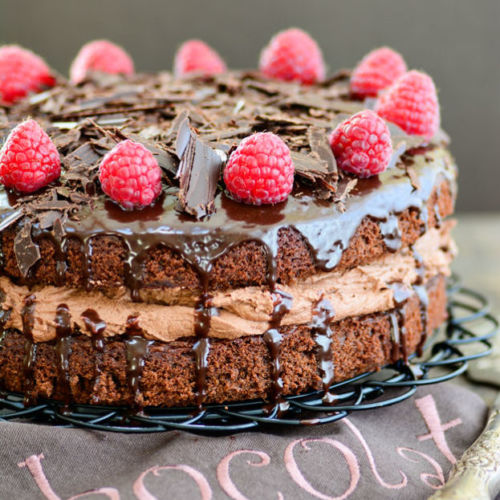 Classic Chocolate Cake with a Filling
Incredible chocolate cake with cream filling and frosting to impress your guests. Try our recipe for this sweet masterpiece.
Ingredients
225

g

unsalted butter

diced and at room temperature

225

g

sugar

175

g

plain flour

sifted

50

g

cocoa powder

sifted

2

teaspoons

baking powder

sifted, baking soda

1

teaspoons

vanilla extract

4

medium

eggs

at room temperature

100

ml

full fat milk
For the filling:
50

g

dark chocolate

50

g

milk chocolate

120

ml

single cream
For the icing:
100

g

milk chocolate

broken into small pieces

15

g

butter

20

g

cocoa powder

sifted

50

ml

water

1

tblsp

golden syrup
Instructions
Heat the oven to 190°C (375°F) and butter and baseline 2 x 20cm sponge tins with baking parchment.

Put all the cake ingredients in the bowl of a food processor and cream together. Puour the mixture into the cake tin, smoothing the surface.

Bake for 25 minutes or until a skewer inserted into the centre comes out clean. Take out and let cool a bit.

Run a knife around the collar of the cakes and leave to cool completely. When cooled, cut the bottom lengthways so that you have two equally thick cake layers.
To make the filling:
Break the dark and milk chocolate into a large, heatproof bowl and set over a pan with a little simmering water in it, stirring until melted. Remove the bowl from the pan of water and leave to cool for 5 minutes.

Once cool, whisk the chocolate, adding the cream as you go until thick and glossy. Spread the filling over the bottom sponge and sandwich together with the top sponge.
To make the icing
Gently melt the chocolate and butter in a bowl set over a pan with a little simmering water in it, stirring until smooth.

At the same time, combine the cocoa, water and golden syrup in a small saucepan and heat almost to boiling point, stirring until smooth.

Add this to the melted chocolate and blend to a smooth icing.

Working quickly, smooth over the top of the cake using enough so that it drips down the side.

The glaze needs to be prepared and used straightaway. If it starts to appear oily, simply whisk in 1tsp of water until it returns to being glossy.

Decorate with fresh fruit and chocolate shavings.
Share on Facebook
Share on Twitter
Share by Email