My favourite Filled Italian Almond Tart
My famous recipe for Italian almond cake comes with a juicy fruit filling and a lot of crunch. It might not look like much, but the amazing taste will blow your mind. It is all very beige and there is no lovely sauce or chocolate dripping down the sides to make us drool.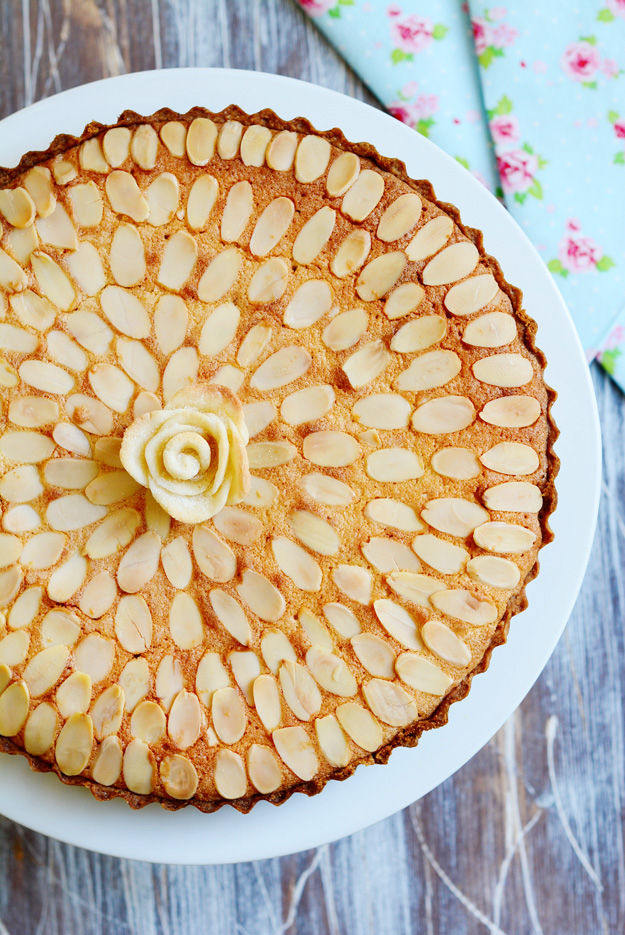 The secret of the juicy consistency is my homemade almond paste. Serve yourself a deliciously moist and fragrant slice to go with your afternoon tea or to spoil your guests.
Most of us will have heard the saying 'don't judge a book by its cover' but may not think of it in terms of food. Well, this Italian Almond Tart makes me think of exactly that.
Almond paste for the almond cake
I made my own almond paste and I would highly recommend that you try this at least once. It is so easy to make, it's fresh and full of flavour and will make all the difference to your tart. Your choice of jam will also play a big part in how your finished tart tastes.
The best jam filling
For my first attempt I used a cherry jam which had whole cherries in it. It was quite sweet and I wasn't overly enthused by the chunks of cherry. For my second attempt I used a smooth Christmas spice fruit jam and I thought this was much better.
Tart decoration
For those of you who are interested in how I decorated the tart – yes I did stand and pick out all the whole slices of almonds from a pack and yes it did take me a long time to place them all so neatly round the entire tart and yes I am completely mad!
I also made a rose from some of the left over almond paste. I only placed it on the tart 10 minutes before the tart was due to come out the oven to crisp it up a bit and give it some colour.
Also try our German apple pie, our fresh cherry bakewell cake or one of our other cakes.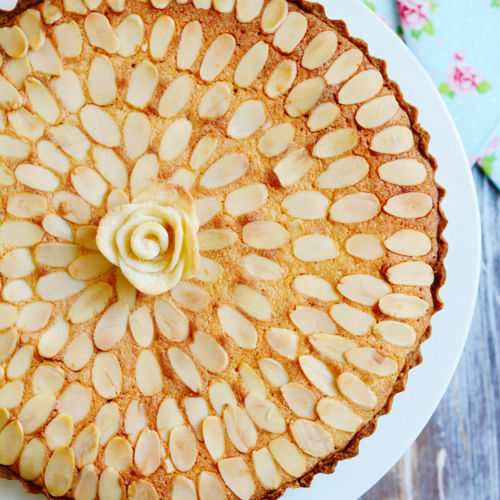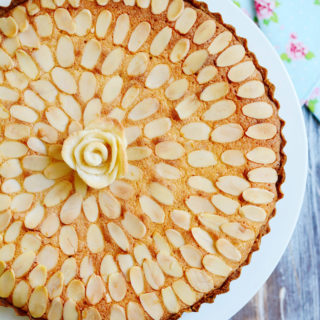 My famous Italian Almond Tart with filling
This awesome almond tart ist fresh, fluffy and delights your taste buds. Try the recipe.
Instructions
Preheat oven to 180°C (350°F).



Using an electric mixer on medium speed or a whisk, beat the butter until smooth. Add the almond paste and beat until smooth. While continuing to beat, sprinkle in the sugar.

Add the eggs one at a time, beating well after each addition. Stir in the flour and set to one side.

Spread the jam evenly over the bottom of the baked pastry case. Spoon the almond paste mixture over the top of the jam and spread out evenly.

Sprinkle the surface evenly with the sliced almonds



Bake the tart until the filling is golden and the middle is firm to the touch, 35 to 40 minutes. Transfer to a wire rack and let the tart cool completely.



Serve at room temperature.


Nutrition
Serving:
100
g
Calories:
250
kcal
Share on Facebook
Share on Twitter
Share by Email