Make your own hazelnut caramel praline and use it to decorate your cakes and desserts. Easy peasy with our easy-to-follow recipe. With just a few steps you do this little treat at home. Use hazelnut or vary with different kind of nuts and make a walnut caramel praline, cashew or even an almond caramel praline. Try our crunchy nut in praline recipe.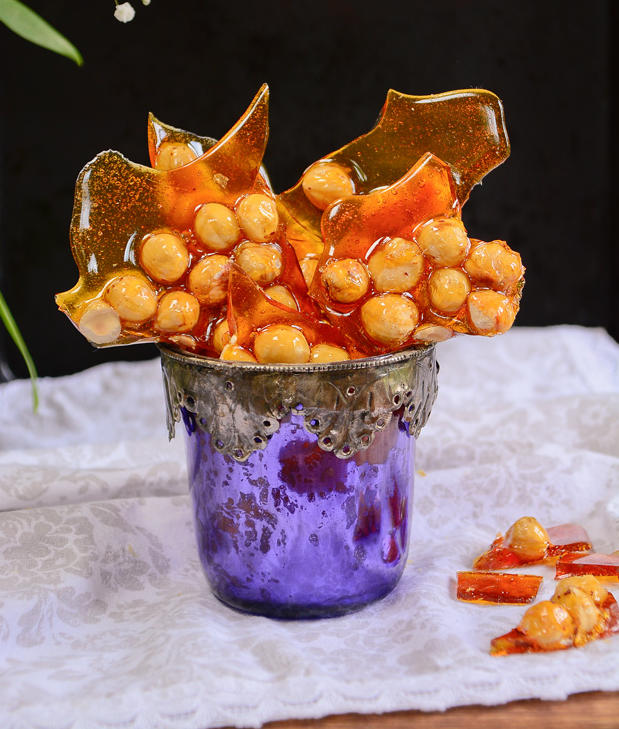 Which nuts to choose?
You can of course make praline with any nut, even salted nuts. If your nuts still have the skin on then they should be removed first. Although this process doesn't take very long it can be a bit messy. My advice is to always buy skinned nuts if you can.
Roasting your nuts
The next stage is roasting the nuts. Should you, shouldn't you? Again – this is a quick process so I would say yes. I believe the nuts taste better for having been roasted and the whole process only adds an additional 10 minutes.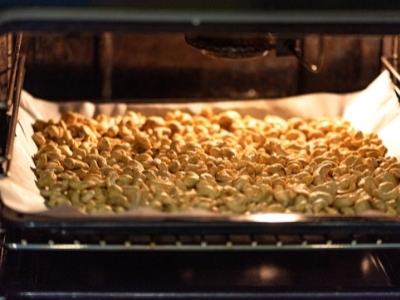 The next stage is the caramel. All I can say is have everything ready before you start. If you focus only on the caramel, you should come out with a gorgeous batch of liquid gold. If not – try again. It's worth it!
How to use the praline?
You can use praline caramel in so many ways. Thin shards of praline can look beautiful on a cake or dessert. The only downside to the shards is that they don't keep well. Unfortunately, caramel does not like moisture so it soon becomes sticky if left out for too long. Personally, I like to blitz the shards in a food processor. I then use the mixture to sprinkle on cakes, ice cream or desserts.
Making a caramel paste
You can also make praline paste. All you have to do is carry on with the blitzing process until the oil from the nuts starts to separate out. At this point, you can add an extra tablespoon of nut or vegetable oil to the mixture and carry on blitzing until you have a thick paste. If you then add some melted chocolate you will end up with your own homemade Nutella.
Cleaning the baking tray
If you end up with a pot of hard caramel just place some clean water into the pot and place back on the stove top and heat until the caramel melts. It should then be easy to clean.
Check also homemade shortcrust pastry, Dulce de leche or our recipe for easy chocolate truffle balls.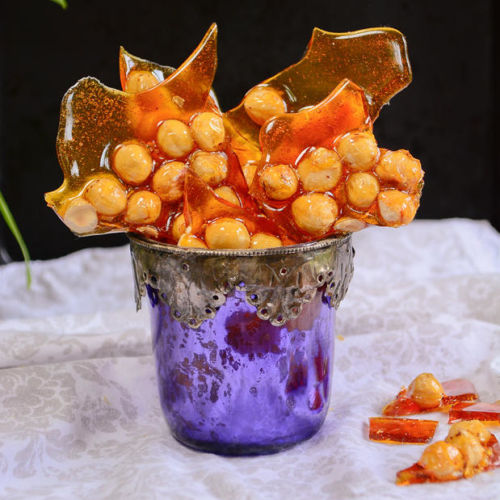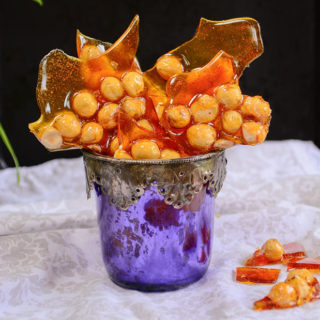 Amazing Hazelnut Caramel Praline
This great caramel praline is very popular and makes a great decoration for cakes, pies, but also tastes great just as a sweet treat.
Ingredients
100

g

hazelnuts (preferably skinned)

200

g

caster sugar

3

tblsp

water
Instructions
Roasting and skinning the nuts
Preheat oven to 180°C (350° F).

Lay nuts out on a baking tray and have another baking tray ready for when they come out the oven. Place in the oven for 5 minutes.

Remove tray and move nuts around. (This will avoid hot spots). Place back in the oven for another 3 minutes. Check again – the nuts should have darkened slightly and smell 'nutty'.

If you think they can take another couple of minutes without burning then do so but watch carefully.

Remove from oven and transfer to the cool baking sheet. If your nuts still had the skin on then now is the time to remove them. Place the nuts in a plastic bag and roll your hand over the bag vigorously until the skins peel off.

Place the cleaned and roasted nuts in a bowl next to the stove top.



To make the caramel
Line a baking tray with baking parchment and leave next to the stove top.

Place the sugar and water in a pan. Stir until all the sugar is coated with the water. Turn the heat on to medium and stir until the sugar melts. Do not let the mixture come to the boil before the sugar has melted.

Once the sugar has melted, leave the mixture to bubble away on it's own. Every now and again swirl the pot to redistribute the mixture. If you stir with a spoon the mixture will crystallise and be ruined.

Eventually the mixture will start to colour. As soon as it reaches a golden caramel colour, remove from the heat and tip the nuts in. (Mine takes about 6 minutes to reach this stage).

Working quickly, pour the mixture out on to your baking tray and spread out thinly using a wooden spoon. Leave to set.

Break into shards using a rolling pin and use as is or blitz into smaller pieces using a food processor.



Notes
Do not be tempted to touch the caramel with your fingers – it is HOT, HOT, HOT.
Share on Facebook
Share on Twitter
Share by Email