Lemon Curd Cupcakes with Meringue Topping
Lemon Meringue Cupcakes with a lemon curd filling are the perfect way to enjoy the classic flavor combination of lemon and meringue. The zesty lemon curd cupcakes are topped with a cruchy meringue frosting, making them irresistible! Try our recipe!
These cupcakes can be enjoyed any time of year, but they are especially delicious in the spring and summer. The meringue is used as the cupcake frosting. They are baked to be crusty and caramlized.
Baking time
To ensure that your cupcakes are perfect, be sure to adjust the baking time according to the size of your cupcake pan. The larger the cupcake, the longer it will need to bake. These cupcakes are best enjoyed fresh, so be sure to make them just before you plan on serving them.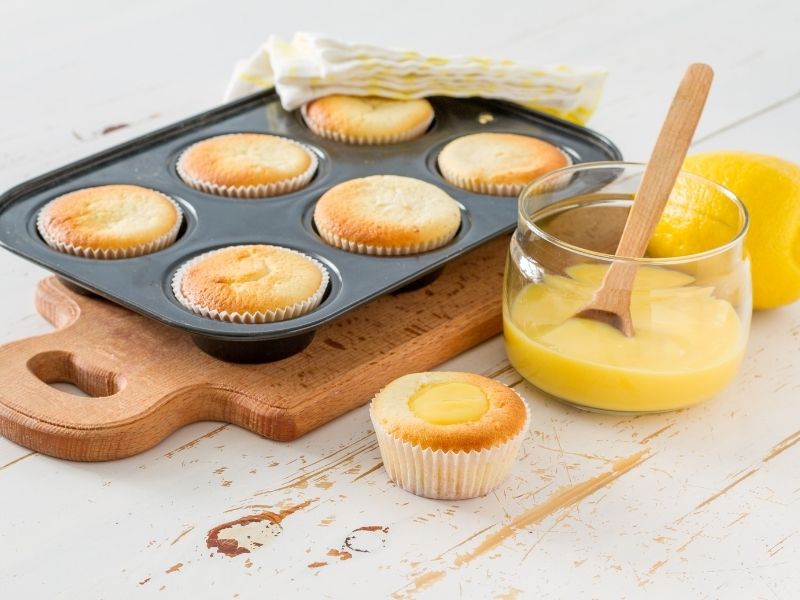 Storing your lemon meringue cakes
You can keep your Lemon Meringue Cupcakes in airtight containers. Do not keep them in the fridge, that will make them hard. Better store them at room temperature. They will last for up to 3 days. If you want to keep them for longer, you can freeze them without the meringue frosting for up to 4 months.
If you want to freeze them, take only unfilled cupcakes and put them in bags in the freezer. After defrosting, you can fill them with lemon curd and bake the meringue topping.
Safe transport for your cupcakes
Also try our Toffee Cupcake Recipe, Pistachio Cupcakes or Creamy Raspberry Cupcakes with buttermilk.
Lemon Curd Cupcakes with Meringue Topping
These juicy cupcakes with a lemon curd filling are a real treat. Fresh, sweet and flavourful. Try our recipe now.
Ingredients
110

g

butter

110

g

caster sugar

1

tsp

vanilla extract

110

g

self raising flour

1

pinch

of salt

1

tsp

custard powder

2

eggs

beaten

50

ml

lemon curd

2

egg whites

115

g

icing sugar
Instructions
Preheat oven to 180 °C (160 for fan oven) (350° F). Place 6 large or 12 small paper cases in a cupcake tin.

Cream the butter and sugar until light and fluffy and stir in the vanilla. Sift in the flour, salt and custard powder and lightly fold into the mixture alternately with the eggs until well blended.

Spoon into the paper cases and bake for 20 – 25 minutes until golden brown and springy to the touch.

When the cupcakes have completely cooled, cut out a hole the size of a 2p coin from the centre of each cake. Fill with lemon curd.
To make the meringue cuite
Sieve the icing sugar into a heat resistant bowl with the egg white.

Place your bowl over a half-full pan of simmering – not boiling – water, whisk with an electric mixer until the mixture is thick and glossy, approximately 10 minutes.

Place the meringue mixture into a piping bag and pipe on top of the cupcakes.

Increase the oven temperature to 230 °C or use the top grill function and bake the cupcakes with meringue topping for a further 5 minutes. You can also use a cooks blowtorch to brown the tops.
Nutrition
Serving:
1
cupcake
Calories:
403
kcal
Carbohydrates:
57
g
Protein:
6
g
Fat:
17
g
Saturated Fat:
10
g
Polyunsaturated Fat:
1
g
Monounsaturated Fat:
4
g
Trans Fat:
1
g
Cholesterol:
96
mg
Sodium:
184
mg
Potassium:
65
mg
Sugar:
42
g
Vitamin A:
539
IU
Calcium:
18
mg
Share on Facebook
Share on Twitter
Share by Email
Last update on 2023-09-27 / Affiliate links / Images from Amazon Product Advertising API