Creamy Raspberry Cupcakes with buttermilk
Raspberry cupcakes are a very special treat for me, as a raspberry fan! But better than raspberry cupcakes are rasperry cupcakes with chocolate! And cream topping. And lots of love 🙂 Try our special raspberry cupcake recipe and treat yourself and your loved ones.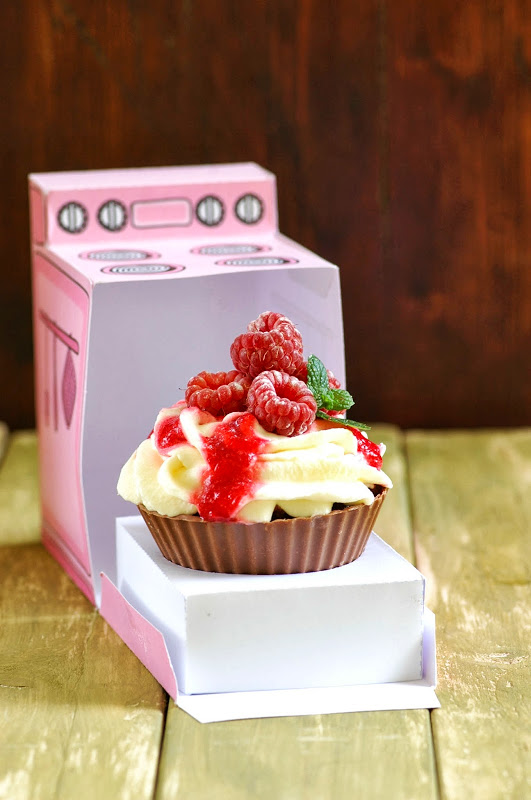 How to make chocolate cases
For this recipe shooting, I placed the cupcakes into edible chocolate cases. They are easy peasy made. All you need are single cupcake cases, ideally made from silicone. Take double the number of the number of cupcakes you want to bake.
Melt the chocolate of your choice in a water bath while stirring constantly.
Then take a kitchen brush and quickly stroke the liquid chocolate into the inner surface of the cupcake moulds. Make sure everything is covered.
When you have spread all the moulds in this way, put them all in the freezer to speed up the hardening process.
After about 20 minutes take them out and spread a second layer of liquid chocolate on them, and put them back in the freezer.
After another hour you can remove them and carefully separate the mould from the chocolate.
You will have perfect, edible chocolate cups. Keep them in the refrigerator until you need them.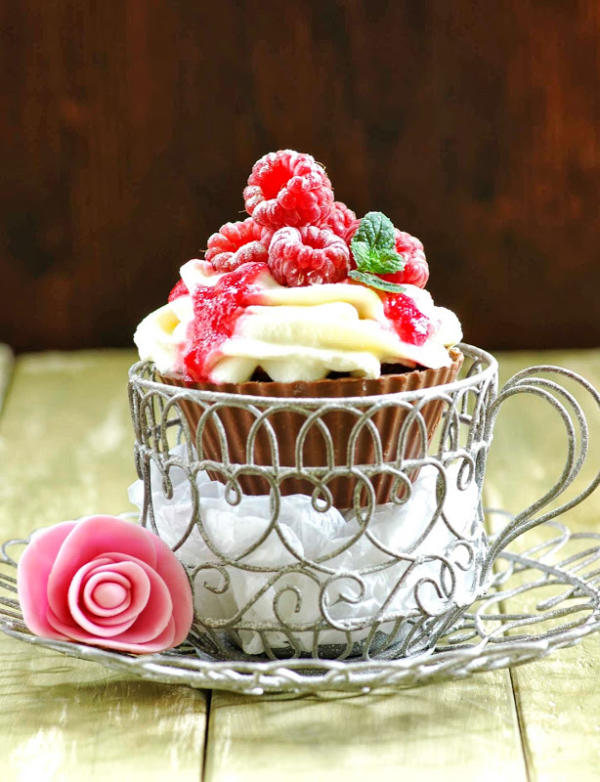 Also try our French almond sponge cake, Raspberry and white Chocolate Cake or the Raspberry Sorbet.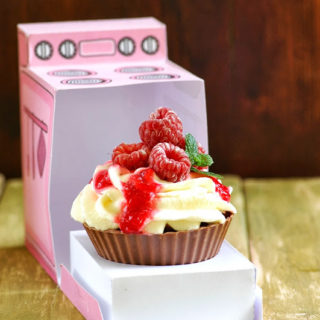 Creamy Raspberry Buttermilk Cupcakes
These fabulous cupcakes made from raspberry, chocolate and buttermilk are fluffy and loved by everyone. Try out my recipe.
Ingredients
65

g

butter

50

g

caster sugar

½

tsp

vanilla essence

1

egg

70

g

raspberry jam

25

g

self raising flour

70

g

plain flour

½

tsp

bicarbonate of soda

20

g

cocoa powder

80

ml

buttermilk

250

ml

whipping cream

2

tsps

icing sugar

raspberries for decoration



raspberry sauce for decoration



Instructions
Preheat oven to 180°C, (350°F).




Beat together the butter, caster sugar and vanilla essence until light and creamy.




Add the egg and beat well. Add the jam and beat again until smooth.

Fold in sifted flours, bicarbonate of soda and cocoa alternately with the buttermilk until nice and smooth.

Spoon the mixture into cupcake cases and bake for 20 minutes or until a skewer comes out clean when inserted in the centre. Leave cakes to cool completely before decorating.

Whip cream and icing sugar together until thick. Pipe cream onto cakes and decorate with fresh raspberries and raspberry sauce.
Notes
I served these cupcakes in edible chocolate cases which I made by melting chocolate and coating silicone moulds before placing in the freezer to set. Once set, peel off the moulds and keep in the refrigerator until ready to serve.
I made the raspberry sauce by blitzing fresh raspberries with a touch of lemon juice and icing sugar to taste and then passing through a sieve to remove any seeds.
Nutrition
Serving:
1
piece
Calories:
280
kcal
Carbohydrates:
25
g
Protein:
4
g
Fat:
19
g
Share on Facebook
Share on Twitter
Share by Email