Amazing Pistachio Cupcakes
Pistachio cupcakes impress with a delicate aroma, because the green nuts taste particularly good with sweet pastries. The chocolate note of the batter goes well with the pistachios. Try out the recipe right away.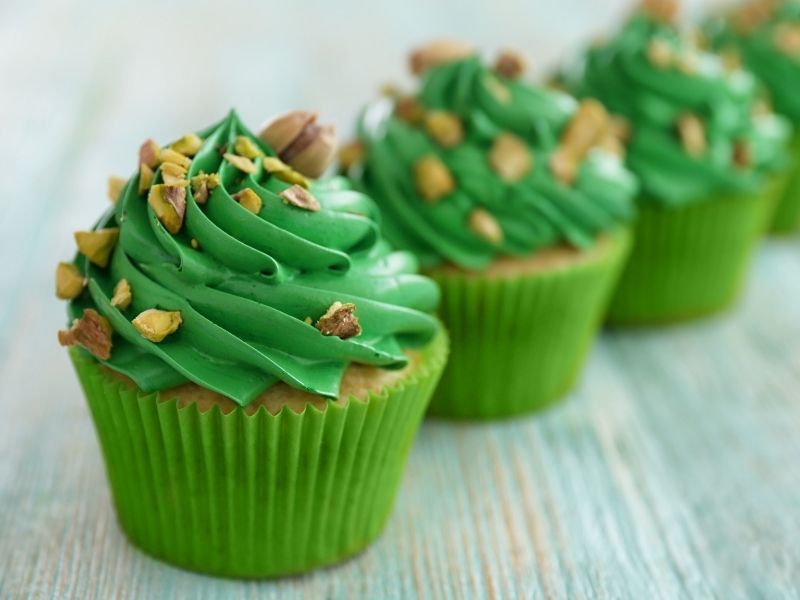 Muffins with pistachio cream are quick to make. Take all the ingredients out of the fridge before baking so that they warm up. This is the best way to make the little cup cakes.
How healthy are pistachios?
Pistachios are very healthy nuts, rich in vitamins, minerals and antioxidants. They are high in beta-carotene, vitamin E and folic acid. Pistachios are also a good source of fibre, protein and potassium. A handful of pistachios contains about 3 grams of fibre.
How can I flatten the cupcakes before decorating them?
The best way to get cupcakes plain before decorating them with frosting is to use what is called a "crumb coat". Simply take some ready-made icing and spread it thinly over the baked, cooled cupcake until all the crumbs are covered. Allow the icing to set and then pipe on a second layer with a piping bag.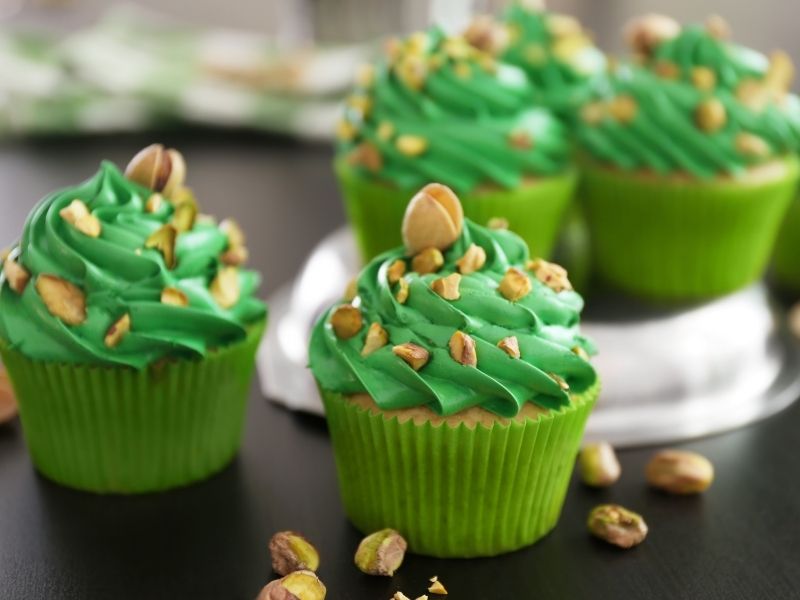 Can pistachio cupcakes also be made as a cake?
Pistachio cupcakes can also be made as a cake, but the preparation is a little more complicated. You can either bake a sponge cake base and then spread the pistachio cream on it or cover it with other icing. You can also bake a roll and fill it with pistachio cream.
How long do pistachio cupcakes keep fresh?
Pistachio cupcakes will keep fresh for about 3-4 days if stored properly. It's best to store them in an airtight tin or jar at room temperature so they don't dry out. You can also freeze cupcakes without frosting for several months.
Also try Creamy Raspberry Cupcakes with buttermilk or Amazing Doughnut Muffins.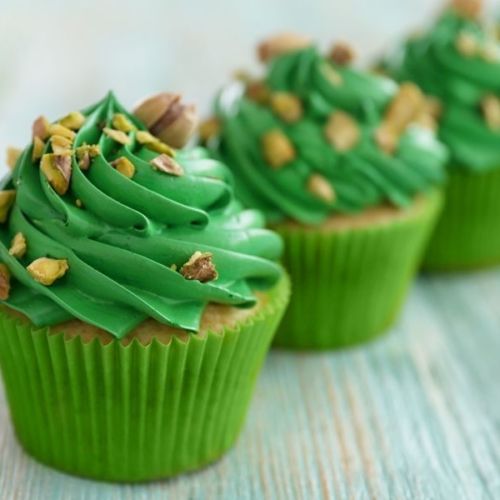 Tasty Pistachio Cupcakes
Pistachio Cupcakes are a delicious treat that are perfect for any occasion! They are made with pistachio nuts, which give them a lovely flavor and a beautiful green color.
Ingredients
100

g

butter

120

g

sugar

2

eggs

120

g

flour

1

tbsp

baking soda

1

tablespoon

cocoa powder

50

g

fresh pistachios
For the frosting
180

g

butter

150

g

icing sugar

2

tablespoons

pistachio paste

Green food colouring optional
Instructions
Preheat the oven to 180°C (350 F).

First add the sugar to the room-warm butter and beat until fluffy. Then add both eggs, one at a time. Mix the baking powder, cocoa and flour and add to the butter mixture. Next, gently mix the pistachios into the batter. Everything should only be loosely mixed, do not stir too long.

If you are using paper cups, place them in 6 solid muffin tins. Then fill the paper cups two thirds full with the batter.

Bake the cupcakes for 20 minutes. They are perfect if the tip of the knife stays clean when you test them. Leave them to cool on a rack.

In the meantime, mix the icing. First cream the room-warm butter with a mixer and then slowly add the icing sugar and pistachio paste. Add as much green food colouring as needed until the frosting is a strong green.

Use a piping bag with a decorating nozzle to decorate the cupcakes with the frosting.
Share on Facebook
Share on Twitter
Share by Email