This chocolate blancmange recipe is super quick and you can hardly go wrong. It is a kind of pudding, Kids and adults love it the same and it can be easily prepared upfront. You can choose the chocolate you prefer, use dark chocoalte for a richer result or white chocolate for a lighter and sweeter dessert.
Blancmange for grown-ups
If you want to upgrade these little desserts a little, try adding some Cointreau or or Cream liqueur. Or sprinkle some dried pink pepper corns as a topping.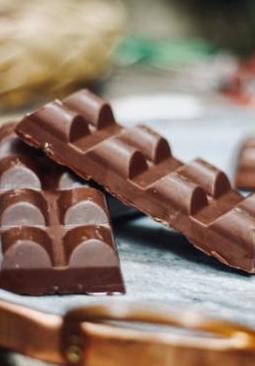 Dessert for kids
When served simply with chocolate, a few shavings of chocolate over the top make it a perfect treat for the kids.
The History of The Blancmange
Blancmange translated is "white dish" and was popular throughout Europe and the Middle East in the Middle Ages.
It was originally made with almond milk, chicken, sugar and rosewater but by the mid-17th century, the chicken was replaced by isinglass (a type of gelatin made from fish). The recipe continued to evolve and today, cornstarch and/or unflavored gelatin are responsible for the distinctive wobble and texture.
Thankfully, this modern version of the Blancmange does not include ingredients like chicken or fish gelatin! It's a good example of how recipes are passed down generations and adapted significantly.
It's quick; it's rich, it's chocolaty – you don't need nothing more!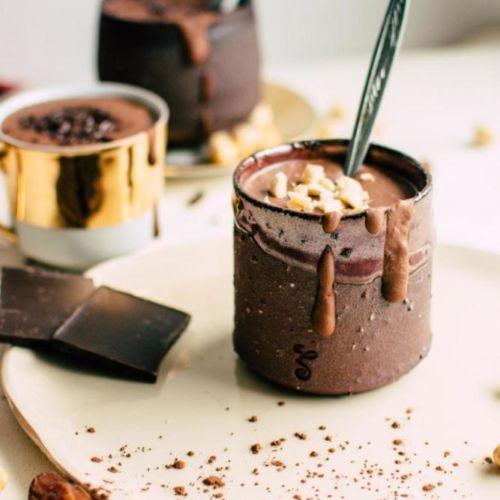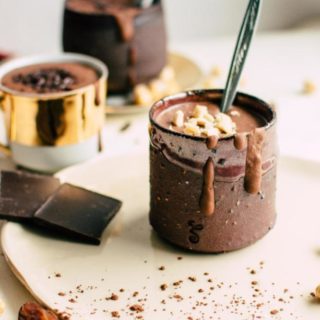 Classy Chocolate Blancmange
The classiest chocolate blancmange you'll ever eat. Spoil yourself and your loved ones with this wonderful recipe.
Instructions
Sieve the cornflour, nutmeg, cocoa powder, cinnamon and sugar into a bowl. Add about 2 tblsps of the milk to the bowl and mix using a whisk until you have a smooth paste.

Heat the remaining milk in a saucepan until just beginning to boil. Remove from the heat and add to your paste mixture, stirring until well incorporated.

Add your mixture back to the pan and continue to cook on a medium heat, stirring all the time, until the mixture is thick and glossy.

Remove from the heat and cool slightly before pouring into your serving dishes.




Leave to one side or in the fridge for about 2 hours to cool completely before serving.
Nutrition
Serving:
100
g
Calories:
140
kcal
Share on Facebook
Share on Twitter
Share by Email
Image credits: Unless otherwise stated: ©Angela Darroch, ©Pro Stock Media via Canva.com or ©Unsplash.com. As an Amazon affiliate, I earn from qualifying purchases. The links marked with an asterisk (*) are so-called commission links. If you click on one of these links and make a purchase, I receive a commission from your purchase. This income helps us to run this website and to provide our recipes free of charge. The price does not change for you.