Delicious Pumpkin Lasagne
If you love pumpkin and lasagne, then this recipe for pumpkin lasagne with minced meat is a real treat for you. Our recipe is full of flavour and is sure to become a new pumpkin favourite this autumn. The best thing about this recipe is that it's actually quite easy to make.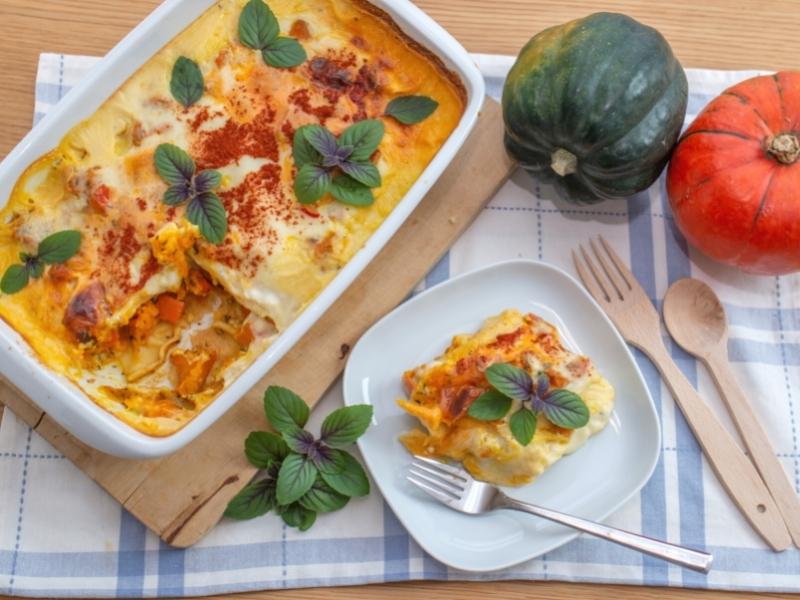 Tips for a great pumpkin lasagne
The right pumpkin
Pumpkins that are small and compact are best for lasagne. Large pumpkins are too watery and tend to get mushy. Butternut and Hokkaido pumpkins are well suited.
Roast the pumpkin beforehand
Pre-roasted pumpkin in the oven has a great flavour that will take your pumpkin lasagne to the next level.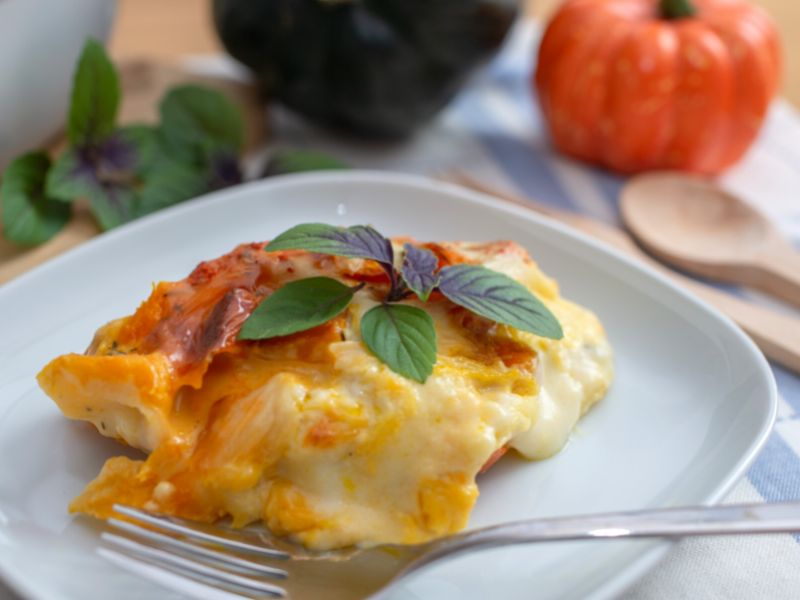 The right layering
It's all about delicious layers. Start with a layer of pasta, then a layer of hearty mince mixture, a layer of sauce, followed by a layer of pumpkin and a layer of mozzarella slices. Repeat this layering until you have reached the top of the casserole dish or you have run out of ingredients.
Strong sauces
A good pumpkin lasagne needs a tasty sauce. Don't be sparing with salt, pepper and other seasonings. The baking and the raw pasta lasagne sheets tend to weaken the flavour.
Let it rest a little before serving.
When it is done baking, let it rest for at least 30 minutes, even overnight is better, and then reheat. This will intensify the flavours and make your pumpkin lasagne with minced meat even better.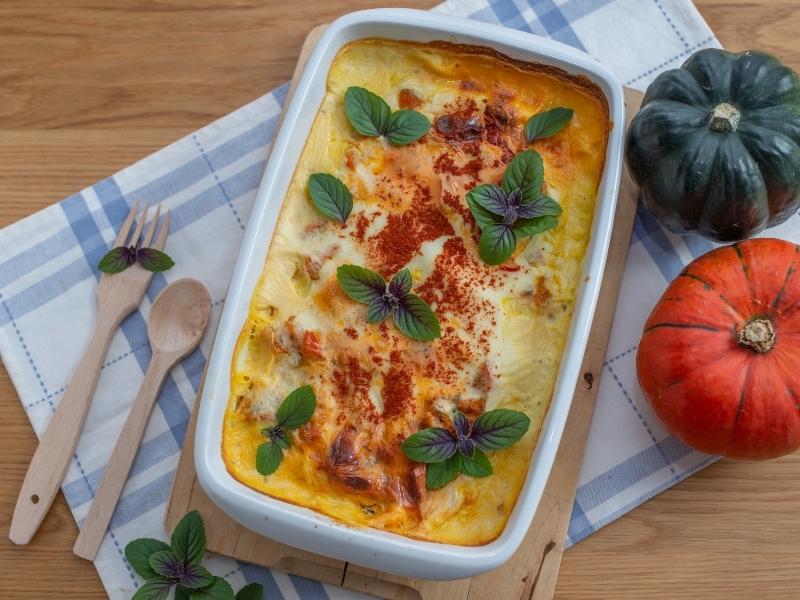 The right mozzarella cheese
For lasagne, just as for pizza, use firm mozzarella. The round, soft balls we eat elsewhere are not suitable for this as they let too much water through. So buy mozzarella in blocks or, already grated, in bags.
Saving leftovers
Leftovers can be kept covered in the fridge for several days. This great autumn lasagne is also suitable for freezing. It is best to freeze it in individual portions.
Also try our Baked Paprika Chicken or the famous Sausage Pasta Bake.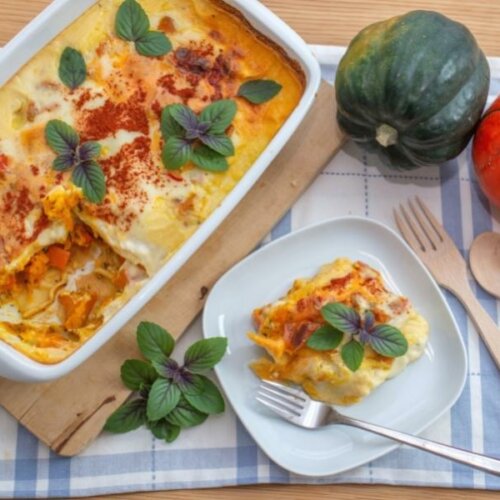 Delicious Pumpkin Lasagne
This great pumpkin lasagne with mince meat makes the most of pumpkin and the delicious Italian oven classic. This autumn casserole scores with minced meat, mozzarella and lots of flavour. Give it a try.
Ingredients
1

Hokkaido pumpkin

12

lasagne sheets

600

g

mozzarella

for pizza, firm, in a block
For the minced meat sauce
For the white sauce
400

g

crème fraîche

2

anchovy fillets

Milk to taste
Instructions
Preheat the oven to 180 °C (375° F / 160 °C fan forced oven) and line a baking tray with baking paper.

Peel and core the pumpkin and cut into slices. Then place the slices on the baking tray and brush well with olive oil. Season with salt, pepper and chilli powder as needed.

Roast in the oven for about 20 minutes.

In the meantime, cut the bacon into thin strips and fry in a hot pan. Wash the courgettes and chop them as small as you like. Peel and then finely chop the garlic and onion.

Add both to the bacon in the pan and sauté. Then add the herbs, cinnamon, courgette cubes and the minced meat. Mix everything well, sauté and then add the tomato pieces and the wine.

Bring everything to the boil, then reduce the heat and simmer gently for about 45 minutes.

Mix the anchovies with the crème fraîche and season with salt and pepper to taste. Dilute with a little milk.

Now brush an ovenproof casserole dish with oil and put a layer of lasagne sheets in first. Then spread the meat sauce over the lasagne sheets, add some white sauce and a layer of pumpkin slices. Then spread the mozzarella slices on top and put another layer of lasagne sheets on top.

Repeat the process until there are no ingredients left. The final layer should be white sauce and mozzarella.

Place the casserole dish in the oven for about 35 minutes and bake until the surface is golden brown.
Share on Facebook
Share on Twitter
Share by Email