Hearty Chicken Casserole Recipe
Chicken stew, or casserole, a real comfort food, is enjoyed by families worldwide. Its versatile ingredients, and ease of preparation make it a crowd favourite. It can be served on a chilly winter evening or as a hearty meal to fuel a busy day.
Delicious sauce and the juicy, fall off the bone chicken. This recipe has been a firm family favourite for at least the past 20 years and never fails to please.
Varieties
One of the beauties of a homemade chicken casserole lies in its flexibility. It's a culinary canvas that encourages experimentation. You can swap chicken thighs for chicken breasts or include a mix of both.
Vegetables can range from traditional options to unique additions like sweet potatoes, bell peppers, or even olives. The sauce could be flavoured with everything from garlic and thyme to curry powder or soy sauce, catering to a wide range of taste preferences.
Chicken Casserole – an international celebrity
Chicken casseroles come in many forms across the globe. The French Coq au Vin involves simmering chicken in wine, while Mexico's Calabaza Con Pollo sees it with squash and a chilli-spiced sauce. In the UK, a popular variation is the Chicken and Leek Casserole, or the Hungarian Chicken Paprikash.
Give it a go – you won't be disappointed.
Like chicken? Also try our One Pot Chicken Chilli, Gentse waterzooi or the famous Quick Kashmiri Chicken Curry.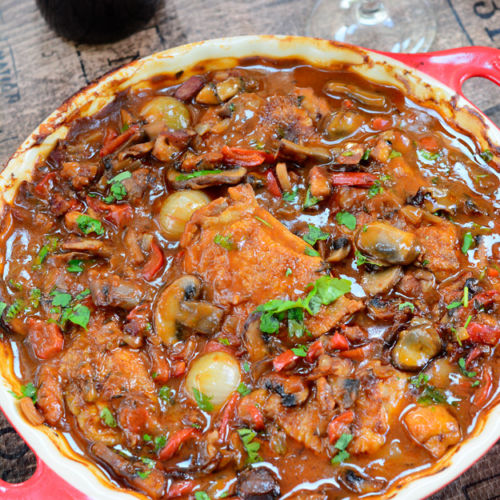 Hearty Chicken Casserole with mushrooms
A simple and delectable chicken stew – perfect heart warming food. Try our recipe right now.
Ingredients
15

ml

olive oil

1

kg

chicken thighs

skin on

1

tbsp

salt

1

tsp

smoked paprika

1

small onion

chopped

1

red pepper

diced

250

g

brown mushrooms

sliced

1

tsp

dried thyme

30

g

plain flour

250

ml

chicken stock

100

ml

red wine

optional

15

g

tomato paste

2

g

sugar

5

ml

Worcestershire sauce

12

baby onions

peeled
Instructions
Preheat oven to 160°C (325°F). Heat the olive oil in a pan and brown the chicken, skin side down until nice and crisp. Arrange the chicken, skin side up in an oven proof baking dish.

Sprinkle the chicken with the salt and smoked paprika. Cover and bake for 30 minutes.

While the chicken is in the oven, prepare the sauce by adding the onion and red pepper to the pan drippings and sauté until soft. Add the mushrooms, thyme and a little extra oil if necessary and stir fry until soft.

Sprinkle in the flour and stir through to mix well .Add the chicken stock, red wine, tomato paste, salt, sugar and Worcestershire sauce and stir until thickened.

When the chicken is done, uncover and pour off any excess fat. Pour the sauce over and add the onions to the dish.

Cover and bake for a further 45 mins.
Share on Facebook
Share on Twitter
Share by Email