Quick Kashmiri Chicken Curry – a homemade treat
This Creamy Kashmiri Chicken Curry is not a real curry in the meaning of this kind of dish. This chicken curry recipe lacks the burning heat of a traditional hot curry but doesn't disappoint with delicious flavour combinations of cardamom, chilli and paprika.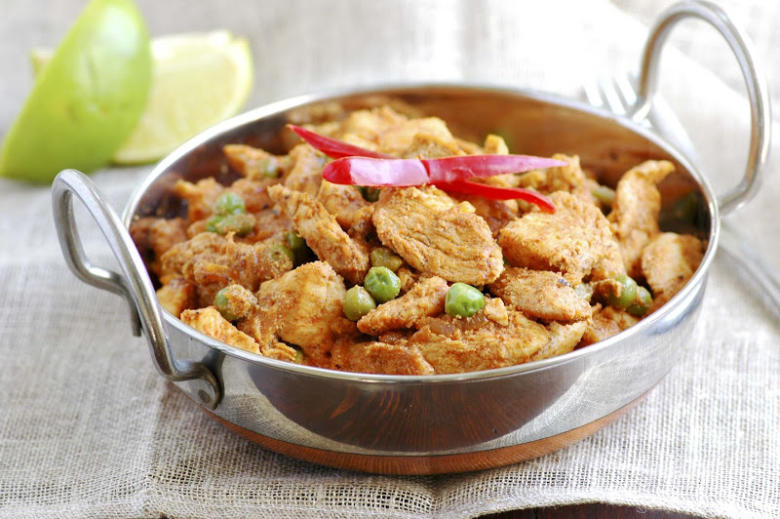 What Is Kashmiri Chicken Curry?
Kashmiri Chicken Curry, as the name suggests, is a native to Kashmir, full of authentic spices like cardamom, black peppercorns, cinnamon, and cloves to name a few. If you are looking for a refreshing twist to a chicken curry for a family meal or a special recipe to serve to guests on special occasions then this Kashmiri Korma recipe is a must-try!
Use high quality ingredients for the best result.
Pro Tips When Following Any Chicken Curry Recipe
Although there are many different chicken curry recipes out there, there are some underlying principles to follow in order to ensure a delicious outcome. Here are some of my best tips that I've used when cooking curries just like this Kashmiri Korma recipe:
Slice and cut your thickening agents such as onions and tomatoes into smaller pieces or chunks. The smaller the pieces the thicker your gravy will be.
Give yourself ample time to prepare your ingredients and cook your curry. Curries usually take more time to cook than other dishes and it's important that you set that time aside to ensure that the full flavours of the curry are extracted from the spices used.
If you happen to put too much salt into your curry, instead of adding additional water which will ruin your gravy thickness, add a raw peeled potato to your pot. The potato will soak up the excess salt and you will save your curry from potentially ruining.
Also try other recipes, Durban Lamb Curry with Peas and Apricot, Chickpea and Spinach Curry or Instant Pot butter chicken.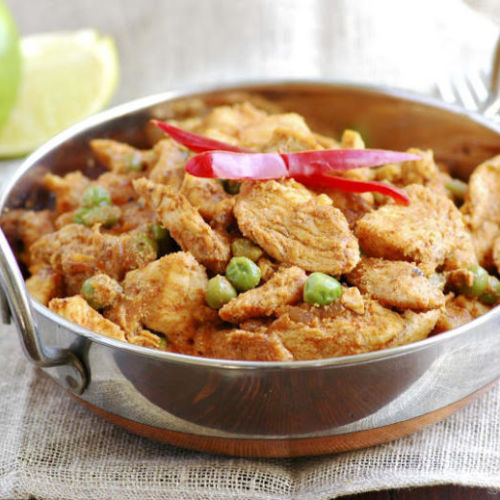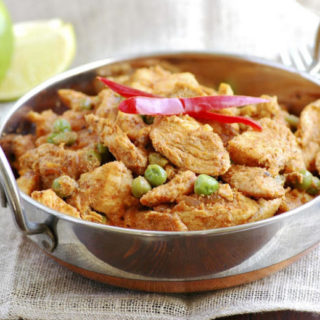 Our best and quick Kashmiri Chicken Curry
Kashmiri chicken with tender meat and green peas is one of our family's favourite meals for the evening and weekends. It is also perfect for meal prep.
Ingredients
600

g

skinless chicken breasts

chopped into bite size pieces

250

ml

natural yogurt

100

g

frozen peas

25

g

ghee

or butter

2

large onions

thinly sliced

10

peppercorns

whole

10

seeds

from cardamom pods, crushed

or whole cardamom seeds

1

stick

cinnamon

small

1

small knob

of fresh root ginger

peeled and finely chopped

2

cloves

garlic

finely chopped

1

tsp

chilli powder

2

tsps

paprika powder
Instructions
Melt the ghee or butter in a wok. Add the onions, peppercorns, crushed cardamom seeds and cinnamon and fry for about 8 – 10 minutes, stirring occasionally, until the onions are golden.

Add the ginger, garlic, chilli powder, paprika and salt to taste and fry for a further 2 minutes, stirring occasionally.

Add the chicken pieces and fry gently until they are evenly browned and cooked through. This takes around 5 minutes.

Add the peas and stir fry until cooked, around 15 minutes.

Gradually add the yogurt, stirring constantly until heated through. If sauce is too thick, add a touch of water to thin it out.

Serve hot with rice and lime wedges.


Notes
** The curry does tend to curdle when adding the yogurt but I find if I leave it to cool down and then reheat again, the sauce blends together but you will need to add some water to thin it out a bit.
Share on Facebook
Share on Twitter
Share by Email