Way back in September I can remember wondering what I would do with all my time now that both kids are at school.  Two months in, and I can honestly say that I have not had one day where I've had nothing to do.  In fact I seem to have less time to do 'my' things like blogging.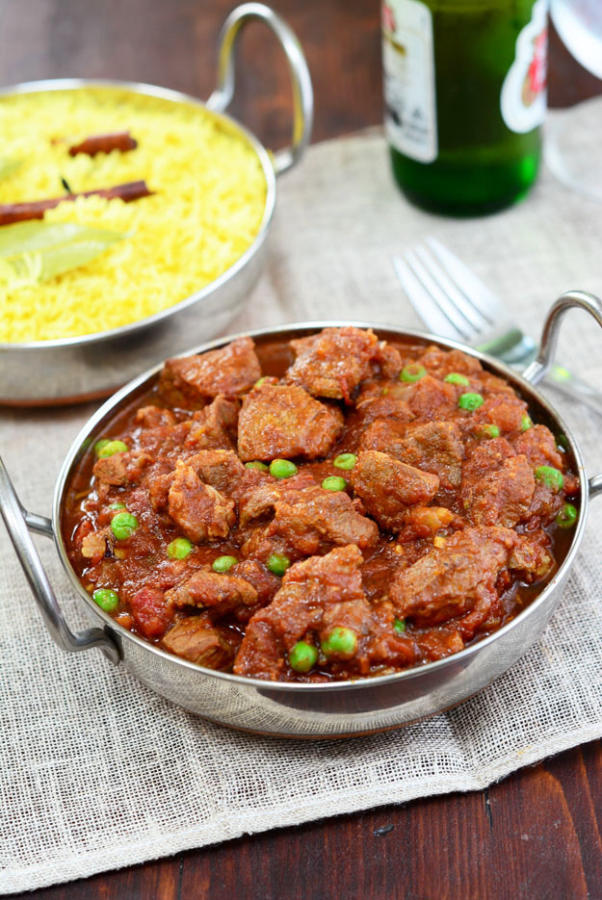 On Monday I decided I would spruce up the guest bathroom by giving it a quick lick of paint.  It is now Thursday and my small job has turned into a complete over haul with me painting the walls, the woodwork, removing the old tiles and putting up new ones, varnishing the floor and fitting all new accessories.  I do love the whole process of DIY but everything else gets put on the back burner including cooking and housework.  This is where my freezer becomes my best friend.  First thing in the morning I can take out a precooked meal and half an hour before hubby is due home it is in the pot getting heated up.  A perfectly good home cooked meal on the table in less than half an hour and I've managed to spend the day decorating the house.
One of my standby meals for the freezer is this Durban Lamb Curry. It is just a good, no nonsense spicy curry which originates from South Africa and in particular the area of Natal which is where I was born many years ago. I have toned down the spices ever so slightly so that my hubby can eat it and even my five year old daughter enjoys 'that spicy meat stuff'. A real family favourite in our house.
Well that's enough sitting around, coffee break over, it's back to the painting….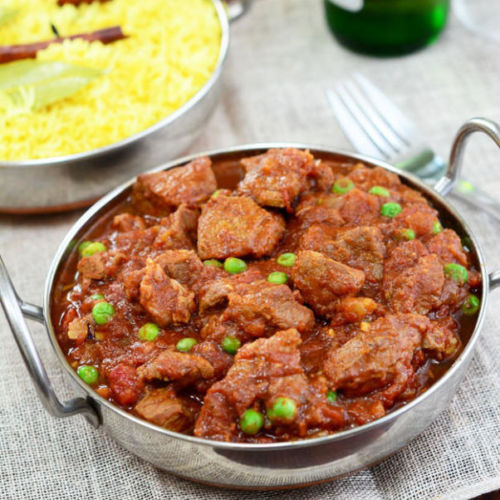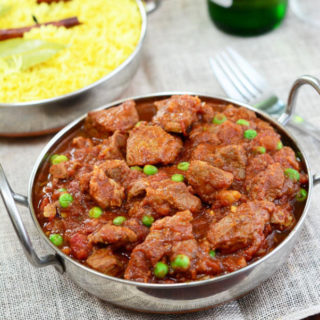 My famous Durban Curry: Hot Lamb curry with Peas and Apricot
Durban Curry from South Africa has many faces. Every family has their recipe, so here comes mine, made with lamb, peas and apricot.
Ingredients
1.2

kg

stewing lamb, cubed

250

ml

frozen peas (see note)

2

tins

(800g) canned tomatoes

250

ml

lamb stock

2

tblsp

ghee (or sunflower oil)

2

onions, finely chopped

4

garlic cloves, finely chopped

1

piece

fresh ginger (5cm), peeled and finely chopped

1

tblsp

hot curry powder

½

tblsp

chilli powder

½

tsp

cayenne pepper

½

tsp

garlic powder

½

tsp

ground ginger

1

stick

cinnamon

2

tblsp

apricot conserve

1

tblsp

white vinegar

salt & pepper to taste




2

pieces

curry leaves
Instructions
Preheat oven to 160°C (325°F).




Melt the ghee in a large pan.




Add the onions, garlic and ginger and fry lightly until just starting to brown.




Add the curry powder, chilli powder, cayenne pepper, garlic powder, ground ginger and continue to fry for a few minutes.

Add the lamb and fry until nicely browned, 8 – 10 minutes.




Add the cinnamon stick, curry leaves, chopped tomatoes, apricot conserve, stock and vinegar and stir together.

Transfer everything to an ovenproof dish and cover tightly.




Bake in the oven for 1½ hours. (If you are adding peas then only add them in the last ½ hour). Enjoy!
Notes
It is not traditional to add peas to a Durban Curry but I like the colour and the freshness that they add.
Image credits: Unless otherwise stated: ©Angela Darroch, ©Pro Stock Media via Canva.com or ©Unsplash.com. As an Amazon affiliate, I earn from qualifying purchases. The links marked with an asterisk (*) are so-called commission links. If you click on one of these links and make a purchase, I receive a commission from your purchase. This income helps us to run this website and to provide our recipes free of charge. The price does not change for you.