Lam kofta in a curry sauce is probably the one of most popular dishes. It's various attributes makes it a versatile dish that can be eaten with pasta, rice or potatoes to name a few. Chili powder and sauce is an infused spice mixture that can change from mild to medium hot based on regional tastes and traditions.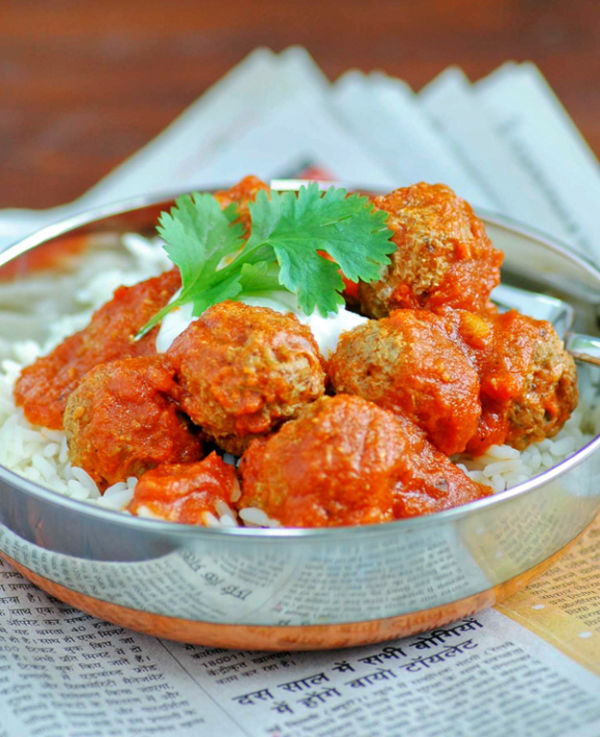 The kofta mixture is very versatile – make small meatballs, shallow fry them in oil and serve with chutney or a yoghurt dip as an appetiser, mould them on to skewers and char-grill and serve as a starter or cook them in this curry sauce for a more substantial meal.
There are many types of curries but nothing screams comfort food like a good kofta curry.
Pre cooking
I always make this quantity and then freeze any surplus meatballs and sauce separately, ready for a quick homemade meal when I don't feel like going to too much trouble.
When served with the curry sauce, they are quite spicy but it is easy enough to tone down the chilli if you prefer.
Also try the Hungarian goulash and the Juicy Salmon Balls with Cashew Pesto.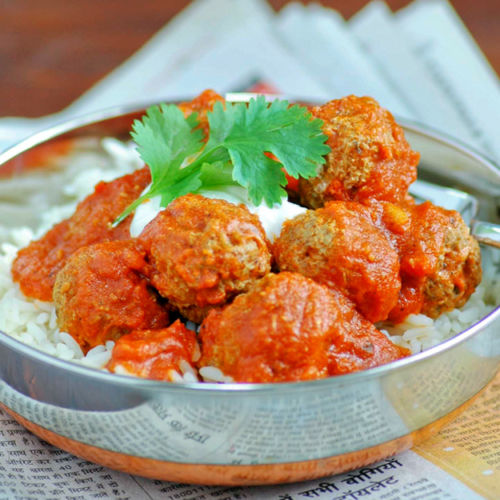 Homemade Lamb Kofta Curry
This tasty Lamb kofta curry will spoil your whole family and guests. You can also prepare it well for meal prep.
Ingredients
For the kofta balls:
1

small

onion

roughly chopped

5

cm

piece of ginger

2

garlic cloves

2

green chillies

seeds removed

15

g

coriander

cilantro leaves

500

g

minced lamb

2

tblsp

yoghurt

plain

2½

tsp

ground cumin

1½

tsp

ground coriander

2

tsp

garam masala

¼

tsp

chilli powder

2½

tsp

salt

½

tsp

black pepper
For the sauce:
3

tblsp

ghee

or sunflower oil

2

medium

onions

roughly chopped

4

garlic cloves

finely chopped

10

cm

piece of ginger

½

tsp

chilli powder

3

tsp

garam masala

¼

tsp

asafoetida

4

tomatoes

roughly chopped, ripe

500

ml

lamb stock

1

tblsp

tomato puree

1

cinnamon stick

4

curry leaves

200

ml

water
Instructions
Blend the onion, ginger, garlic, green chillies and the coriander leaves together in a food processor until they form a paste. Put the minced lamb in a bowl, add the paste, yoghurt, remaining spices, salt and pepper and mix well with your hands until thoroughly combined. Cover and put in the fridge to rest while you make the sauce.

For the sauce, heat the ghee in a large saucepan and gently fry the onions, garlic and ginger until softened and lightly browned. Add the chilli powder, garam masala, and asafoetida and stir well. Add the chopped tomatoes and cook for a couple of minutes to release some of the juice.

Add the stock, tomato puree, cinnamon stick, curry leaves and season with black pepper. Bring to a simmer, partially cover with a lid and cook for 20 minutes, stirring occasionally.

Remove the sauce from the heat and discard the cinnamon stick and curry leaves.Blend the sauce until as smooth as possible. Return to the heat, add the 200 ml water and bring back to a simmer.

Remove the meat mixture from the freezer. Using wet hands shape the mixture into meatballs about the size of a walnut. You should get between 25 and 30. Drop all the meatballs gently into the sauce mixture and return to a simmer.

Cook, uncovered for a further 30 minutes, stirring regularly, until the tomato sauce has reduced nicely. Serve the meatballs with rice and top with yoghurt and fresh coriander leaves.
Share on Facebook
Share on Twitter
Share by Email