Chicken waterzooi: Belgian chunky chicken stew
Our recipe for a creamy, savoury chicken waterzooi soup is a Belgian legend. It warms heart and soul and is a quick dinner or lunch. It is rich in healthy ingredients. You will like this special chicken dish.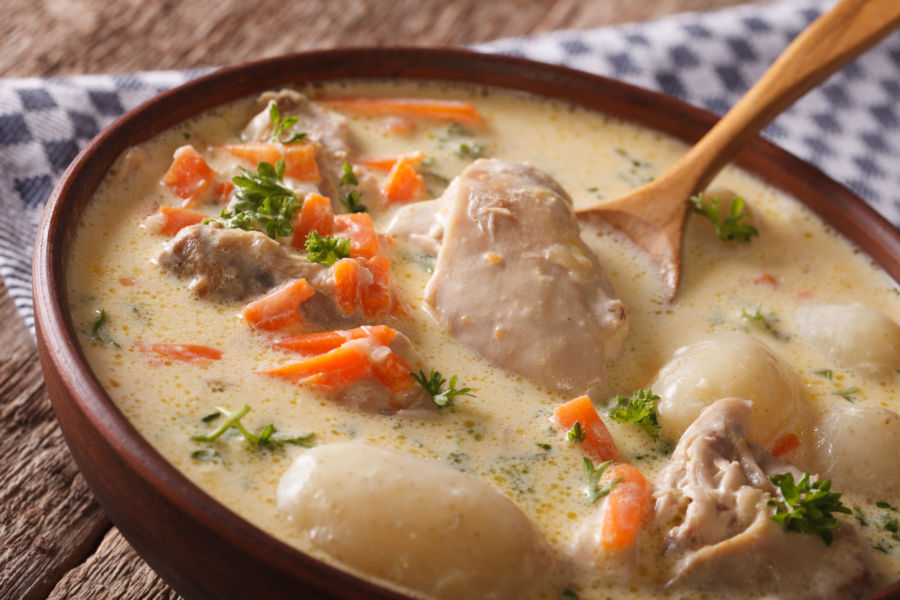 Where does Gentse waterzooi mean?
Waterzooi is a traditional Flemish stew. The meaning of the word, which root are Dutch, ist "zooien", which means to cook. It is also called Gentse Waterzooi, which is pointing to the city of Ghent as place of origin. This chicken waterzooi Ghent style soup is a treat for body and soul. It is a healthy choice for busy evenings or when the kids are sick.
The roots of the chicken waterzooi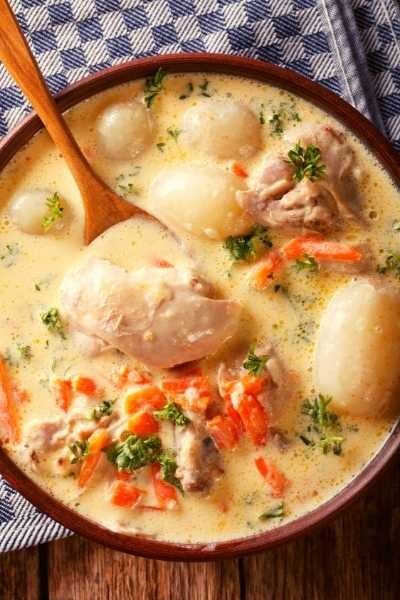 Originally, the soup was made from fish, either fresh or salt water fish. Today chicken is a famous meat and always available. The theory, why this dish changed over time, is that the rivers of Ghent were too polluted and the fish disappeared.
Discover more: The Top 10 Belgian food you did not know about yet
Tip for super tender chicken meat
For especially tender chicken, use only chicken thighs, 1.5 kg (3 lb), about 2-3 pieces, depending on their size. The meat is the most delicate part of the whole chicken. Be sure to leave the skin on, it is important for the taste. After cooking, take the legs out carefully, as the meat will practically fall off the bone.
In general this stew can be made with fish or chicken, vegetables, including carrots, leek, potatoes, herbs, eggs, cream and butter. Usually it is served as a soup or stew with baguette to soak up the liquid.
Try our Belgian chicken waterzooi recipe. If you want to try something different, how about a chicken Thai basil stir fry, Hungarian Chicken Paprikash, Baked Paprika Chicken or barbequed chicken drumsticks?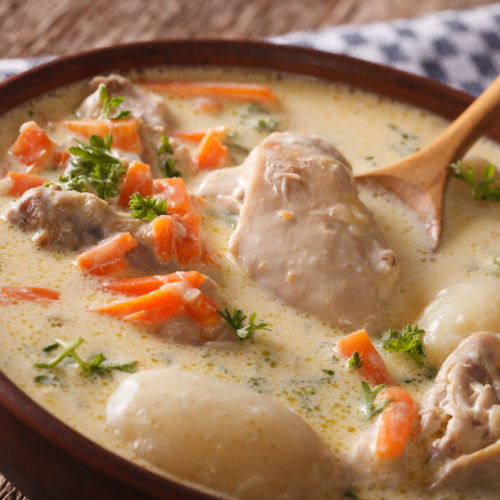 Belgian creamy chicken soup (Gentse waterzooi)
Gentse waterzooi is a classic of Belgian kitchen of which we can be proud. With this recipe you make a delicious stew of chicken, carrot, leek and celery.
Equipment
Potato peeler

Kitchen knive
Ingredients
1

chicken

large, around 3 pounds

4

potatos

1

onion

medium size, white

2

carrots

big

2

stalks

celery

2

cloves

1

mixed sachet

herbs from laurel, thyme and parsley stems

1

cup

rich cream

(200 ml)

fresh chervil

salt and pepper

lemon juice
For the julienne garnish:
4

carrots

2

sticks

leek

½

fennel
Instructions
Wash the chicken and put the chicken in a large pan.

Stick the cloves into the peeled onion and place the onion into the pan without cutting it. Add the rest of the vegetables, roughly chopped and fill the pot with water until everything is well covered.

Sprinkle some salt into the water and add the sachet of herbs. Bring to boil.

When everything comes to the boil, let it cook on high heat for around 15 Minutes. Skim off the foam from the surface and set the heat to low heat.

In the meantime, peel the potatoes with a peeler. Cut the peeled potatoes into cubes and add to the pot after 30 minutes of cooking.

Simmer for another 30 minutes.

In the meantime, cut the vegetables for the garnish into julienne (very thin stripes). Use your food processor or your grater.

After 60 -70 minutes of cooking, remove the chicken from the pan and strain the cooking liquid. Bring to the boil again and add the vegetables julienne. Let simmer for a few minutes to soften the vegetables.

Finally add the rich cream, cut the chicken into pieces and put it back in the pan to warm it up well. Season to taste with salt and pepper and add a squeeze of lemon juice.

Serve the Belgian chicken soup in deep plates and decorate with some chervil. Serve with freshly baked bread.
Notes
You can vary the vegetables used.
Nutrition
Serving:
1
portion
Calories:
864
kcal
Carbohydrates:
59
g
Protein:
44
g
Fat:
51
g
Saturated Fat:
22
g
Polyunsaturated Fat:
7
g
Monounsaturated Fat:
17
g
Trans Fat:
0.2
g
Cholesterol:
210
mg
Sodium:
267
mg
Potassium:
1900
mg
Fiber:
10
g
Sugar:
12
g
Vitamin A:
17303
IU
Vitamin C:
62
mg
Calcium:
172
mg
Iron:
5
mg
Share on Facebook
Share on Twitter
Share by Email
Want more Belgian recipes?
Dark Flemish Beer Stew "Stoofvlees of stoverij"
See Recipe