Authentic Chicken Paprikash (Paprikás Csirke)
Paprikás Csirke, also known as Paprikash, is one of Hungary's national dishes. The tenderly stewed meat is complemented by the flavour of paprika and sour cream. Our traditional recipe for chicken paprikash is a family dish and true soul food.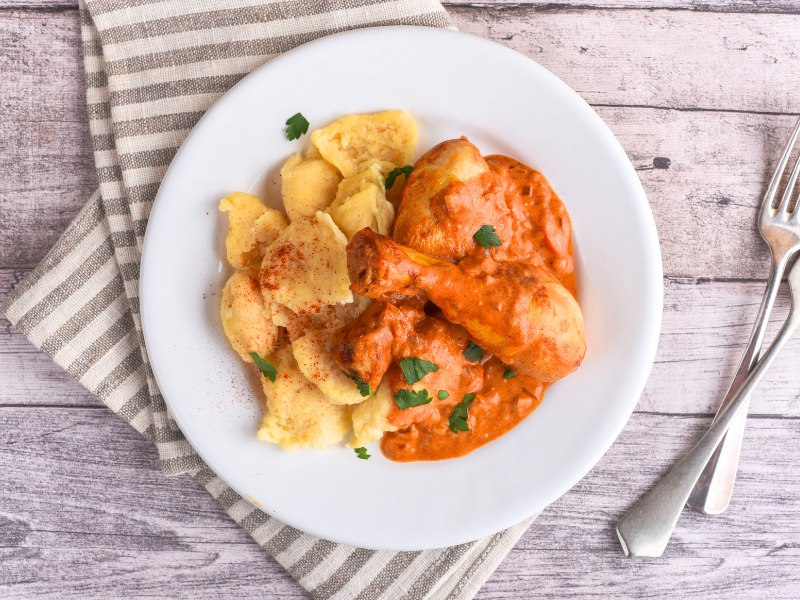 Ground paprika is the Be-all and End-all
As with all Hungarian dishes, it is important to use high-quality paprika spice. It should also not be too old, otherwise, it will taste bitter.
The paprika powder originating from Szeged and Kalocsa are known to of best quality and taste. These major paprika growing regions are particularly sunny and produce excellent paprika varieties.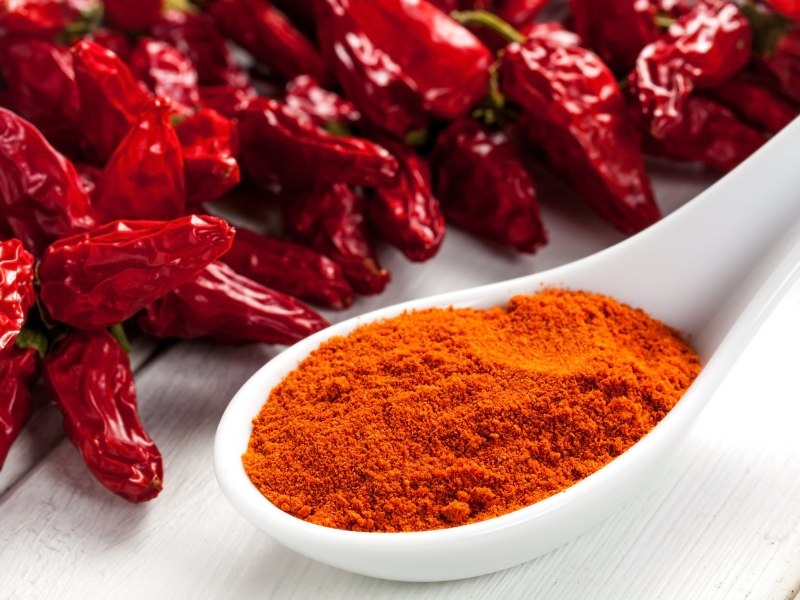 Originally, this dish was made with spicy paprika powder. The addition of sour cream is credited to the Austrian influence on Hungarian cuisine. This was meant to tone down the spiciness. Over time, the fine acidity of the sour cream has become a typical flavour nuance.
So choose a high quality paprika spice for your chicken paprikash. You will rewarded with a rich, flavourful dish. If you don't have hot Hungarian paprika, subtitute with cayenne pepper.
What side dish goes with it?
In Hungary, a local variant of Austrian dumplings, reminiscent of giant Spaetzle, is eaten with it. These Hungarian dumplings are known as "nokedli." However, Spaetzle of every shape, rice, boiled potatoes, gnocchi, potatoe mash, or bread also make suitable sides.
Best chicken for paprikash
In its original form, this hearty dish was made with whole, lean, old chickens. Nowadays, however, it is no longer a way of using up leftovers. To get a nice texture, it's best to use chicken legs or drumsticks, as the natural gelatine in the bones also thickens the sauce.
Tasty variants of Chicken Paprikash
As with any beloved dish, regional and personal versions of Chicken Paprikash abound.
A dash of Worcestershire sauce gives a complex, savoury note.
Tomato paste or Ajvar (paprika paste) also add complexity.
A Polish variant named "Paprykarz" includes rice and fish, which is also sold as a brad spread.
Diced carrots or other vegtables can be added to taste.
But basically, you can prepare Paprikash with various types of white meat, even fish is possible. In Hungary, carp is often used, but you can use any firm variety of fish.
Vegetarian and Vegan versions
Accommodating different dietary needs and preferences, Chicken Paprikash can be modified to suit vegetarian and vegan diets.
For a vegetarian twist add mushrooms or aubergines as a hearty, chunky substitute for chicken.
For vegan versions can use tofu, soy or seitan products, with plant-based cream providing the creamy finish.
Also try Hungarian fish soup "Halászlé", Hungarian goulash, or Hearty Chicken Casserole.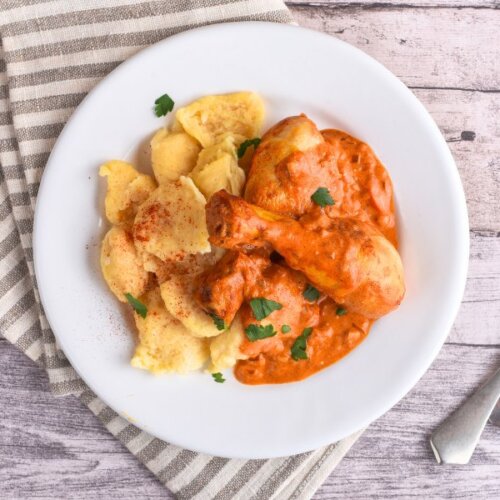 Paprikás Csirke – Hungarian Chicken Paprikash
This typical Hungarian national dish is made with chicken, paprika and sour cream. Real comfort food. Give our authentic chicken paprikash a try.
Ingredients
1

kg

Chicken thighs

with skin

1

Onion

2

cloves

Garlic

2

tbsp

Lard

or vegetable oil

2

tbsp

sweet Paprika powder

2

tsp

black pepper

2

tsp

Salt

350

ml

Chicken broth

2

Tomatoes

1

light pointed pepper

or yellow bell pepper

possibly Cayenne pepper for seasoning

3

stalks

Spring onions

Parsley

200

ml

sour cream
Instructions
Peel onion and garlic, dice them. Clean and wash the spring onions and cut them into fine rings. Wash the parsley, shake it dry and cut it into fine strips. Wash the pepper and the tomatoes. Clean both and cut into bite-sized pieces.

Remove excess fat from the chicken legs and wash them. You can also take chicken drumsticks.

Heat the lard or oil in a pan and sauté the onion cubes in it until translucent. Add chicken and sear it from all sides. At the end, add the garlic for a minute.

Then add salt and paprika powder and continue to sauté the meat for a short time while stirring constantly. Make sure that the paprika powder does not burn.

Now add the broth and let everything simmer lightly for about 15 minutes.

Then add the fresh bell pepper and tomato pieces. Let simmer for another 30 to 40 minutes until the chicken is cooked.

Then remove the pan from the stove and carefully stir the sour cream under the Paprikás Csirke until a homogeneous sauce without lumps is formed. If you take chicken with bones, no flour or starch should be necessary. However, if the sauce is still too liquid, you can also thicken it a bit.

Then season the dish to taste with paprika powder, salt, pepper and, if you prefer some spicyness, cayenne pepper, and serve it on plates with spatzle or another side dish.

Before serving, sprinkle parsley and the spring onions over the Hungarian paprika chicken.
Notes
Your chicken paprikash will taste even better if you let it sit overnight!
Nutrition
Serving:
1
yield
Calories:
676
kcal
Carbohydrates:
9
g
Protein:
43
g
Fat:
51
g
Saturated Fat:
16
g
Polyunsaturated Fat:
9
g
Monounsaturated Fat:
19
g
Trans Fat:
0.2
g
Cholesterol:
275
mg
Sodium:
1698
mg
Potassium:
741
mg
Fiber:
2
g
Sugar:
4
g
Vitamin A:
1077
IU
Vitamin C:
31
mg
Calcium:
113
mg
Iron:
2
mg
Share on Facebook
Share on Twitter
Share by Email