Cooking your own honey and mustard glazed gammon or ham from scratch can be a very rewarding experience. Not only do you get to have a delicious meal, but you also know exactly where the meat came from and how it was prepared. Here are some tips and the recipe on how to cook your own honey roast gammon.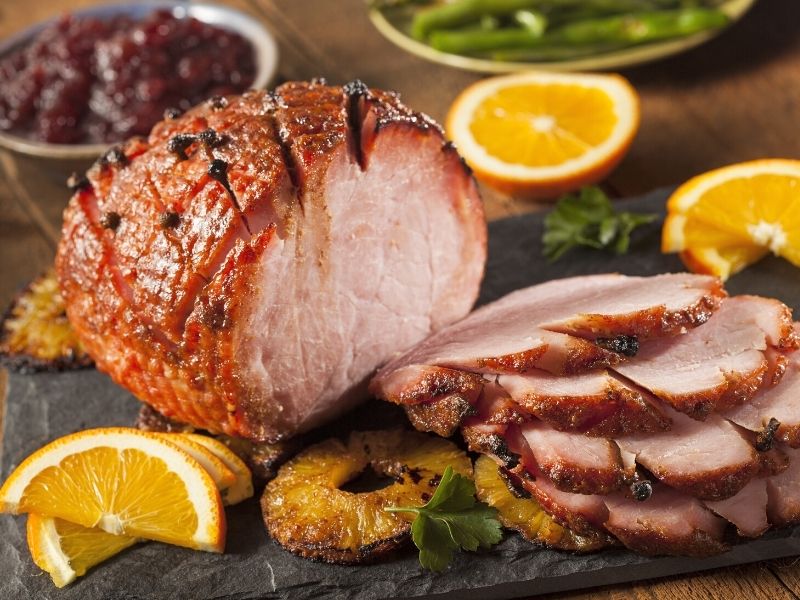 If you are using a precooked ham, follow our other recipe for an easy peasy honey glazed ham.
Honey glazed gammon
Gammon and ham are both cured pork products, but there are some differences, which are mostly being made in the UK and Ireland. In the UK the term ham means both.
Gammon is made from the hind leg of the pig, while ham can come from any part of the pig's body. Ham is also typically smoked after it's cured, while gammon may be or not. As a result, ham has a more intense flavor than gammon. Honey glazed pork is yummy, however you prepare it.
Preparing the meat
Start preparing your meat by washing it and cutting off any excess fat from the outside. Then, use a sharp knife to score the surface of the ham in a criss-cross pattern. This will help the flavors of the seasonings to penetrate into the meat while it cooks. This is the base for the next step.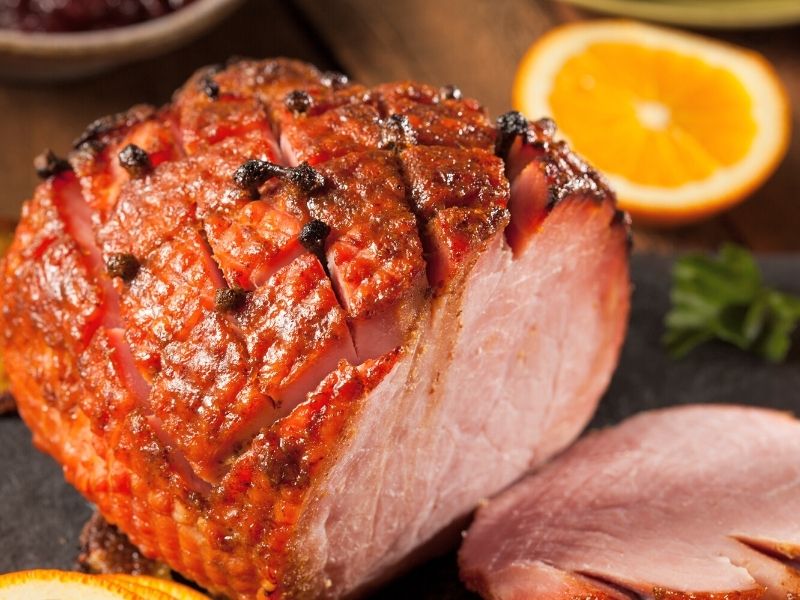 Maximizing the flavour
It is essential to rub all of the seasonings into the surface of the gammon. Be sure to really work it into all of the cuts that you made earlier. This will help ensure that your glazed gammon is fully infused with flavor and aroma.
You may also consider using spices like cloves or rosemary to add extra depth and complexity to your dish. Ultimately, this step will help ensure that your ham turns out moist, tender, and delicious!
Types of crust for your glazed ham
One way to give cooked ham or gammon a nice crust or glaze is to brush it with a mixture of honey and mustard before roasting. This will give the ham a sweet and tangy flavor that is sure to please. Follow our recipe for the best glaze.
Another option is to brush the ham with a mixture of brown sugar and molasses. This will give the ham a deep, rich flavor that is perfect for special occasions.
Finally, you can simply brush the ham with some olive oil and then sprinkle it with your favorite herbs or spices. This will give the ham a savory flavor that is perfect for everyday meals.
Whichever method you choose, be sure to cook the ham until it reaches an internal temperature of 60 °C / 140 ° Fahrenheit in order to ensure food safety.
The right gammon for your cooked ham
Choose quality:
When cooking ham, it is important to start with a high-quality piece of gammon or ready ham. Choose a piece of gammon that is fresh and has not been frozen. If possible, buy meat from animals that have been raised without the use of antibiotics or hormones.
With or without bones:
When buying gammon you want to cook yourself at home, it is important to choose a cut that will suit your needs. For instance, if you are planning on serving the ham sliced, then you will want to choose a boneless or semiboneless cut.
If you are planning on cooking the ham whole, then you will want to choose a bone-in cut. Keep in mind that bone-in ham takes longer to cook than boneless or semiboneless ham.
Content of fat:
Another thing to consider when buying ham is the fat content. Ham is available in both lean and regular cuts. Lean ham has less fat than regular ham, but it also has less flavor. If you are watching your fat intake, then lean ham may be the better choice.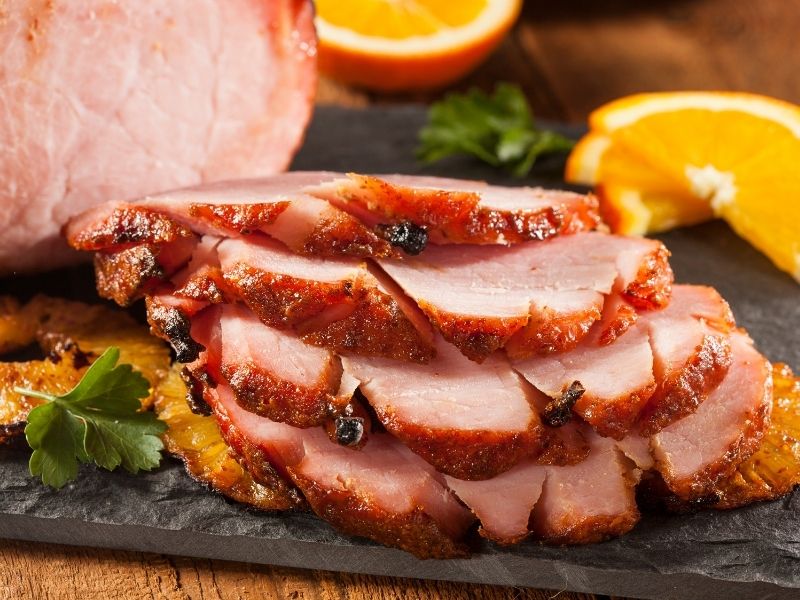 However, if you are looking for meat with more flavor, then regular ham is the way to go.
Also try these: homemade Carrot and Parsnip Soup and best Roasted Butternut Squash.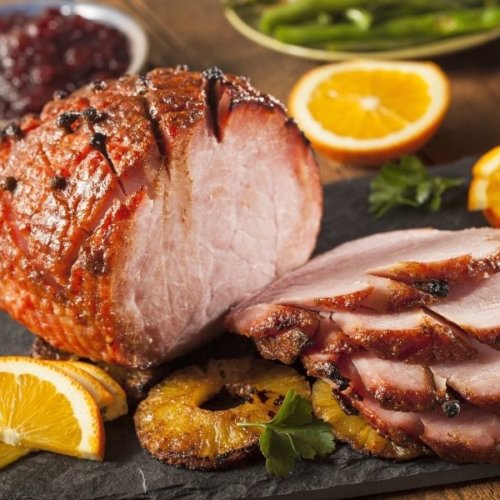 Honey and mustard glazed gammon
Try this delicious honey and mustard glazed gammon recipe for a special christmas dinner, party or family gathering!
Ingredients
1

gammon

about 8 pounds

4,5

L

of water

275

g

salt

100

g

sugar

2

bay leaves

4

cloves

garlic

peeled and halved

1

onion

peeled and halved
For the mustard and honey glaze
350

g

honey

60

g

mustard

best is Dijon mustard

1

tbsp

vegetable oil

1

tsp

salt

1

tsp

black pepper
Instructions
Combine the water, salt, sugar, bay leaves, garlic, and onion in a large pot or Dutch oven. Bring to a boil over medium-high heat.

Once the mixture is boiling, carefully add the gammon. Make sure that the water covers the ham completely. If necessary, add more water to achieve this.

Reduce the heat to low and simmer for 3-4 hours, or until the gammon is cooked through. Remove it from the pot and allow to cool slightly before adding the honey glace.

Preheat the oven to 180° C (350 °F). Line a baking sheet and set aside.

In a small bowl, combine the honey, mustard, olive oil, salt, and pepper until well combined. Place the ham on the prepared baking sheet and brush generously with the honey mixture.

Bake for 30-40 minutes, or until the ham is heated through and the glaze is golden brown and bubbly.

Remove from the oven and allow to rest for 10 minutes before carving and serving warm. This delicious and satisfying cooked ham makes a great addition to any meal or celebration! Enjoy!
Nutrition
Serving:
1
person
Calories:
294
kcal
Carbohydrates:
68
g
Protein:
6
g
Fat:
2
g
Polyunsaturated Fat:
1
g
Monounsaturated Fat:
1
g
Cholesterol:
14
mg
Sodium:
10980
mg
Potassium:
151
mg
Fiber:
1
g
Sugar:
66
g
Vitamin A:
9
IU
Vitamin C:
2
mg
Calcium:
23
mg
Iron:
1
mg
Share on Facebook
Share on Twitter
Share by Email
Cooking time for gammon:
To get started, measure out the weight of your meat to determine cooking times. You'll need to boil your meat for 20 minutes per 450 grams, adding 20 minutes in the end. Bring the water to a boil in a large enough pan to cover all of the meat and add any seasonings you'd like.
All content 100% human written! Image credits: Unless otherwise stated: ©Angela Darroch, ©Pro Stock Media via Canva.com or ©Unsplash.com. As an Amazon affiliate, I earn from qualifying purchases.
Last update on 2023-06-02 / Affiliate links / Images from Amazon Product Advertising API