Honey Glazed Christmas Ham
With this recipe, you can turn a prepared ham into an aromatic Christmas dinner that everyone will love. This simple recipe for glazed honey ham impresses with a hint of orange. Try our recipe. It's perfect for preparing in advance and reheat when your guests arrive.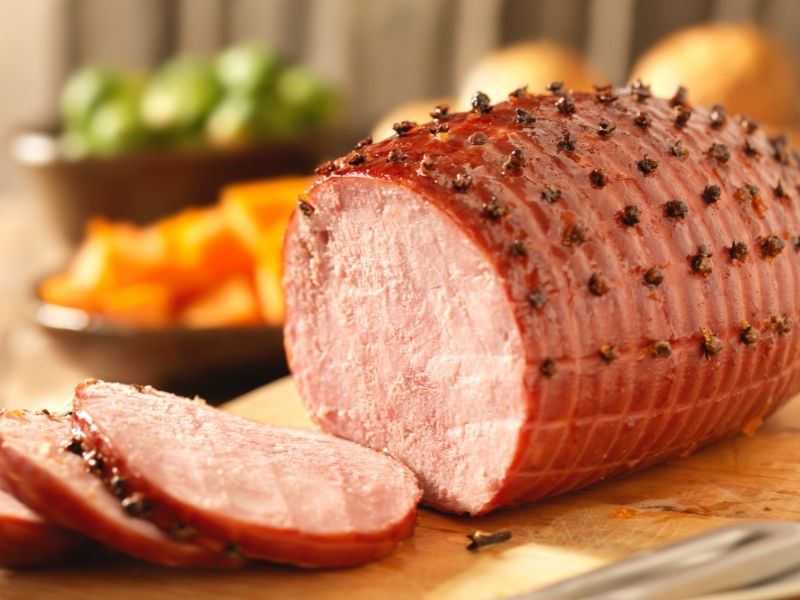 If you are starting from scratch with cured meat, check out our recipe for honey-glazed gammon (ham).
There are many ways to cook honey glazed ham, but the best way is to slow cook it in the oven. This allows the flavors of the glaze to really get inside the meat and results in a tender and flavorful dish.
Tipps for the perfect roast ham
The key to making a delicious honey glazed ham is to use a good quality ham and a high quality honey. Combine these two ingredients with some spices and you'll have a delicious dish that everyone will love.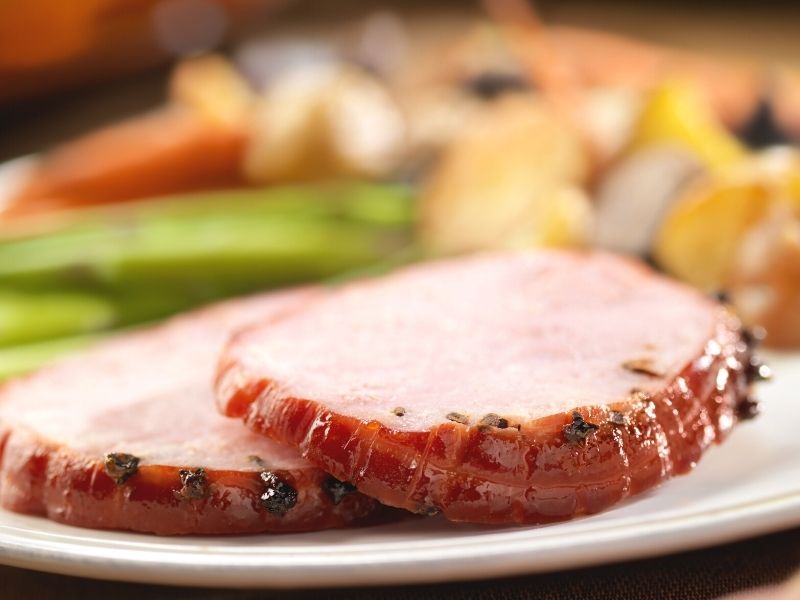 If you want to mak a real difference in our recipe, use freshly squeezed orange juice. It will add more fruitiness and less acid to the glaze.
Note:
The cloves should be removed before cutting and eating your honey glazed ham! They have given all their flavour and are not meant to be eaten.
The difference between baked ham and honey glazed ham
Baked ham is simply ham that has been cooked in an oven. Honey glazed ham is a type of baked ham that has been coated with a sweet glaze made from honey and other spices. Both types of ham are delicious and make great additions to any holiday meal or party.
How long do you have to roast ham?
The roasting time depends on the size of your ham. A guideline is 15 minutes per pound of meat.
Hams normally come precooked. So you don't have to worry about raw meat, what you do it actually only warming it up.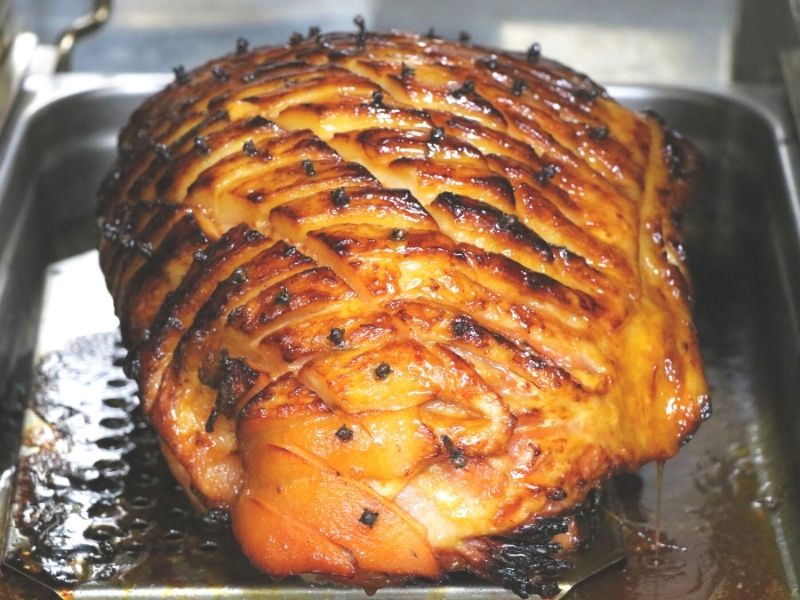 Storing leftovers
You can store slices as well as whole pieces in the fridge for up to 7 days. Pack them well in bags, containers or foil. Your honey ham can also be kept frozen for up to 2 months. You can take it individually or in pieces.
Just let it defrost at room temperature and reheat it in the microwave or oven. It also makes a delicious addition to bakes, or on a Sandwich like the chopped Italian sandwich.
Try our sides, like Roasted Butternut Squash or Delicious pumpkin puree.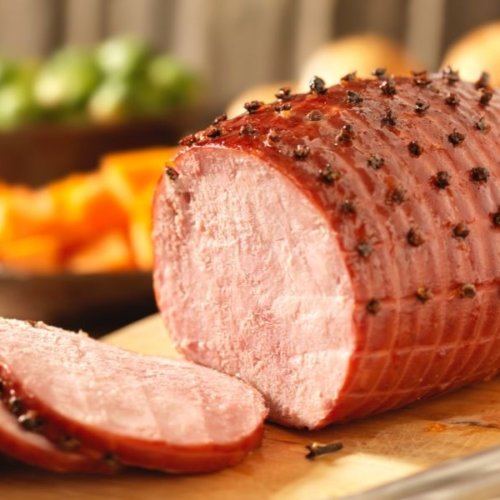 Easy Peasy Honey glazed Ham
This delicious honey glazed ham is a holiday favorite. Learn how to make this classic christmas dish with our easy recipe.
Ingredients
1

whole

ham

about 6 pounds

cloves

250

g

honey

100

g

butter

¼

tsp

nutmeg

ground

50

ml

orange juice

1

tbsp

brown sugar

1

pinch

cinnamon

optional
Instructions
Take your whole ham out of the refrigerator and let it sit for a minimum of 30 minutes to warm up a bit. Preheat the oven to 160° C (325°F). Line a big baking tray generously with aluminium foil and set aside.

In a small pot, melt the butter and add honey, orange juice, brown sugar and spices. Combine them and heat the ix, stirring, until the sugar is fully dissolved. Do not let it cook!

Place the ham on the prepared tray with foil. Score the surface (skin) into diamond shape. Make sure to not cut too deep. Place one whole clove into the cut lines.

With a kitchen brush, cover the ham with the honey glaze all around. Make sure to also add a bit into the cuts. Wrap the ham losely with the aluminium foil, leaving some space around (it should not stick to the glaze).

Bake the ham according to it's weight (15 minutes per pound), brushing more honey glaze over it every 20 minutes.

Once the roasting time is over, open the aluminium foil and brush the top with the glaze one last time.

If you use an oven with a grill function, turn it up and caramelise the surface in about 4 minutes.

If you don't have a grill function, turn up the heat and let the ham caramelise until the surface is brown and bubbly.

Remove your honey glazed delicacy from the oven and let it rest for about 10 minutes. Only then, take out the cloves, cut it and serve it.
Share on Facebook
Share on Twitter
Share by Email