Yoghurt Baked Lamb – Tavë Kosi
This traditional Albanian dish from Elbasan is true soul food. Tender lamb baked with rice in a spiced yoghurt sauce is a real treat. You can make Tavë Kosi, or Tavë Elbasani, at home. Just give it a try.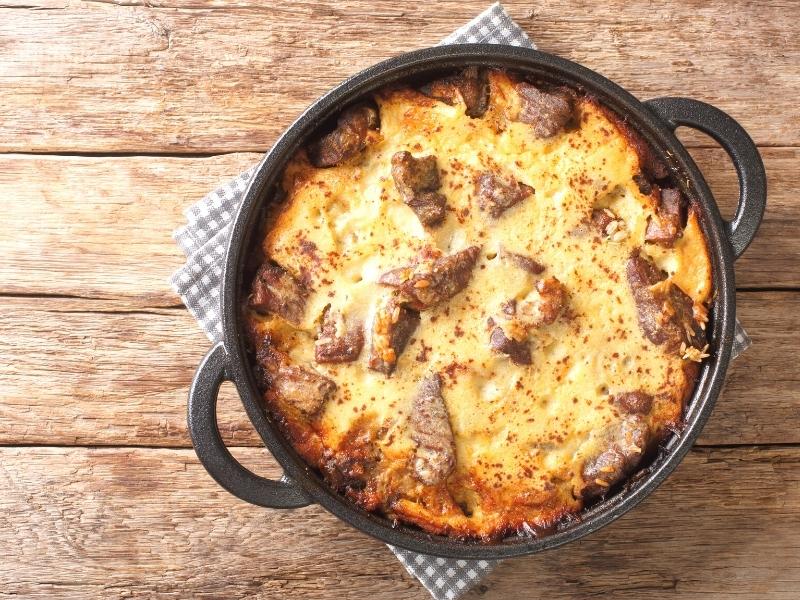 What is Tavë Kosi?
A casserole with lamb and rice: tender, garlic-rich pieces of lamb and rice seasoned with oregano are covered with a layer of yoghurt and then baked until a golden, creamy, cheese-like crust forms. This promises to be a delight!
This tasty classic of Albanian cuisine is also known as Tave Elbasani. It is named after the town in central Albania where it originates. Lamb baked in yoghurt is nevertheless popular throughout the country, it is the dish you ask your mother for and reminds emigrants of their homeland.
What goes with it?
The Albanian lamb casserole is very rich in itself and is usually eaten with some bread at most. However, a fresh green salad also goes well.
The casserole is more filling than you might think at first. So keep the portions to a medium size.
What to do with leftovers
You can store leftover Tavë Kosi in the fridge for several days, well covered. The yoghurt mixture will thicken a little more, so that the casserole will be a little thicker than when freshly baked.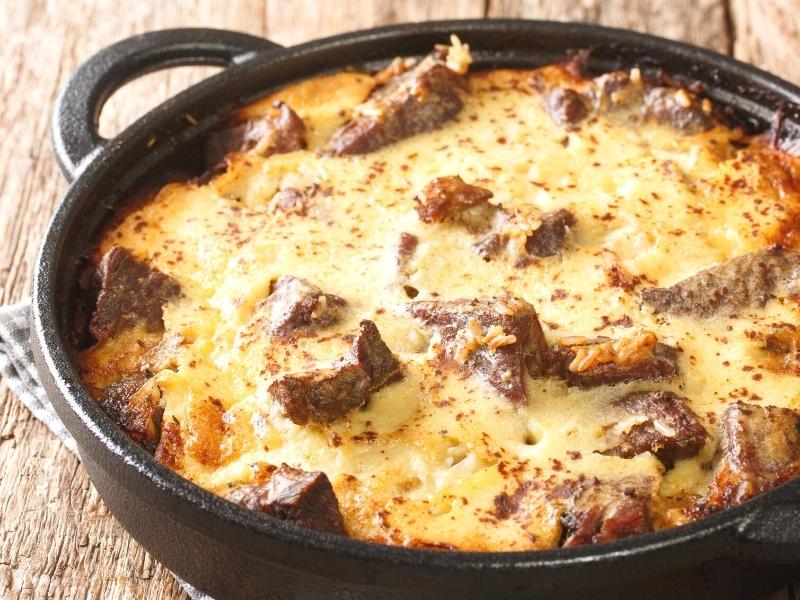 You can also freeze it in suitable containers. After thawing, however, the yoghurt mixture will lose its consistency and become a little more watery. However, this does not affect the taste.
Also try Durban Lamb Curry with Peas and Apricot.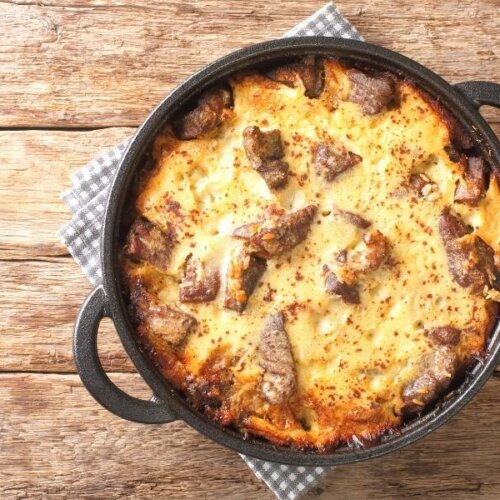 Homemade Tavë Kosi – Yoghurt baked Lamb
This great baked lamb in yoghurt sauce is a real treat. You can make Tavë Kosi or Tavë Elbasani at home. Try our recipe.
Ingredients
400

g

sliced lamb

4

cloves

of garlic

chopped

500

ml

yoghurt

10 % fat

50

g

butter

3

eggs

2

tbsp

oil

300

ml

vegetable or meat stock

100

g

rice

2

tbsp

flour

½

bunch

chopped parsley

Oregano

1

pinch of

nutmeg

Salt and pepper

to taste
Instructions
Season the meat slices with salt and pepper. Melt 1/3 of the butter in a pan, fry the meat on all sides, take it out of the pan and cut it into cubes.

Put the meat cubes back into the pan. Add the chopped garlic, oregano, parsley and rice (washed briefly under running water) back into the pan.

Pour in the stock and let everything simmer for about 30 minutes.

In the meantime, preheat the oven to 180° C (160° C convection)/375° F.

Then put the lamb mixture into a greased casserole dish.

Add the remaining butter to the pan. Let it melt and then stir in the flour until it becomes a smooth roux. Take it off the heat and stir in the yoghurt after it has cooled for about 10 minutes. Put the pan back on the cooker and let it simmer for a few minutes.

In the meantime, whisk the eggs well together.

Then take the pan off the heat, let the contents cool down a little and stir in the beaten eggs after a few minutes.

Pour the egg and yoghurt mixture evenly over the meat and rice mixture, shake briefly to distribute it better. Add several flakes of butter and some ground nutmeg on top.

Bake your Tavë Kosi in the preheated oven on the middle shelf for about 30 minutes. The surface should start to brown.

Take it out, let it cool briefly because it is very hot inside. Then serve it.
Notes
The yoghurt sauce rises towards the end and often over the top. Don't worry, it has to, the top will fall back in when you take it out.
Nutrition
Serving:
1
yield
Calories:
663
kcal
Carbohydrates:
34
g
Protein:
30
g
Fat:
44
g
Saturated Fat:
18
g
Polyunsaturated Fat:
5
g
Monounsaturated Fat:
18
g
Trans Fat:
0.5
g
Cholesterol:
225
mg
Sodium:
585
mg
Potassium:
634
mg
Fiber:
0.5
g
Sugar:
11
g
Vitamin A:
659
IU
Vitamin C:
1
mg
Calcium:
303
mg
Iron:
3
mg
Share on Facebook
Share on Twitter
Share by Email