Homemade Salmon Gravlax with Honey Mustard Sauce
Gravlax salmon, a cured fresh salmon, is a delicacy that is also very popular. The salted and seasoned raw fish can be done in several ways. You can follow our recipe for curing your own salmon step by step and impress your family and guests.
History of Gravlax
Since fresh fish, including salmon, spoils quickly, the Scandinavians developed and used the method of curing centuries ago to preserve fish. Back then, they gutted freshly caught salmon, covered the skinned side with pickle, put it in a bag, weighed it down with stones and buried it in the ground.
They called is gravlax, from grave ("buried").
What is curing?
The method of preserving Gravlax salmon is similar to the process of fermentation or pickling: Salt removes moisture from fish or meat and sugar kills germs. The longer the process lasts, the longer the shelf life of the food.
A distinction is made between dry curing, in which a seasoning paste of salt, sugar, herbs or spices is used, and wet curing, which is usually used when marinating meat to make it more tender by placing it in a marinade of buttermilk, vinegar or lemon juice, herbs and spices.
Cured salmon yourself is not that difficult. Of course, it tastes best when you cure it yourself. It's very easy and can be done in no time at all. You only need a few ingredients and a little patience.
Buying the right salmon
For your homemade Gravlax to be a taste sensation, the salmon should of course be fresh. In addition, it is not cooked, but remains raw. For this reason, you should always buy very fresh salmon.
You can also use frozen salmon, let it unfreeze long enough in the fridge. The fat-rich, boned middle section of the salmon is best suited for Gravlax because it takes on the aroma of the spices most intensively.
Different seasoning mixtures
In addition to sea salt and sugar, spices and herbs give the fish the right zing. You can add to or vary our basic recipe with pepper and dill below to suit your taste.
Tip:
Be sure to use kosher sea salt, as it is not absorbed as quickly and is easier to rinse off after curing than fine salt.
crushed mustard seeds or juniper berries give a strong aroma.
Lemon or lime juice not only provide fresh acidity, but also give the fish a firmer bite, as it is virtually cooked cold.
Fresh beetroot adds a great colour.
Herbs like thyme, parsley, basil, but also mint taste great.
Lemon or orange zest adds a fruity touch.
Chilli, garlic or ginger add a slight spiciness.
Aniseed, coriander or fennel seeds are great with fish.
Thai basil and lemongrass for an Asian-inspired flavour.
liquids, such as some orange liqueur or aquavit, are also special and add an interesting flavour note.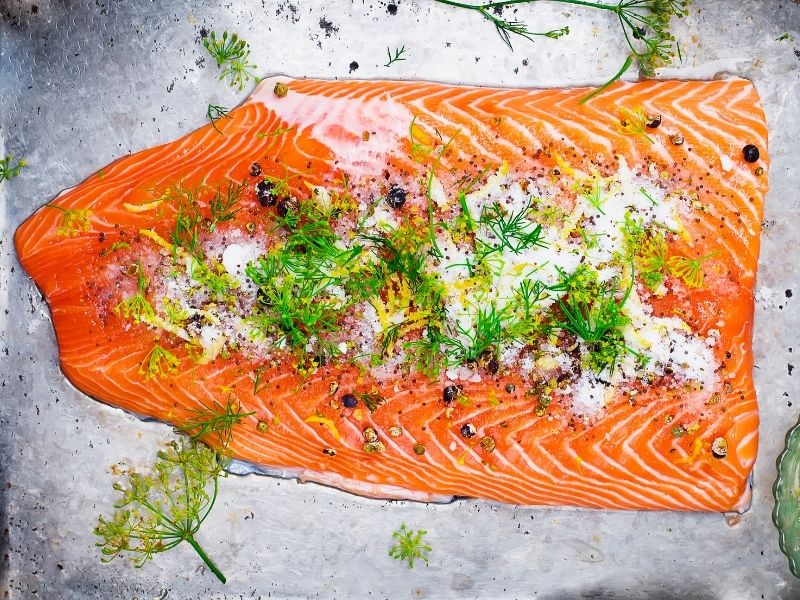 The necessary kitchen accessories
You need:
a mortar or big knive for crushing or grinding the spices
a casserole dish to keep your fridge clean.
Cling film to wrap the fish in or a vacuum bag to speed up the pickling process.
a wooden board and tin cans are suitable for weighing down the fish.
a knife with a long, flexible blade can be used to cut the cured salmon if you buy it in one piece.
Practical tip:
The cutting board should be made of glass, because glass does not absorb the smell of the fish.
What other fish can you cure?
You can also cure other types of fish. Take a whole fish filet (without bones) with skin.
Trout
Salmon trout
Arctic char
Mackerel
Storing your Gravlax
Packed in foil, a freezer bag or, ideally, vacuum-packed, you can store your Gravlax salmon in the fridge for several days after it is done. If you have used fresh salmon, you can also freeze it.
Honey mustard sauce for Gravlax
An amazing and famous fit for your homemade Gravlax is honey mustard sauce. Simply blend the ingredients from the recipe into a creamy sauce and voila!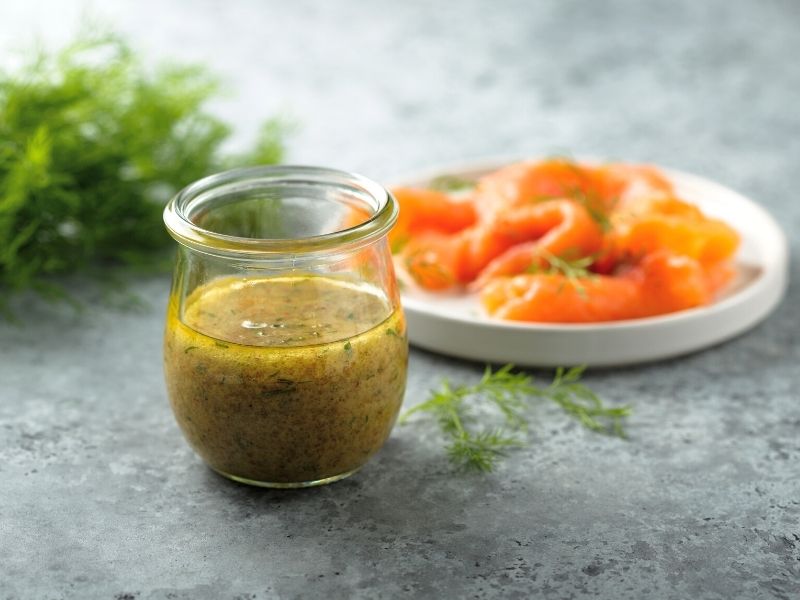 Also try Traditional Hungarian fish soup "Halászlé", Grandma's meaty cheese and leek soup or Smoked Mackerel Pate.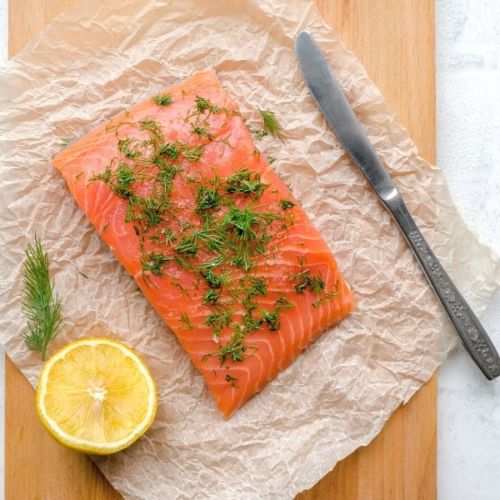 Homemade Gravlax with Honey and Mustard Sauce
Homemade gravlax is not as difficult as you might think. Give our step by step recipe a try, you'll love it.
Ingredients
Salmon:
500

g

salmon fillet with skin

1

tablespoon

coarse sea salt

kosher salt

1

tablespoon

sugar

½

teaspoon

white peppercorns

1

small bunch

of dill
For the honey mustard sauce:
3

tablespoons

honey

3

tablespoons

mild mustard

3

tablespoons

balsamic vinegar

100

ml

oil

neutral in taste
Instructions
For the salmon:
Crush the peppercorns in a mortar or a big knive on a chopping board, chop the dill (leave a little for the sauce) and mix everything in a bowl with the salt and sugar. Rinse the salmon under running water, pat dry, pull out any remaining bones and cut the fillet into two equal halves. You can also use two fillets of approximately the same size.

Line the baking dish with a large piece of cling film. Place one half of the salmon on top, skin side down. Now spread all the seasoning mixture generously on the top side of the salmon and rub it in lightly. The thicker middle piece needs more seasoning than the tail ends, which are marinated more quickly.

Place the other half of the salmon on top, skin side up.Then wrap the salmon airtight and tightly in cling film, place it in the fridge and weigh it down from above with a wooden board and tin cans or weight.

After about 24 hours, remove the salmon from the fridge and turn it over so that it is evenly covered with the pickle. You can pour off any liquid that has leaked.

Put the salmon in the fridge for another 24 hours to cure. ONe day later your Gravlax is ready to impress.

Remove the cling film, wash off the spice mixture completely under cold running water or remove part of it and leave a little on top.
The honey-mustard-dill sauce:
For the sauce, mix the honey with the mustard and the balsamic vinegar. You can also use white wine vinegar or lemon juice. Whisk everything well until it is mixed.

Now add the oil and stir or shake in the sealed jar until everything is well mixed. This can take 1 to 2 minutes. Add the finely chopped dill.

To serve, place the fish on its skin side on the glass board and cut thin slices in portions, starting from the tail side, with an angled knife blade. Serve with the honey mustard sauce.
Share on Facebook
Share on Twitter
Share by Email