Hearty Curried Parsnip Soup recipe
If you're in the mood for a flavorful soup, look no further than this spicy, curried parsnip soup recipe. Parsnips are a winter root vegetable that have a slightly sweet and nutty flavor, making them the perfect candidate for a delicious soup. This recipe is easy to follow and calls for simple but good ingredients. Try our curried parnip soup recipe.
Variations for your parsnip soup
There are many different ways to make curried parsnip soup. You can add different spices or vegetables, depending on what you have on hand or what you're in the mood for. Here are a few variations to try:
Add some baked butternut squash for sweetness and extra nutrition
Add some chopped apples and cinnamon for a cozy autumn or christmas flavor.
Add some cayenne pepper or other hot spices to give your soup more of a kick and make it a more spicy parsnip soup.
Coconut curried parsnip soup: Add some shredded coconut and fresh ginger for a tropical twist.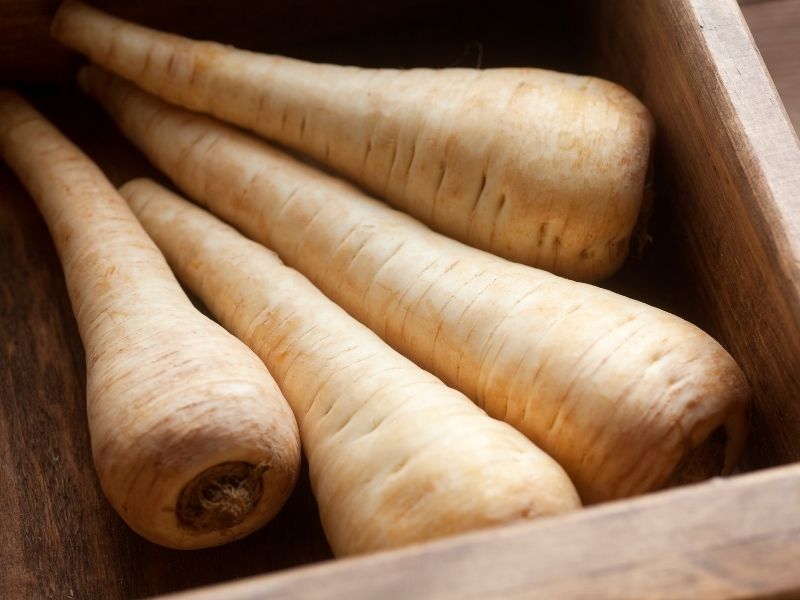 What goes with it?
There are many different ways to enjoy curried parsnip soup, but some great companions include:
Rustic bread or rolls to soak up all of the delicious soup broth.
A simple green salad with a vinaigrette dressing.
Some warm and fluffy naan bread.
How to serve
There are two ways to serve this soup – in small or large bowls. Here are some tips for both:
For small bowls:
If you're serving this soup as an appetizer or first course, small individual bowls work best. This will allow your guests to enjoy a nice hearty portion of soup without filling up too much on bread or salad beforehand.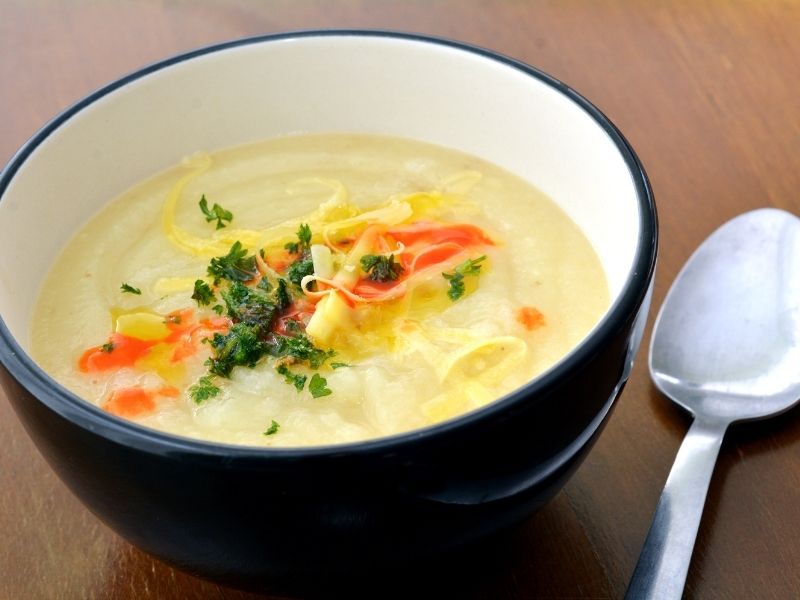 For large bowls:
If you're serving this soup as a main course, larger individual or family-sized bowls work best. This will give everyone plenty of room to fit in a good amount of soup, with plenty of bread and salad on the side too.
Another option is to serve the soup in a bread bowl. This way, the bread itself becomes the bowl and the soup is ladled inside. This is a great way to really soak up all of that delicious broth!
Topping ideas
A good topping can take your curried parsnip soup from good to great. Here are a few ideas to get you started:
Finely diced green onions or chives.
Sour cream or crème fraiche.
Shredded cheese (parmesan, cheddar, etc).
Crunchy chopped bacon.
Roasted pumpkin seeds.
How to store leftovers
If you have any leftovers, it's best to store them in an airtight container in the fridge. They will keep for a few days, but they're best enjoyed within the first couple of days. You can also freeze any leftover soup for later use. Just make sure to thaw it out in the fridge before reheating. Enjoy!
Also try our Red Lentil Tomato Soup, Red French style Onion Soup or Creamy Carrot and Ginger Soup.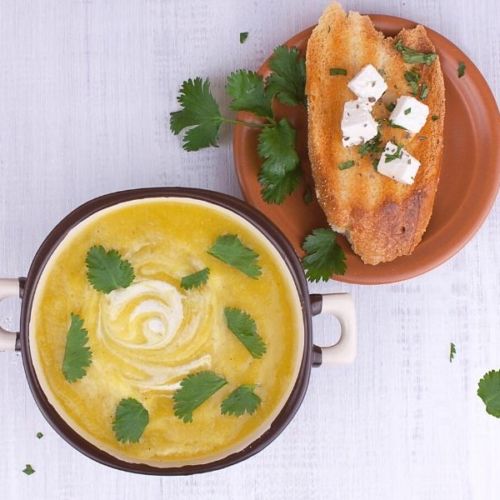 Homemade curried parsnip soup
This delicious, creamy homemade curried parsnip soup is easy to make and perfect for a cold winter day. Try our recipe as a starter or main dish.
Ingredients
1

tbsp.

oil

1

onion

diced

3

cloves

garlic

minced

2

carrots

peeled and diced

2

parsnips

peeled and diced

1

litre

vegetable broth

1-2

tsp

hot curry powder

Salt and pepper

to taste
Instructions
First add the curry powder into the heatet large pot or Dutch oven and roast stirring for 2 minutes, until fragrant. Now add the the oil and add the onion and garlic. Cook until softened for about 5 minutes. Add the carrots and parsnips and cook for an additional 5 minutes.

Add the vegetable broth and bring to a boil. Reduce heat and simmer for 10-15 minutes, until the vegetables are tender.

Puree with a blender until you get the desired consistency. Season with salt and pepper, to taste. Serve hot in bowls, topped with your desired toppings. Enjoy!
Nutrition
Serving:
1
yield
Calories:
118
kcal
Carbohydrates:
20
g
Protein:
2
g
Fat:
4
g
Polyunsaturated Fat:
1
g
Monounsaturated Fat:
2
g
Sodium:
31
mg
Potassium:
437
mg
Fiber:
5
g
Sugar:
6
g
Vitamin A:
5097
IU
Vitamin C:
18
mg
Calcium:
48
mg
Iron:
1
mg
Share on Facebook
Share on Twitter
Share by Email