If you are looking for a yummy dish that is easy to prepare and happens in less than 30 minutes, I have something special for you. This recipe combines all the right ingredients – flavor, texture, simplicity and just enough sweet spice. You will love our tomato red lentil soup with thyme.
For a little kick, add some chili or turn it into a brown lentil curry. Store your fresh thyme in the freezer. When you need to use it just give it a shake and the leaves will drop off the stems.
What goes with it?
You can enjoy your homemade lentil tomato soup with fresh bread or croutons or simply eat a green salad with it. The soup is also the perfect starter and rings in a delicious meal.
Which lentils go with it?
In our recipe we use red lentils. But you can also use yellow lentils or brown lentils. These each have a slightly different flavor, but also taste very good.
ALso try our Creamy Carrot and Ginger Soup, German lentil and bacon soup or Red French style Onion Soup.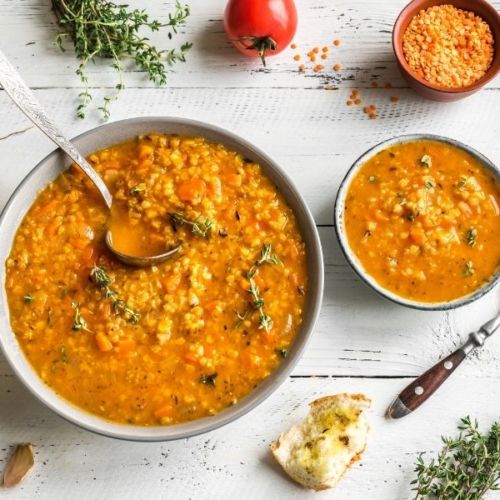 Red lentils and tomato soup
This tomato-lentil soup comes with a mediterranean touch of thyme. It is the perfect light lunch or a quick family dinner.
Ingredients
Instructions
Strip the leaves from the thyme branches and chop them coarsely. Heat the oil and cook the onion, thyme & carrots for about 4 minutes until just soft.

Add the garlic, chilli and mustard seeds and cook for a further couple of minutes. Stir in the tomatoes, lentils and stock and bring to the boil. Reduce the heat, cover and simmer gently for 30 minutes.

Season with the pinch of sugar, salt and pepper. Blend until smooth or leave chunky.
Share on Facebook
Share on Twitter
Share by Email