Classic fruity pumpkin soup with potatoes
Our simple pumpkin soup with Hokkaido, potatoes and carrots is a classic. It's vegan, low in calories and filling, yet it doesn't lack in hearty flavor. A dash of orange juice and apple give it a delicious fruity touch that harmonizes perfectly with the pumpkin.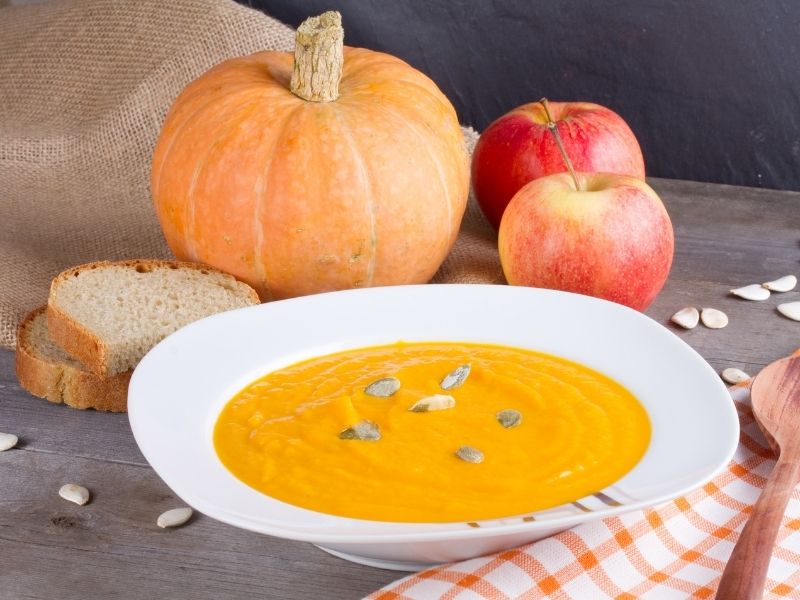 Potato and pumpkin soup – quickly made
The potato makes the soup very filling and gives it a base. For an even richer soup, you can also increase the number of potatoes and add a little more stock. Pumpkin soup with potatoes is a classic version, as both varieties have always been available in autumn and winter.
Peel hookaido pumpkin?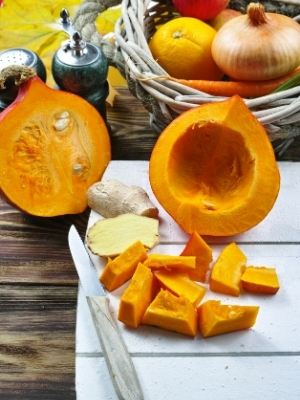 The Hokkaido pumpkin has a very thin skin, which you can eat without hesitation. Before cooking, you only need to wash it well from the outside, cut it in half, remove the core and the strings with a tablespoon and cut it into pieces.
If you still want to peel it, a potatoe peeler is perfect for that.
Roasted pumpkin soup
To boost the flavour, you can roast or grill your pumpkin before mashing it.
What goes with it?
A blob of (possibly vegan) cream, toasted pumpkin seeds or baked thin potato slices are great for serving. Home-baked white bread or pretzel rolls as a side dish make our pumpkin soup simply good.
Sprinkle a few herbs on top to taste, parsley, basil or chives go especially well.
Bon appétit!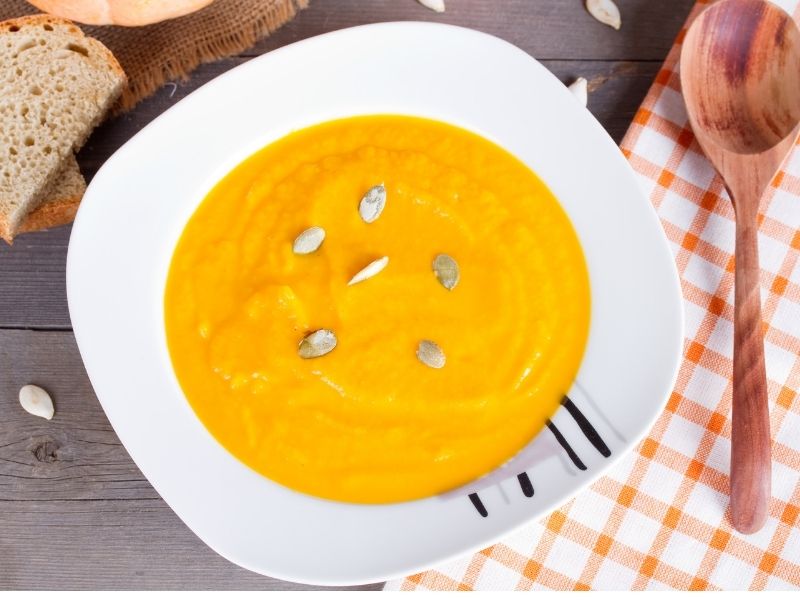 Also try our fruity pumpkin soup, the German white asparagus soup, Polish Borsh or the healthy and savoury Belgian chicken soup.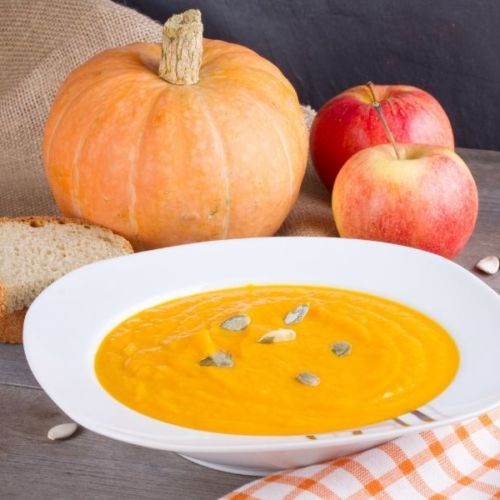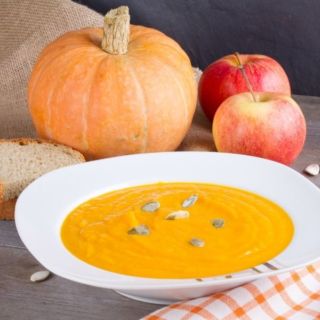 Classic German pumpkin soup with potatoe and apples
Grandma's classic German pumpkin soup with a fruity touch is popular with young and old alike. Try this wonderful and quick recipe for lunch or supper.
Ingredients
1

Hokkaido pumpkin

approx. 1.5 kg, Other types of pumpkin will also work

750

ml

vegetable stock

2

potatoes

1

onion

medium sized

2

carrots

medium sized

1

apple

sour like

salt & pepper

nutmeg

grated

some orange juice
Instructions
Peel the pumpkin, onion, potatoes, apple and carrots and cut them into medium large pieces.

Fry in a little oil in a large pot as follows: First put in the pumpkin, potatoes and carrots, and only after about 5 minutes the onion. When the onion has coloured, add the stock and the apple pieces.

Cook slightly for about 20 minutes, check that everything is soft and then puree with a hand blender.

Flavour with some orange juice, you can also add some sweet cream. Season with salt, pepper and a pinch of nutmeg. Done!
Share on Facebook
Share on Twitter
Share by Email