Our best Roasted Brussel Sprouts with Bacon
This baked brussel sprouts recipe is full of vitamins and aroma. Our recipe for roasted brussel sprouts with marple syrup and bacon is quickly made in the oven. Treat yourself and your loved ones!
Oven roasted brussel sprouts?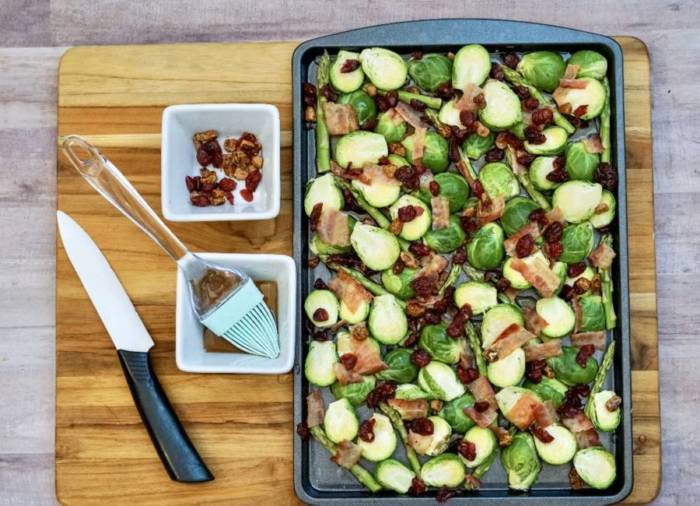 This dish with brussel sprouts is rich in flavours and offers a taste explosion – the salty bacon accompanies the fresh crispness of the asparagus, which is completed with the sweet fruitiness of the syrup.
How to serve brussel sprouts?
You can cook brussel sprouts, fry them, steam them, purée them or bake them in the oven. But only when baked, the roasting notes unfold and give the green winter vegetables a hearty flavour.
Brussel sprouts from the oven are a great main course and stand-alone dish. The bacon and honey make it very tasty, which is why it is not a perfect side dish. It likes the spotlight just too much.
However, if you would like to serve it as a side dish, you can serve our sweet and salty oven vegetables with the following foods.
Make sure to prepare them as pure and subtly as possible:
Filet of fish
Steamed chicken breast
Boiled rice
Bean salad
If you're looking for a more hearty dish, take a look at this gratinated brussels sprouts recipe.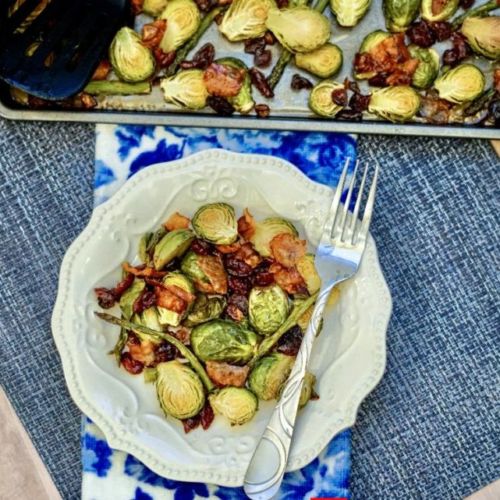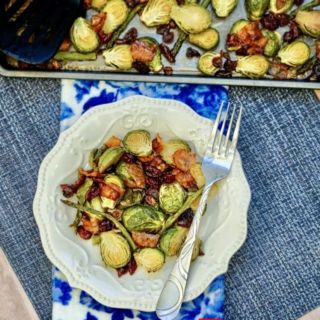 My famous roasted brussel sprouts with bacon
This vegetable oven dish with brussel sprouts and nuts is quick and easy. It is a perfect winter dish and ideal for dinner or lunch.
Ingredients
500

g

brussel sprouts

350

g

asparagus

2

tbsp

maple syrup

or honey

6

stripes

bacon

100

g

dried cranberries

or 150 g fresh cranberries

1

handfull

candied or fresh pecan nuts
Instructions
Preheat the oven to 200 °C / 400 ° F

Slice brussel sprouts into half. Place them loosely on a large baking sheet. Slice asparagus in slices or pieces and place onto the baking sheet among the brussel sprouts.

Fry the bacon slices in a frying pan until crispy and keep the bacon grease. Add 2 tbsp pure maple syrup or honey to the grease and mix well.

Cut the bacon into little bits and sprinkle the bacon onto brussel sprouts & asparagus.

Coat everything on the baking tray with the bacon grease – maple honey mixture. Finally sprinkle the cranberries and pecans onto the sheet pan.

Place baking tray in oven and roast for 12-13 minutes.

Serve and enjoy!
Notes
Baking time is calculated for the brussel sprouts to be still crunchy. If you like the burssel sprouts really soft, bake for 20 minutes.
Share on Facebook
Share on Twitter
Share by Email