My famous dark Chili con Carne
This is a recipe for chilli con carne with dark chocolate. It is a hearty and filling dish that is perfect for cold winter nights or parties. The chocolate adds a richness to the dish that is unparalleled. This dish is sure to please even the most discerning palates.
What is the origin of chili con carne?
Chili con carne, literally meaning "chili with meat", is a spicy stew containing chili peppers (sometimes in the form of powder or flakes), meat (usually beef), and often tomatoes and onions. Other seasonings may include garlic, beans, cumin, oregano, and salt.
Chili con carne is thought to have originated in Mexico, though the exact origins are unknown. It has become a popular dish in many countries, particularly in the United States.
Tips for a perfect result
Choose the right meat – for the best results, use a mix of beef and pork, or even just beef. Avoid using ground turkey or chicken as they will make the dish too dry.
Let the dish sit for a bit before serving – this will allow the flavors to meld and the dish will taste even better.
Use a good quality chili powder – this is the key ingredient that will give your dish its flavor. Avoid using generic chili powders as they can be bland.
Add some heat – if you like it spicy, add some chopped jalapeños or other chili peppers to the dish. If you don't like it too spicy, just add a little bit of pepper.
Add some beans – black beans or kidney beans are a great addition to chili con carne. They will make the dish more filling and satisfying.
Top with cheese and sour cream – these are both optional, but they will make your chili con carne even more delicious.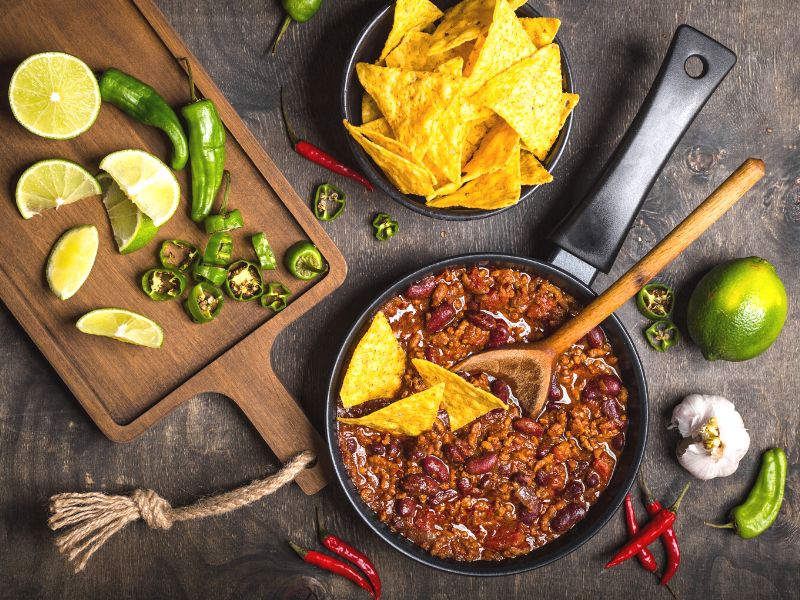 What is the best way to make chili con carne?
There is no one "best" way to make chili con carne, as there are many different recipes available. Some popular methods include using a slow cooker/crockpot, stovetop, or Instant Pot. You can add ingredients after your liking. Common addings are bell peppers, corn or different kinds of beans.
How can I make my chili con carne more spicy?
If you want to make your chili con carne more spicy, you could add more chili peppers, use a hotter variety of pepper, or add some cayenne pepper. You could also add other spices such as paprika or black pepper.
Can I freeze chili con carne?
Yes, chili con carne can be frozen. It will last in the freezer for 3-4 months.
What can I serve with it?
There are many different things that can be served with chili con carne, such as rice, pasta, tortillas, bread, or potatoes. You could also top it with shredded cheese, diced onions, or sour cream.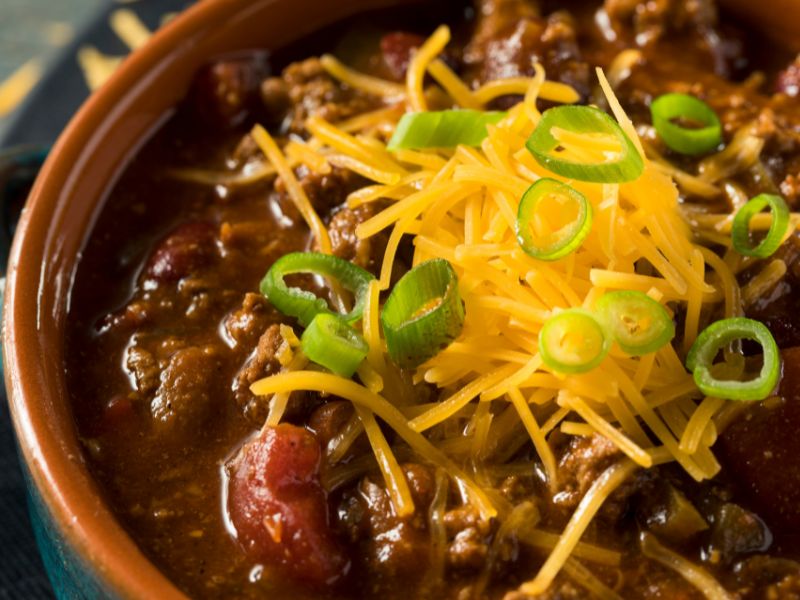 Is chili con carne healthy?
While chili con carne can be a healthy dish depending on the ingredients used, it is often high in fat and calories. If you are looking for a healthier version, you could try using leaner meats, reduced-fat cheese, and/or avoiding toppings such as sour cream.
How do I make it a vegetarian dish
To make vegetarian chili con carne, you could use a plant-based protein such as tofu, tempeh, or seitan. You could also add more beans or vegetables.
How do I make it vegan
To make vegan chili con carne, use a plant-based protein such as tofu, tempeh, or seitan. Add more beans or vegetables and, additionally, be sure to use vegan-friendly toppings such as vegan cheese and sour cream.
How long does it last?
Chili con carne will last in the fridge for 3-4 days or in the freezer for 3-4 months.
Also try our Creamy Venison Mushroom Stew or Flemish Beef Stew.
My dark Chili con Carne
Chilli con carne is a favourite in many households. Not only is it a perfect meal prep dish, it's also a party classic and a great lunch or effortless dinner. This recipe stays close to the original and contains chocolate.
Ingredients
3

tblsp

cooking oil

3

medium

onions

chopped

2

cloves

garlic

1½

kg

minced beef

4

tsps.

chilli powder

3

tsps.

cumin powder

3

tsps.

oregano

dried

3

tsps.

mustard powder

800

g

tinned tomatoes

3

tblsps

tomato puree

3

bay leaves

2

tsps.

salt

250

ml

water

800

g

red kidney beans

drained

1

pinch

sugar

75

g

dark chocolate

1

pinch

cinnamon

ground

2

limes
Instructions
Heat the oil in a large pan. Add the onions and cook over a low heat until tender. Add the garlic anbd cook for a further 2 minuntes.

Then add minced beef, small portions at a time and continue to cook until meat starts to brown.

Add all the remaining ingredients, except of cinnamon and chocolate, and stir well.

Reduce heat and simmer for a further 60 minutes. the longer it has time to simmer, the better the result.

Add the chopped chocolate and a pinch of cinnamon and stir well until chcocolate is melted. Adjust seasoning to taste and serve with a zest of lime each.

It tastes best, if you let it sit over night, minimum 6 hours, and then reheat.
Nutrition
Serving:
1
serving
Calories:
630
kcal
Carbohydrates:
34
g
Protein:
36
g
Fat:
40
g
Saturated Fat:
14
g
Polyunsaturated Fat:
3
g
Monounsaturated Fat:
18
g
Trans Fat:
2
g
Cholesterol:
107
mg
Sodium:
630
mg
Potassium:
1178
mg
Fiber:
11
g
Sugar:
8
g
Vitamin A:
829
IU
Vitamin C:
12
mg
Calcium:
140
mg
Iron:
9
mg
Share on Facebook
Share on Twitter
Share by Email