German lentil and bacon soup
This old fashioned lentil soup with bacon and is a German classic. With patience and good ingredients you will be rewarded with a stunning taste. This lentil stew grandma style is typically served with frankfurters.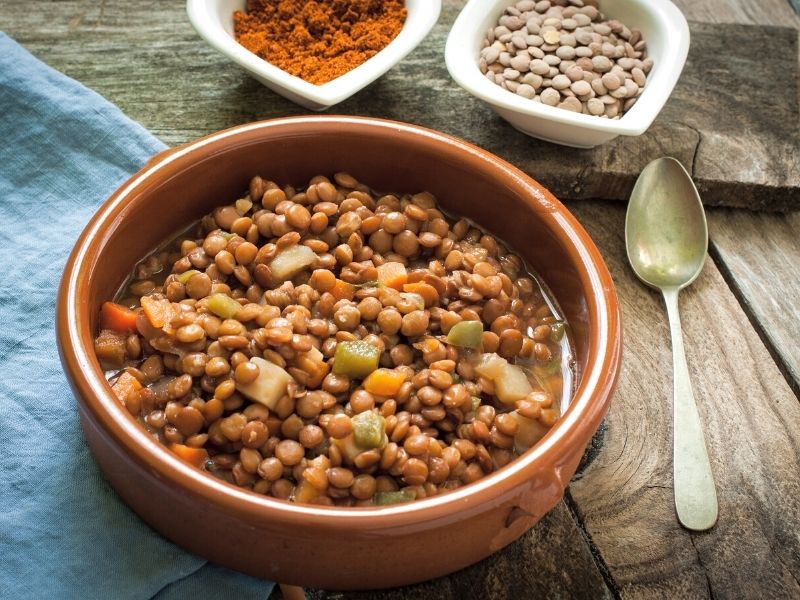 If you want to make Grandma's lentil soup with bacon, it's best to prepare double the amount. Because you will see: it disappears magically! If you give the soup time to rest over night, you will be rewarded with an even heartier taste.
Which lentils for Grandma's lentil soup?
For our lentil soup, I recommend brown lentils. They are medium in size and keep a nice consistency. You can also use larger lentils and vary the cooking time accordingly. You can buy brown lentils dried in almost every supermarket.
Cooking lentils properly
When cooking lentils, it is important to choose a large pot, as the lentils will foam up while cooking. As a rule, cook lentils with twice the amount of water and fill the pot no more than two-thirds full. This will prevent your lentils from boiling over and keep your cooker clean.
Should I add salt when cooking lentils?
You can cook the lentils for your classic lentil stew with or without salt. The only difference is that they become soft.
Cook with salt: Lentils and other pulses do not become as soft. This is especially ideal for salads
Cook without salt: Lentils become very soft, this is ideal for soups.
You can cook lentils in their own soaking water. The nutrients dissolved in the water are not lost.
However, if you or someone else has problems with flatulence, you should pour away the soaking water and use fresh cooking water. This will make the lentils easier to digest. The water mainly dissolves the substances that are difficult to digest.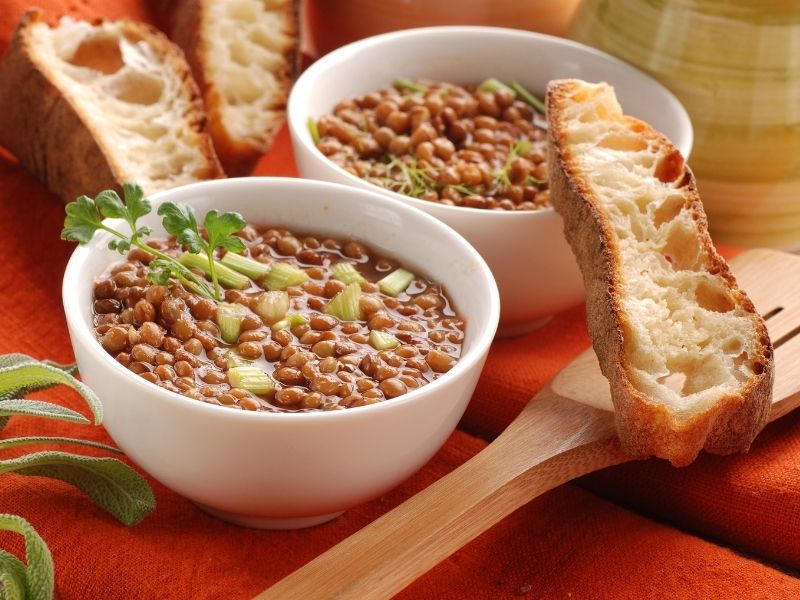 What else you can add
Our classic lentil soup also goes very well with:
finely chopped Vienna sausages
pieces of smoked pork
Cooked prunes
Also try our Sausage and Mushroom Stew, Creamy Venison Mushroom Stew or Flemish Beef Stew.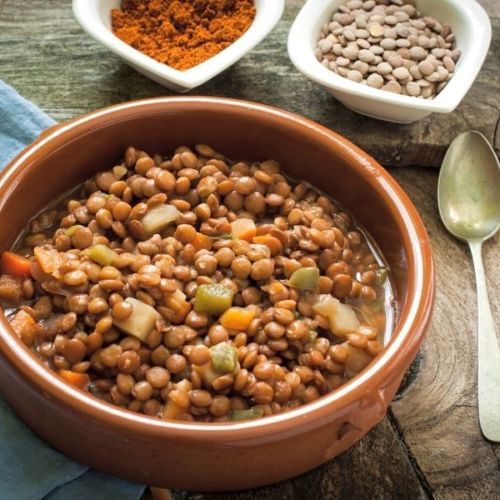 German Lentil and Bacon Soup
This German style lentil and bacon soup is packed with flavor, thanks to the smoky bacon and earthy lentils. It's also super easy to make, so it's perfect for a busy weeknight meal.
Ingredients
500

g

brown lentils

1500

ml

meat stock

200

g

smoked bacon

1

piece

of onion

2

cloves

1

bay leaf

150

g

soup vegetables

carrots, leek, celery, parsley, parsnip or others

250

g

potatoes

¼

tsp

thyme

30

g

butter

20

g

flour

1

pinch

of sugar

1

tbsp

wine vinegar
Instructions
The day before, cook a meat stock or use a ready-made one. It is better to make your own, as we will be using the meat. Cover the lentils with cold water in a bowl and leave them to stand overnight.

The next day, put them in a pot with or without the soaking water. Add half an onion, cloves, bay leaf and some of the top green of the leek. Do not chop these ingredients, because they will be removed after cooking and will not be eaten. Cook the lentils for about 20 minutes until half-cooked. If you have not soaked them, it will take about 35 minutes. Add a little salt just before the end of the cooking time.

In the meantime, peel the potatoes, cut them into small cubes and cook them in salted water. Drain and put to one side.

Chop the soup vegetables and the light part of the leek. Drain the water from the cooked lentils. Remove the meat from the meat stock and pour the stock through a hair sieve. Put some of the broth next to the cooker and keep it handy. Pour the rest of the broth to the lentils in the pot until they are covered.

Add the prepared raw soup vegetables and thyme to the lentils and cook for about 15 minutes. Then add the cooked potatoes and simmer gently for just a short while.

Dice the smoked bacon. Heat some lard or oil in a pan and fry the bacon in it. Carefully remove the bacon from the fat and add to the soup.

If necessary, add some more oil to the frying fat. Now stir the flour into the drippings and brown while stirring. Always use a little less flour than fat.

Stir vigorously with a whisk over medium heat for about 1 minute. Allow to swell. Before you continue, make sure the flour is browned. Add a little stock. Stir so that there are no lumps. The mixture should be a little thick.

Then pour it into the boiling soup while stirring. Leave the stew to stand for at least 2 hours. Note that the soup will thicken a little after the resting time.

After the resting time, season the soup with a pinch of sugar, vinegar and salt. Leave the stew to rest for a good two hours and then taste it again. Cut the meat into bite-sized pieces and add them.
Nutrition
Serving:
1
Portion
Calories:
523
kcal
Carbohydrates:
50
g
Protein:
25
g
Fat:
8
g
Potassium:
2026
mg
Share on Facebook
Share on Twitter
Share by Email