Speculaas Recipe: Spiced Cookies you will love
Speculaas, or speculoos, the dark brown, spiced Christmas biscuits, are easy to make at home. Basically, speculaas are shortbread biscuits that have slightly less fat content, making them crispier than other biscuits. Follow our recipe for best results.
Speculaas spice mix
Typical spices for Speculaas biscuits are
Cloves
Cardamom
Cinnamon
Nutmeg
Pepper
sometimes used: ginger powder or vanilla
It is not clear, where these spiced cookies originate, but it is very likely the area of Belgium, The Netherlands and Germany. These spices had to be imported and were expensive. That's why speculoos historically originated along trade routes.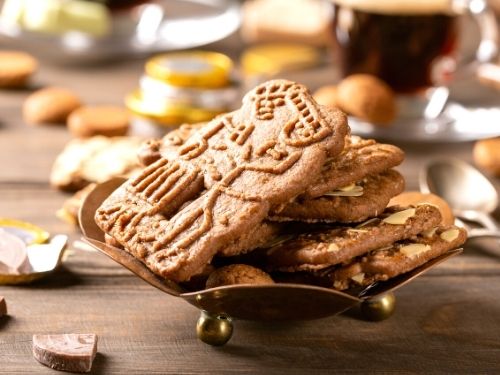 Since the spices were so expensive, other varieties have developed, such as the butter speculoos or almond speculoos. Because of the spices, you might think that Speculaas are gingerbread , but in fact they are shortbread.
Also important is a strong caramel flavour, which is produced by the brown sugar. Nowadays, if you buy them in the supermarket, they are usually coloured with molasses, which supports this characteristic taste. You can also use fine-grained cane sugar, but then increase the amount of sugar by about 10 %.
Know-it-all fact:
In Indonesia, speculoos are also found in bakeries and shops all year round. This is due to the, inglorious, former colonisation by the Netherlands.
A brief history of the Spekulatius
The name for the delicious Christmas biscuit comes from "speculator" ("bishop" or "overseer") an epithet of St. Nicholas, after whom the biscuit was named. Like many baked goods, spiced speculoos has its roots in religion and has been baked since around the 10th century.
It was originally baked on 6 December in honour of this very bishop. The biscuits were baked in hand-carved wooden moulds called models. Today, however, the motifs on the little biscuits have changed and you can do as you like.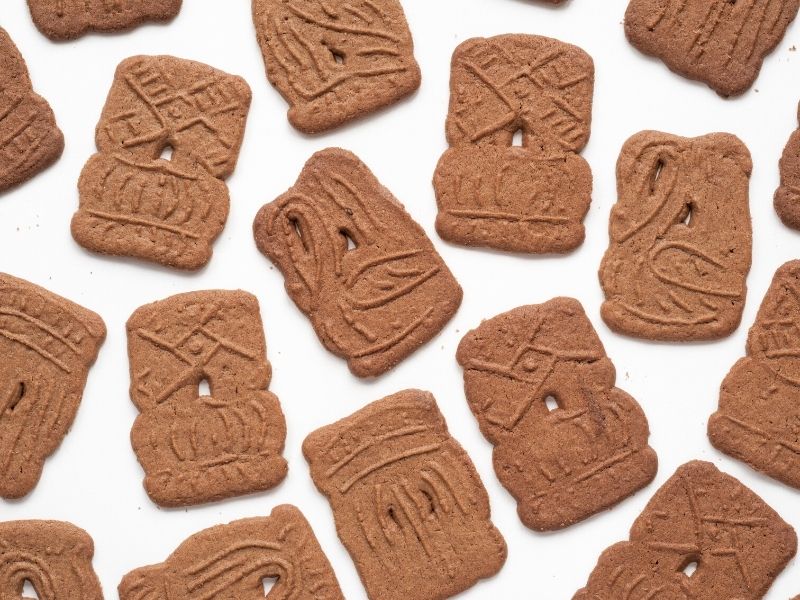 How does a speculoos roll work?
For the typical pictures on your spiced speculoos biscuits, roll the speculoos roller* along the thinly rolled out dough. The rectangular divisions pre-perforate the individual biscuits so that you then only have to separate them from each other. You may need a small knife to do this.
Make sure you only roll the roller vigorously, not push it forward. If any dough sticks, remove it carefully before continuing.
Store properly
Keep your homemade spiced speculoos completely sealed, preferably in a biscuit tin. Like all shortbread biscuits, they absorb moisture and quickly lose their great crunch.
Also try
Oat Cookies with a creamy chocolate filling
Traditional German Apple Cake
German Cinnamon Star Cookies (Zimtsterne)
Traditional Ginger Biscuits with Molasses
Grandma's famous spiced Speculaas
Speculaas, or speculoos, the spiced biscuits are a must in christmas time. Bake them at home and spoil your loved ones. Try our recipe now.
Ingredients
450

g

all purpose flour

300

g

brown sugar

or cane sugar

150

g

butter

3

tablespoons

milk

1

egg

½

tsp

salt

2½

tsp

cinnamon

1

tsp

ground cloves

1

tsp

cardamom

ground

¼

tsp

white pepper

1

small pinch ground nutmeg
Instructions
Put the flour, sugar and salt in a large bowl and mix together. Cut the cold butter into small pieces and carefully rub them into the flour mixture, a little at a time, with your fingers. Now add the cold milk, egg and all the spices. Knead the dough quickly until it is homogeneous, form a ball and chill it covered for at least 2 hours. For best results, chill the dough overnight, i.e. for a good 12 hours.

Then preheat the oven to 180° C.

Take the dough out again and roll it out evenly on a floured surface. Cut out the speculoos with suitable moulds or use a practical wooden embossing roller. You can also simply cut rectangles or squares.

Place the Spekulatius on a baking tray lined with baking paper and bake in the preheated oven for about 10-12 minutes. They will still be slightly soft, but will firm up when they cool.
Nutrition
Serving:
1
pieces
Calories:
79
kcal
Carbohydrates:
13
g
Protein:
1
g
Fat:
3
g
Saturated Fat:
2
g
Monounsaturated Fat:
1
g
Cholesterol:
10
mg
Sodium:
48
mg
Potassium:
22
mg
Sugar:
6
g
Vitamin A:
82
IU
Calcium:
10
mg
Share on Facebook
Share on Twitter
Share by Email