Polish borsht recipe – barszcz czerwony
Barsch, borscht or borsht: whatever you call the famous red and purple soup, it's a delicious delicacy that warms you from the inside when served hot in winter and tastes just as good cold in summer. My recipe for borscht in the Polish version is made with a broth of beef or vegetables. You get a fine, clear soup that is served with few add-ins.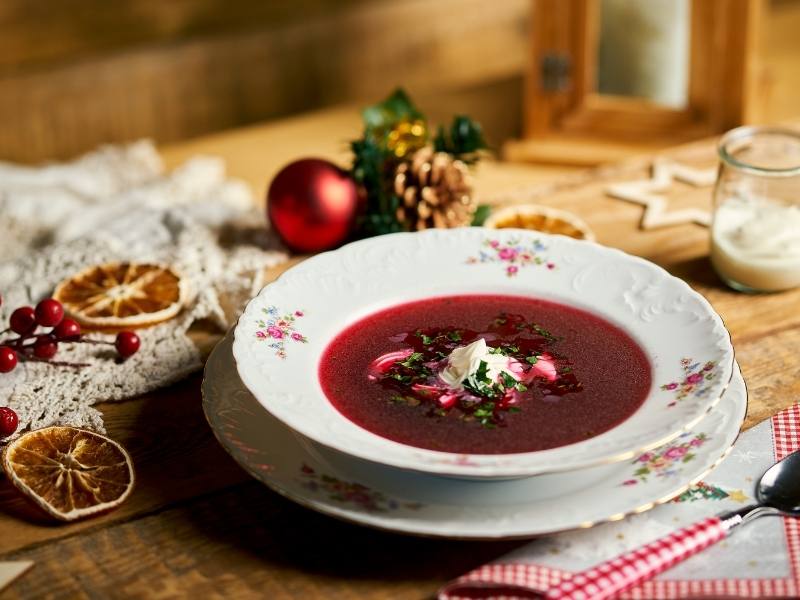 Is borsht healthy?
Beetroot is a turnip and packed with vitamins. It contains calcium, phosphorus, potassium, magnesium and iron. Various vitamins of the B and vitamin C group can also be found. Some vitamins are lost through cooking, but a plate of delicious borscht is still a healthy meal.
Plus, the soup is low in calories, so it's perfect if you're trying to watch yourself or are sick.
A Christmas soup
Traditionally, borscht is served at Christmas along with boiled or fried pierogi, stuffed dumplings. Side dishes include filled yeast rolls or Polish croquettes, a type of deep-fried stuffed pancake.
Vegan or vegetarian borsht
If you just use vegetable broth instead of beef broth and add eggs you easily have a vegetarian borsh soup.
Add other toppings, such as croutons or potato chunks, instead of eggs, and you have a vegan borsh.
As you can see, the basic broth is very versatile.
What is the shelf life of Polish borsht?
Ready-made Borsh without cream can be kept in the fridge for three to four days. If you are unsure, just take a look in the pot: a sour smell and/or small bubbles on the surface are signs that the borscht is no longer good.
Can I freeze borsht soup?
Like any other soup, you can freeze it in appropriate cans or bags without worry. It's best to portion it out in advance, because once you've defrosted it, you can't refreeze it.
Soup Garnishes for Polish Borsh
In Poland, you often come across two versions:
Clear broth with inserts, such as one or two halved boiled eggs or pierogi, often with mushroom stuffing or sauerkraut.
Thick stew with many vegetable pieces
Basically, though, you can put in whatever you like to your heart's content. It's homemade borscht, after all! ?
Pickled beetroot?
If you can't get fresh beetroot, you can buy the ready-cooked kind from the supermarket. This is usually found in a plastic package in the vegetable section. You don't have to cook them for so long.
Take them out of the package and cut them into pieces. Save every drop of liquid you can get. Then add the pieces to the broth and simmer everything together for another 30 minutes. You can then puree the soup or serve it as a clear broth with chowder.
Notice, that pickled beetroot is often sweeter than fresh. So use less sugar than indicated in the recipe.
Fermented beetroot
Some Polish grannies swear by fermented beetroot, which they take with borsch. However, this is rarely found in our country, sometimes you can find it in jars in health food stores or organic food stores.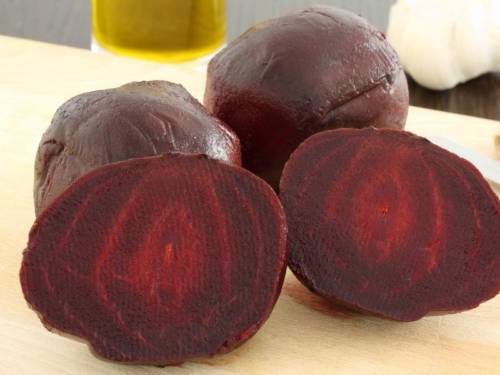 To make your own fermented beetroot overnight, add the 500g of peeled and chopped beetroot from the recipe and put it in the pot you are going to cook the borsch in. Add the peeled and chopped onion and 1/2 tbsp sugar and salt.
Shake everything well and let it sit covered in a warm place overnight. The next day you fill it up with water or broth and cook it according to the instructions. You just need a little vinegar to taste if it's not sour enough.
Alternatively, use fresh beetroot.
Tip: When processing beetroot, be aware that it stains heavily on fabrics and your skin. It is best to wear thin rubber gloves and work with an apron.
Side dishes
Borscht goes well with fresh white bread, preferably homemade.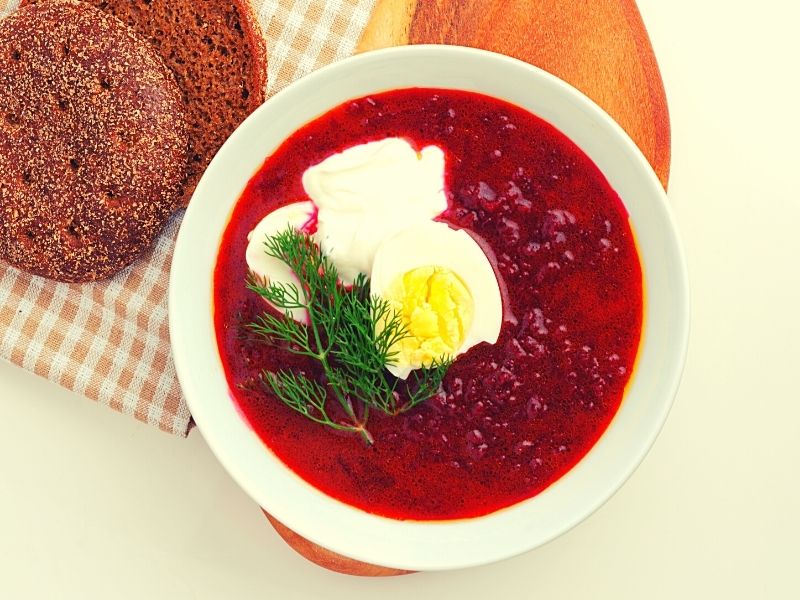 Also try our fruity pumpkin soup, the German white asparagus soup or the healthy and savoury Belgian chicken soup.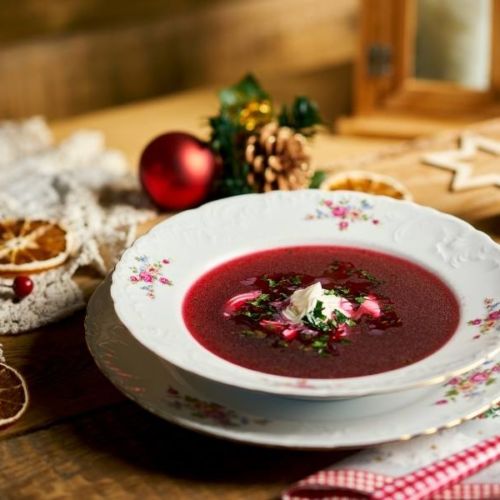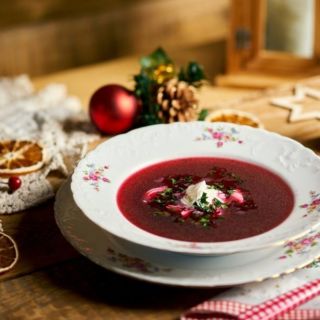 Polish borsht – beetroot soup
Polish borsh, barszcz zerwony, is healthy and nutritious. With our recipe, you can easily recreate this classic Polish beetroot soup with garnish at home.
Ingredients
2

litres

stock

beef or vegetable stock, vegan version simply water

500

g

beetroot

1

onion

small or ½ medium large

2

cloves

of garlic

7

grains

black pepper

whole

3

pieces

dried mushrooms

e.g. champignons or porcini mushrooms

½

tbsp

sugar

1

tablespoon

vinegar or lemon juice

Salt

6

eggs
For the stock
1

kg

soup meat

For vegetable stock omit the meat.

1

bunch

soup vegetables

or: 2 carrots, 100 g celeriac, a few sprigs of parsley

1

bay leaf

2

l

water
Instructions
For the broth:
Heat some oil in a large pot and fry the soup meat in it until it is a little browned. Turn the meat once. Add 1 tablespoon of tomato paste and let it fry briefly. Pour in the water and the chopped soup vegetables and then let everything simmer on a low heat for at least 2 hours, 3 is better.

After the cooking time, remove the vegetables and meat from the broth and pour it through a sieve into another pot. Continue cooking with this one. You can use the meat for other purposes or cut it into small pieces and add it to the broth.
Preparing the borsht
Peel the beetroot and cut into thick slices. Alternatively, you can use the already fermented beetroot from our introduction.

Now add the chopped beetroot together with the dried mushrooms and the chopped onion. Crush a clove of garlic and add it with the peppercorns.

Now simmer the stock over a low heat for about 1 hour until the beetroot is soft. Cover the pot with a lid while it is cooking, but leave a small gap for it to steam off.

Now strain the borsch through a sieve, reserving the beetroot. Season with marjoram, salt, pepper and sugar. Add the vinegar to taste.

Hard-boil the eggs and put a halved boiled egg in each borsch plate or put in some stuffed pierogi.

Extra tip: Add small strips of beetroot to the soup or fry them separately in a pan until hot.
Nutrition
Calories:
348
kcal
Carbohydrates:
12
g
Protein:
44
g
Fat:
13
g
Saturated Fat:
4
g
Polyunsaturated Fat:
1
g
Monounsaturated Fat:
5
g
Cholesterol:
267
mg
Sodium:
240
mg
Potassium:
951
mg
Share on Facebook
Share on Twitter
Share by Email