Creamy Venison Mushroom Stew
This popular German style venison stew recipe with a creamy sauce and mushrooms is true souldfood in the colder seasons. When game season starts, this deer recipe is a lovely Sunday family meal or a festive dinner idea with guests. Fresh mushrooms and a fine wine flavour make this a feast.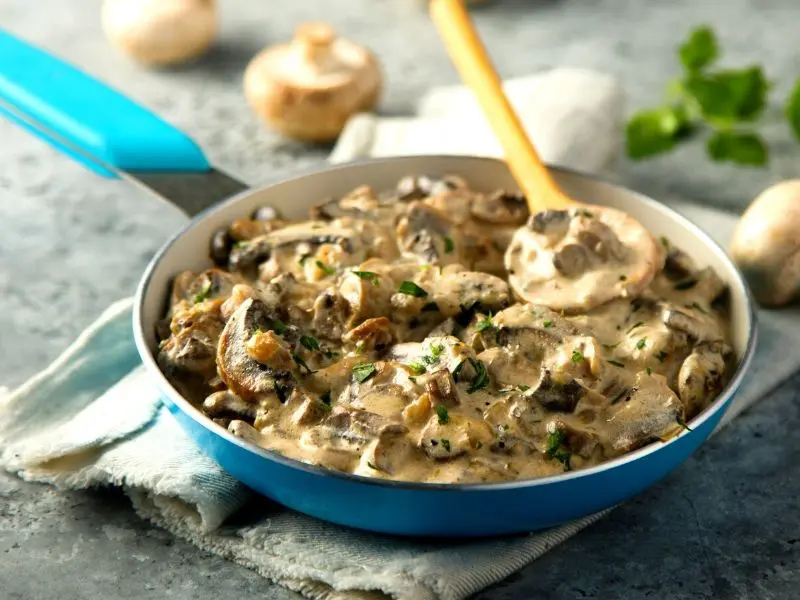 Which mushrooms can you use?
You best use fresh mushrooms for your venison ragout. Various mushrooms such as champignon mushrooms, chanterelles or porcini give it its particular taste. This dish is as refined as it is tasty.
Note:
Your vansion stew becomes even more aromatic when you use dried porcini mushrooms. They retain their intense mushroom flavour and wonderful aroma when dried. Soak them in hot water for about 30 minutes before cooking and then add them to the stew.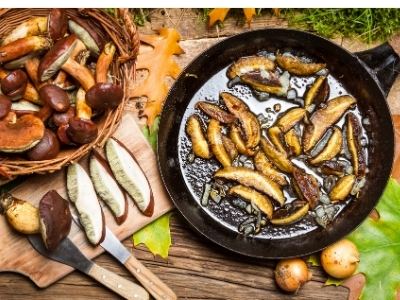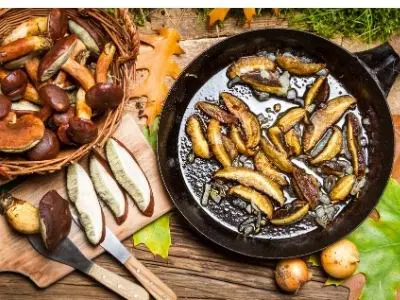 Choosing the right venison
For venison ragu, you should use fillets from the saddle of venison, because the meat is particularly fine and short-fibred. Since this deer meat is only cooked for a short time, it must be a fine meat.
The somewhat firmer and heartier meat from the rump and leg is also suitable, but it works best with venison fillet.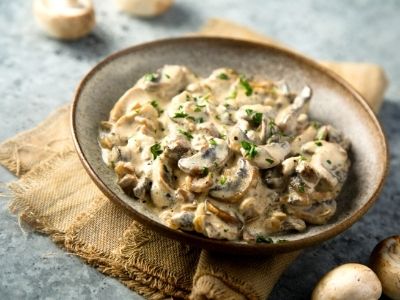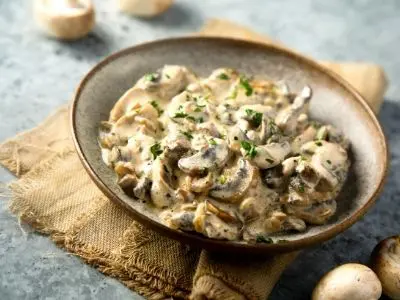 Tips for preparation
Cutting: When you cut the meat into strips, you should always cut against the grain so that it does not become tough.
Use roasting aromas: After frying the meat strips briefly, take them out of the pan and sauté the mushrooms in them to use the roasted aromas.
Season to taste: For a delicious game cream sauce, deglaze the gravy with cream and possibly more stock and, after boiling down, add spices, a dash of lemon juice, white wine, cognac, calvados or vermouth and a knob of butter. Only then do you add the meat and just warm it up.
Creaminess: The sauce becomes particularly creamy if you fold in some lightly whipped cream at the very end.
Gingerbread sauce: For a particularly Christmassy taste, dissolve a small gingerbread in the sauce instead of the jam. The spices add a great touch.
What to eat with it
Traditionally, in Germany stews of this kind are being eaten with either spätzle, potato dumplings or simply bread. But it is also great with rice, or boiled or mashed potatoes.
Also try the best Sausage and Mushroom Stew, Gentse waterzooi: Belgian chunky chicken stew or Baked Paprika Chicken.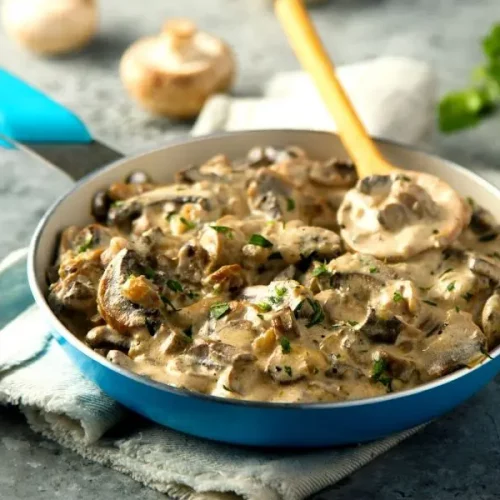 Sliced Venison in a creamy mushroom sauce, Zurich style
Creamy vension stew with thinly cut meat in a cream sauce is our favourite. You can prepare this Swiss and German speciality easily at home.
Ingredients
600

g

venison loin

150

g

mushrooms

e.g. porcini, mushrooms

½

onion

60

g

butter

100

ml

game stock

125

ml

dry white wine

4

tbsp

sour cream

150

g

rich cream

2

tbsp

cranberry jam or other dark berry jam

Salt

Parsley for decoration
Instructions
Cut the venison fillet against the grain (preferably diagonally) into fine strips and salt and pepper it. Now cut the onion into fine pieces as well as the mushrooms. If you use dried mushrooms, soak them in hot water and leave them to soak for about 30 minutes before continuing with the next steps.

Heat the butter in a frying pan and fry the strips for about 5-10 minutes until they are toasted through. Remove them from the pan and set aside. Sauté the onions in the same butter and then add the finely chopped mushrooms. Sauté everything briefly and then take it out of the pan.

Deglaze the mixture with the white wine and let it all boil down. There should be a thick, spicy layer on the bottom of the pan.Then add the game stock and stir well, it should all come off the bottom of the pan. Add the cream and let everything boil down to the desired consistency on a low flame.

Stir in the jam at the end and add the venison, onions and mushrooms and let it simmer for a few minutes. It must not boil any more!

Divide the venison into plates with the side dishes, add a spoonful of sour cream and sprinkle with chopped fresh parsley.
Nutrition
Serving:
1
portion
Calories:
350
kcal
Carbohydrates:
4
g
Protein:
36
g
Fat:
18
g
Saturated Fat:
11
g
Polyunsaturated Fat:
1
g
Monounsaturated Fat:
5
g
Cholesterol:
166
mg
Sodium:
197
mg
Potassium:
659
mg
Fiber:
1
g
Sugar:
2
g
Vitamin A:
450
IU
Vitamin C:
2
mg
Calcium:
31
mg
Iron:
5
mg
Share on Facebook
Share on Twitter
Share by Email