Asparagus is a popular spring vegetable and with a good hollandaise sauce it becomes a delight. Grandma's smart cream and butter sauce is made with the asparagus water, making the most of the full flavour of this delicious vegetable. You can use white asparagus, but of course you can also use green asparagus. Try out this classic asparagus dish.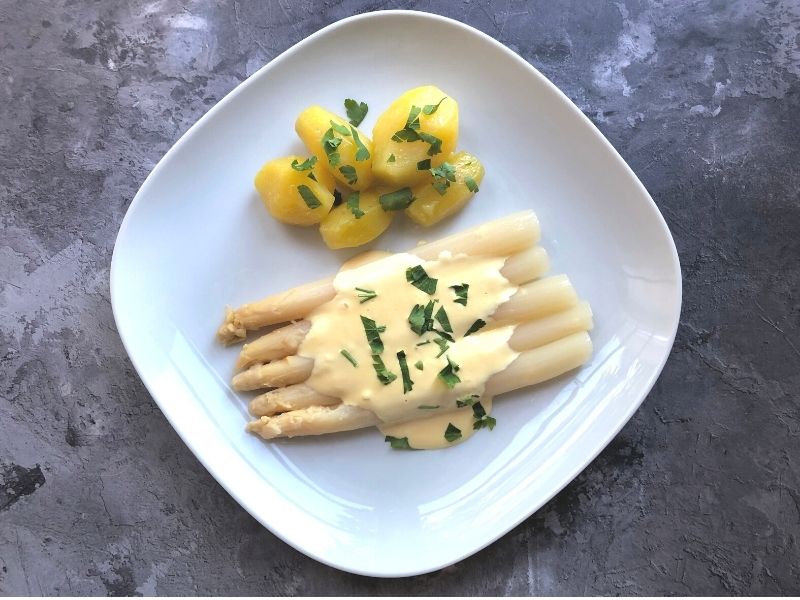 You can later make a fine asparagus soup from the asparagus water and the peelings. But the best thing is: asparagus is a delicacy and becomes a gourmet delight with this delicious sauce. You can make your own hollandaise sauce. You'll see: homemade hollandaise is in a different league to the ready-made product from the supermarket.
How healthy is asparagus?
Asparagus is healthy and low in calories. It also has a diuretic effect, lowers blood sugar levels and has other health-promoting properties.
The asparagus season starts at the end of March and ends on St. John's Day in June. Imported asparagus is usually found as green asparagus.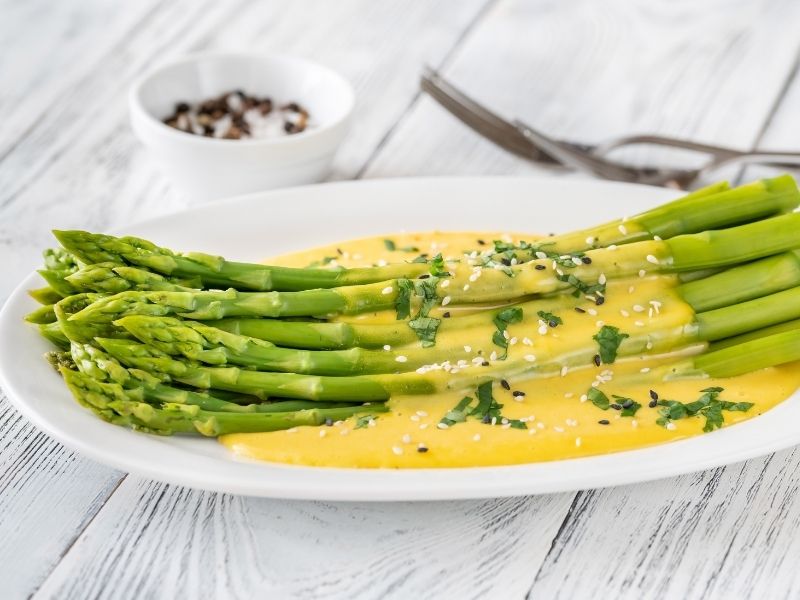 The right asparagus cooking pot
If you want to prepare our delicious sauce, you must cook the asparagus in water and not in a special asparagus pot. Otherwise the asparagus water will be missing, which finally gives the refined sauce the final touch. So use a normal saucepan that is wide or high enough.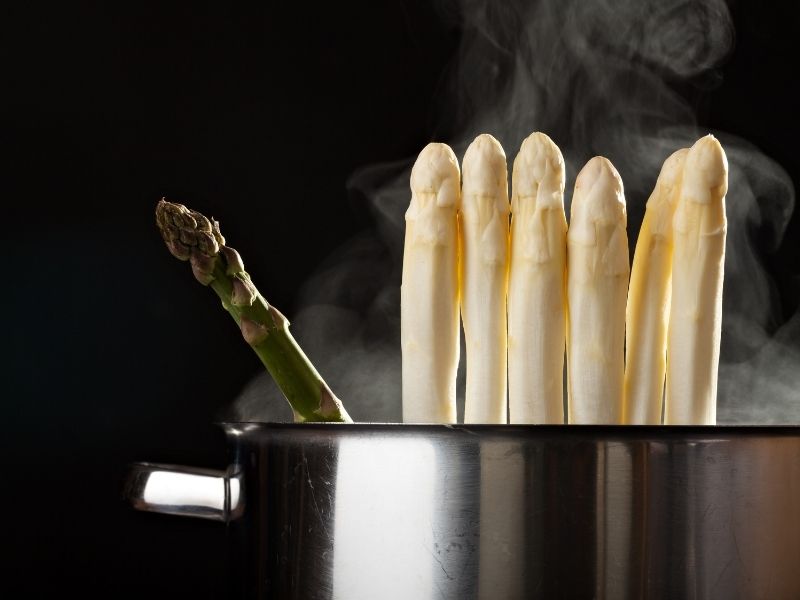 Whip the Hollandaise sauce properly
Originally, a Hollandaise sauce consisted only of clarified butter, egg yolks, a little water, salt and pepper. As eggs were expensive, other ingredients such as roux were often used. Nowadays, eggs are affordable again and make a good base.
The secret to a good cream hollandaise sauce is patience when whipping. Add the melted butter to the egg yolks in a small stream and whisk constantly. This is the only way to give the asparagus sauce the desired creaminess.
The water for the water bath should not be boiling, but just before boiling point.
Also try our Delicious German asparagus cream soup and get tips on How to cook asparagus.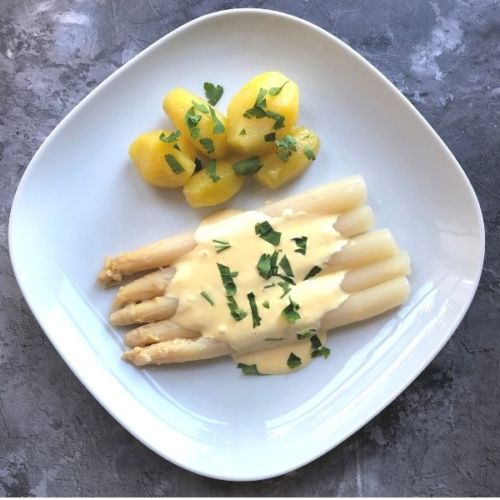 White asparagus with a creamy hollandaise
A classic recipe for white asparagus with a buttery sauce. Perfect as a side dish but also perfect as a quick main course. Try it right now.
Ingredients
500

g

asparagus

2

egg yolks

50

ml

rich cream

100

g

butter

1

squeeze of lemon juice

Salt & pepper

1

tbsp

parsley

1

pinch

nutmeg
Instructions
Wash the asparagus and peel from the head to the end. Cut off the ends.

Put the asparagus in a pot and cover with water. Add salt and a pinch of sugar and cook for about 10 minutes until al dente. Be careful: asparagus will cook in the water and quickly become mushy. To enhance the flavour of the asparagus, add a fresh stalk of lovage to the cooking water.

When the asparagus is cooked, pour off 350 ml of the asparagus water. In a bowl, mix the egg yolks with the asparagus water and whisk together. Place the bowl in a bain-marie and heat everything while stirring. Now slowly add the melted butter, whisking the mixture constantly. Be patient and beat the sauce until it is creamy. Then take it off the heat.

Now taste and season with salt, nutmeg and a little pepper. Add a squeeze of lemon juice. Then put the sauce aside. Whip the cream until slightly stiff and fold it into the sauce.

Arrange the asparagus on a platter, pour a little sauce over it and garnish with parsley. Serve the rest of the cream and hollandaise sauce separately.
Nutrition
Serving:
1
yield
Calories:
277
kcal
Carbohydrates:
6
g
Protein:
5
g
Fat:
27
g
Saturated Fat:
17
g
Polyunsaturated Fat:
1
g
Monounsaturated Fat:
7
g
Trans Fat:
1
g
Cholesterol:
165
mg
Sodium:
172
mg
Potassium:
287
mg
Fiber:
3
g
Sugar:
3
g
Vitamin A:
1968
IU
Vitamin C:
8
mg
Calcium:
58
mg
Iron:
3
mg
Share on Facebook
Share on Twitter
Share by Email
All content 100% human written! Image credits: Unless otherwise stated: ©Angela Darroch, ©Pro Stock Media via Canva.com or ©Unsplash.com. As an Amazon affiliate, I earn from qualifying purchases.