Grilled Avocado with Tomato Salsa
These grilled avocados are tangy and taste great. You can enjoy them with fresh bread or serve them as a side dish. For our recipe, it is best to buy avocados that are not too soft, they may still be a little hard. They should feel a little soft and easy when you press on.
You can vary the spiciness of the sauce to suit your taste. The more Tabasco you use, the spicier it will be.
Replace Worcester sauce
If you don't have Worcester sauce at home or want to stay purely vegan, you can also replace it with soy sauce. The original Worcester sauce from England contains fermented anchovies and is therefore not vegetarian or vegan. However, you can find many animal product-free alternatives in supermarkets nowadays.
Have you tried our Easy peasy grilled Pumpkin, Homemade Monkeygland Sauce or Turkey Burgers with Monkeygland Sauce?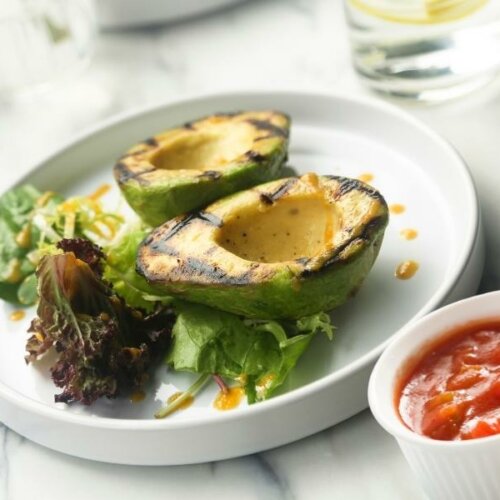 Spicy grilled avocado with tomato salsa
Our grilled avocados are tangy and aromatic. Lime, coriander and a little spiciness from the Tabasco sauce go perfectly with the avocado. Try it out.
Ingredients
Instructions
Wash the tomatoes, remove the stalks, skin them as desired and cut the flesh into small pieces. Wash the coriander, shake it dry and chop it coarsely.

Then mix Tabasco, Worcester sauce and olive oil into a sauce and season with salt and sugar. Then add the chopped coriander and diced tomatoes to the sauce.

Wash the avocados under warm running water and rub the skin dry with a paper towel. Cut the avocados in half and remove the pits.

Squeeze half the lime and collect the juice. Brush the avocado halves with lime juice and oil and season with salt and pepper.

Finally, place the avocado halves on a greased, not too hot grill with the cut sides facing down. Alternatively, you can use a grill pan.

After 4 to 5 minutes, turn the halves over and serve with the spicy tomato salsa.
Share on Facebook
Share on Twitter
Share by Email