Green Salad with Butternut, Feta and Lentils
Whether you are looking for a healthy side dish or an easy main meal, this vegetarian and gluten-free Butternut, Feta and Lentil Salad is a delicious and nutritious one that won't disappoint!
Healthy lentil salad
The addition of lentils in this butternut squash feta salad ensures an added boost of protein to your vegetable-packed meal while not overpowering the dish. Lentils are also low in calories and rich in iron and folate. Not to mention that they provide great fibre to your diet which has been linked to a reduction of risk of heart disease!
Apart from the health and nutritional benefits, this healthy salad is very straightforward and simple to make. And if you are pressed for time, you can also easily prepare your butternut in advance and simply add it to this recipe when needed.
If you'd like to learn how to make baked butternut, you can have a read of my Baked Butternut Recipe here. 
Top up your salad
The simplicity of this butternut salad means that you can easily create your own variation of it by adding additional complementary ingredients such as cold roast chicken pieces or slices, drizzled with a favourite salad dressing such as honey and mustard dressing.
This Butternut, Feta and Lentil Salad is perfect for the fall bounty of butternut squash and can be made in a little over 40 minutes, making it a great mid-week meal when you are on the go or just not in the mood for an elaborate meal.
Also try Roasted Brussel Sprouts with Bacon, pumpkin soup or the Healthy kala chana salad.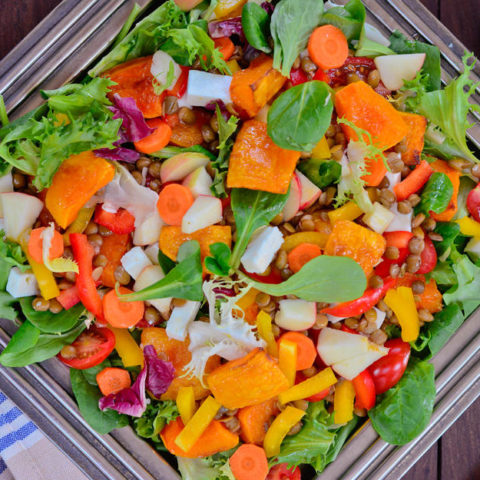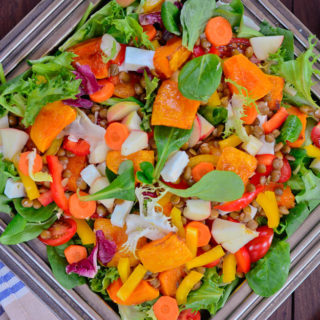 Butternut, Feta and Lentil Salad
This lentil salad with squash is packed with proteins, vitamins and fibres. This quick meal comes with buttnut squash, brown lentils, greens, paprika and spinach. Try my recipe.
Ingredients
½

butternut

peeled and cubed

2

tblsp

honey

200

g

fresh lettuce

100

g

baby spinach

250

ml

brown lentils

tinned , rinsed and drained

125

g

cherry tomatoes

4

baby carrots

sliced

½

apple

finely chopped

150

g

peppers

red, yellow or green, chopped

100

g

feta cheese
Instructions
Preheat oven to 190° C/ 375° F).

Place the cubes butternut in a roasting dish, drizzle with olive oil and roast until cooked, about 35 minutes. Then drizzle the honey over the warm butternut and toss to coat well. Set aside to cool.

Arrange the lettuce and spinach on a serving platter and top with the remaining ingredients, ending with the butternut and feta cheese.

Season and serve with the dressing of your choice.


Share on Facebook
Share on Twitter
Share by Email