Dark Chocolate Hummus Recipe
Chocolate hummus is creamy, sweet and, above all, chocolaty. This surprisingly delicious version of the popular savoury hummus is easy to make yourself. Give it a try and spoil yourself and loved ones with this dark chocolate hummus dessert.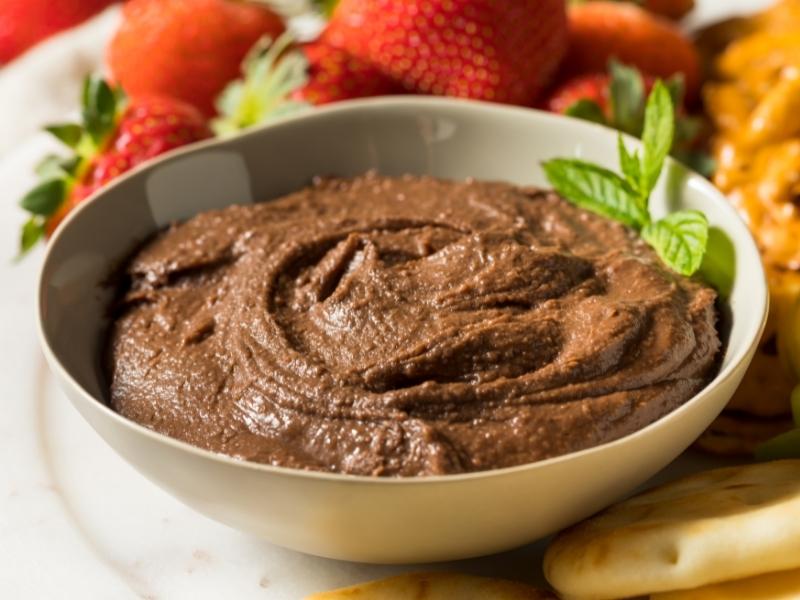 What to use chocolate hummus for?
In oriental cuisine, hummus is a very popular savoury meal, traditionally eaten with pita, especially for breakfast. This deliciously sweet reinterpretation of the classic is a vegan chocolate cream that is suitable as a spread, dessert, dip or biscuit filling.
This treat is not a only a vegan chocolate hummus, but also low in calories. Plus, it's very quick and easy to prepare.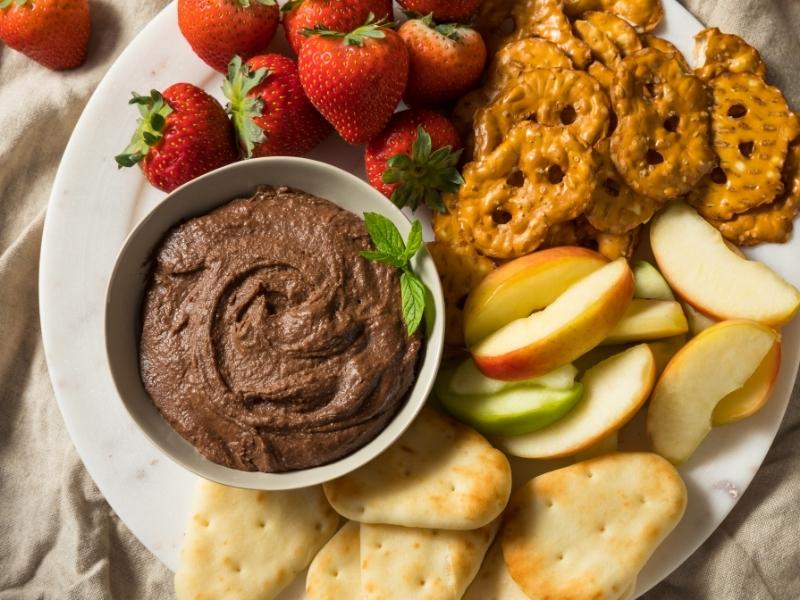 Ingredients for a chocolate hummus
Chickpeas are healthy
Because of their high vegetable protein content, chickpeas are an excellent source of protein for vegetarians and vegans and are also good for the slim line. 100 g of cooked chickpeas contain around 7 g of protein and 15 g of complex carbohydrates, but only 3 g of fat and 130 calories.
In addition, they are rich in satiating dietary fibre, amino acids, vitamins such as vitamin B6 and C, and minerals such as magnesium, iron and folic acid. The combination of protein and fibre also helps to balance blood sugar levels.
Chocolate hummus without dates
Dates are a traditional and popular way to sweeten something naturally. If you don't like dates, you can use other additives like:
Cane sugar
Maple syrup
Coconut blossom sugar
The slightly nutty flavour of the chickpeas harmonises perfectly with the intense chocolate flavour and vanilla aroma.
Tips for a great chocolate hummus
1. For sweetening, in addition to maple syrup or another sweetener such as agave juice, dates, which are very popular in Arab countries, go perfectly with the hummus.
2. The cocoa powder should have as high a cocoa content as possible and thus many healthy ingredients such as iron.
3. For an even more intense chocolate flavour, you can also melt 10 to 20 g of dark chocolate with a cocoa content of at least 85 percent in a water bath and add it to the cream.
4. Instead of vanilla soy milk, you can also use oat milk or almond milk.
Serving suggestions for your chocolate hummus
You can serve the chocolate hummus garnished with almond slivers and chocolate shavings as a low-calorie alternative to a chocolate mousse.
Refine the chocolate dessert with a dash of orange liqueur. Fresh fruit and chopped nuts go well with this.
Use as a dip for fruit, wholemeal crackers, rice or corn wafers.
If you spread the chocolate cream on two wholemeal biscuits and fold them together, you create a delicious biscuit filling.
As a spread, chocolate hummus replaces commercial nut nougat or chocolate creams, which are unhealthy fatteners due to their high sugar and fat content.
Shelf life
Freshly made chocolate hummus should be used within 2 to 3 days. You can also freeze it and keep it for several months.
Also try White Meringue Dessert with Strawberries, Cream-Filled Chocolate Cake or Chocolate Mint Brownies.
Amazing Chocolate Hummus for Dessert
The creamy-sweet chocolate hummus is a healthy treat. You can use it in many ways, as a spread, filling for baking or as a sweet dip. Try it out.
Ingredients
1

can of

chickpeas

265 g / 15 oz drained weight

40

g

ground almonds

120

ml

vanilla soy milk

30

g

cocoa powder

5

dates

pitted

2

tbsp

maple syrup

1

tsp

cinnamon

1

pinch

of salt

1

tsp

vanilla extract

optional
Instructions
Rinse the chickpeas in a sieve under running water and drain.

Then put them in a bowl with all the other ingredients. Blend everything in a blender or with a hand blender until the chocolate mixture has a creamy consistency.

If you add fresh chocolate, melt it in the microwave or in a bain-marie and stir it in at the end.

Chill your chocolate hummus or serve it at room temperature.
Nutrition
Serving:
1
yield
Calories:
130
kcal
Carbohydrates:
20
g
Protein:
4
g
Fat:
6
g
Saturated Fat:
1
g
Polyunsaturated Fat:
0.04
g
Monounsaturated Fat:
0.3
g
Sodium:
3
mg
Potassium:
198
mg
Fiber:
5
g
Sugar:
12
g
Vitamin A:
2
IU
Vitamin C:
0.1
mg
Calcium:
50
mg
Iron:
2
mg
Share on Facebook
Share on Twitter
Share by Email