Layer Ice Cream Cake: choc, raspberry & vanilla
This smooth ice cream cake is a hit in summer time when temperatures are rising. The three layers of creamy chocolate ice cream, fruite raspberry sorbet and vanilla ice cream are completed by a base of delicious amarettini. Try this ice cake recipe at home.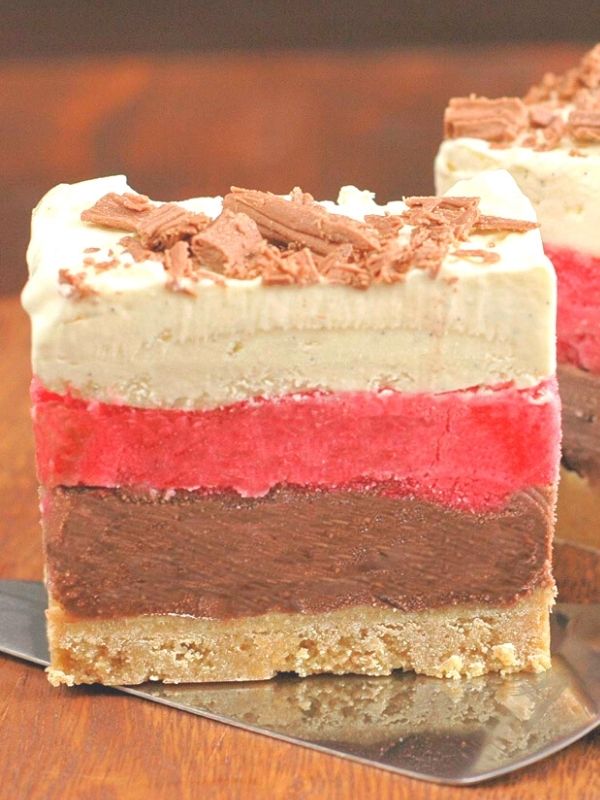 Ways to crush the Amarettini
The amarettini for the base must be finely crumbled. You can achieve this in the following ways:
Put the small biscuits in a food processor and grind them until they are crumbly.
Put them in a large bag, preferably with a zip-top, place a kitchen towel on top of the bag and hit it a few times with a rolling pin or hammer.
Homemade ice cream
The recipe is most delicious if you simply make the different types of ice cream for the layer ice cake from scratch.
Homemade Dark Chocolate Ice Cream
Fruchtiges Himbeersorbet
Classic Vanilla Ice Cream
You can also change the flavours to create your own colourful cake.
Before serving your ice cake, take it out ofd the freezer and let it sit at room temperature for 1 or 2 minutes. This way it becomes softer and easy to cut.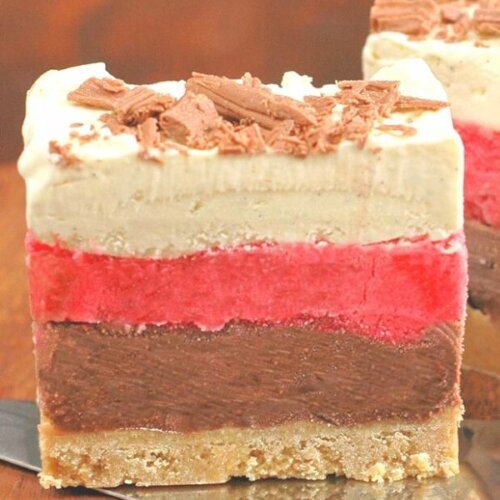 Ice Cream Cake for hot Summer days
This refreshing ice cream layer cake has everything you could wish for: Chocolate, raspberry and vanilla. A real treat. Try our ice cake recipe now.
Ingredients
Instructions
Line a baking tin with baking parchment.

Crush the biscuits to fine crumbs in a food processor. Put the crumbs in a large mixing bowl and add the melted butter, stir thoroughly.

Tip them into your baking tin, pressing down firmly with a spoon. Place in the fridge until set.

Layer 1: Spoon the chocolate gelato over the crumb base, pressing down evenly.

Place in the freezer until set.

Layer 2: Repeat last two steps with the raspberry sorbet.

Layer 3: Repeat again with the vanilla ice cream.

Cover with baking parchment and leave in the freezer overnight to firm up.

When you are ready to serve the gelato cake, remove the parchment, place a serving plate on top, invert the pan and then invert again on to another plate so that it sits base-down. Serve in slices.
Nutrition
Share on Facebook
Share on Twitter
Share by Email