Homemade classic Prawn cocktail
Looking for a delicious seafood dish to impress your guests? Look no further than the prawn cocktail! This classic appetizer is easy to make and always a crowd pleaser. In this blog post, we will teach you how to make a prawn cocktail that is sure to please.
This juicy little salad consists of shrimp that are cooked and then chilled, along with a sauce made from mayonnaise, ketchup and horseradish. While prawn salad is often served as an appetizer, it can also be enjoyed as a main course or even a light snack.
The history of the famous appetizer
The dish has an unknown history, but most people believe that it was created by a 19th-century miner from California who first combined oysters in a glass with a sauce, although the Golden Gate Hotel in Las Vegas was the first to serve a 50-cent shrimp cocktail in 1959.
The dish was served in a tulip glass with cocktail sauce. Cocktail sauce is usually made of ketchup and horseradish or ketchup with mayonnaise. This famous dish became particularly popular during the 1960s to 1990s.
Shrimp cocktail is still one of the most common appetizers today, and it's often served with a range of dipping sauces.
Variations in flavour
The flavor of the dish can be further enhanced with the addition of other ingredients such as
Worcestershire sauce
Tabasco sauce
horseradish
Chili or hot pepper
Instead of shrimps, you can also use different kinds of seafood, such as crab meat, lobster or even surimi.
The prawn cocktail sauce is a classic and goes with differnen kinds of fresh salads.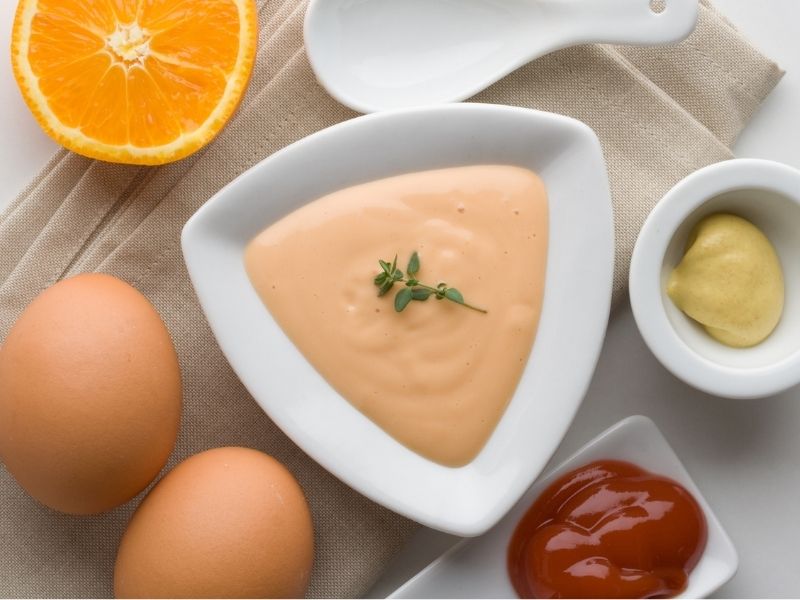 How to choose the right prawns
When choosing prawns for a shrimp cocktail, look for fresh, uncooked prawns that are pink and firm. If you are using frozen prawns, make sure they are thawed before using. You will also need to devein the prawns before adding them to the recipe.
Keeping leftovers
As freshly mayonnaise contains raw egg yolk, left over shrimp cocktail should be eaten immediately. If you use industrial mayonnaise, you can keep it in the fridge for 1 day. Prawn cocktail sauce is not suitable for freezing.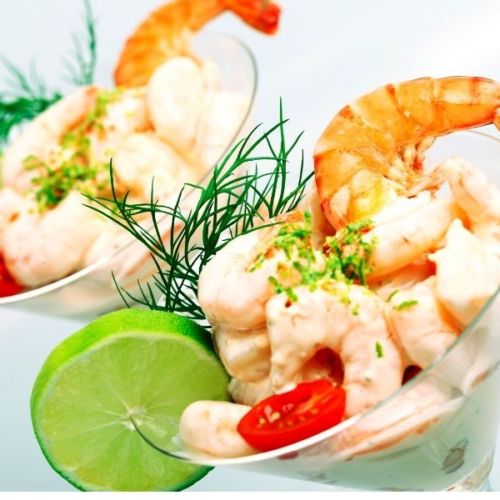 How to make a delicious Prawn Cocktail
Looking for a delicious starter to impress your guests? Look no further than this prawn cocktail recipe. Simple and easy to follow. Try it!
Ingredients
400

gram

prawns

cooked and peeled

2

tablespoons

mayonnaise

1

tablespoon

tomato ketchup

1

teaspoon

lemon juice

salt and pepper

to taste

4

lettuce leaves

to serve

½

cucumber

diced, optiomal

½

tsp

Worcestershire sauce

optional
For homemade mayonnaise
1

egg yolk

½

tb

mustard

mild

130

ml

sunflower oil

1

tsp

lemon juice

or white wine vinegar 
Instructions
To make a prawn cocktail, start by making the cocktail sauce. In a small bowl, combine ketchup and horseradish (or ketchup and mayonnaise). Stir until smooth. Set aside.
If you make your own mayonnaise:
Start by mixing together egg yolks, lemon juice, mustard, and salt. Then, slowly add oil to the mixture, whisking constantly. As the oil is incorporated, the mayonnaise will begin to thicken and take on a creamy texture. Season to taste and mix it with the jetechup, as stated above.

Next, fill a large pot with a little water and bring to a boil. Add the prawns and cook for two minutes, or until cooked through.

Drain the prawns and place them in a large bowl. Add the cocktail sauce and stir until coated. Serve immediately. Enjoy!
Notes
The amount of ingredients are measured for a starter dish. If this recipe is for a main course, double the ingredients.
Share on Facebook
Share on Twitter
Share by Email