Raspberry and white Chocolate Cake – no bake
This Raspberry and White Chocolate Cheesecake is a delicious and easy to make dessert. It is perfect for any occasion! This wonderfully coloured cheesecake is filled with a creamy white chocolate and raspberry filling, and topped with fresh raspberries. It's sure to be a hit with everyone!
Tips for a perfect white choc and raspberry cheesecake
Choose a good quality white chocolate for your cheesecake- it will make all the difference in the final flavor.
Make sure your cream cheese is at room temperature before beginning to mix the ingredients, for a smoother texture.
Add a little bit of lemon juice to the mixture to help balance out the sweetness of the white chocolate.
Use fresh raspberries to top your cheesecake for the best flavor and color.
Chill your cheesecake thoroughly before serving for the best texture.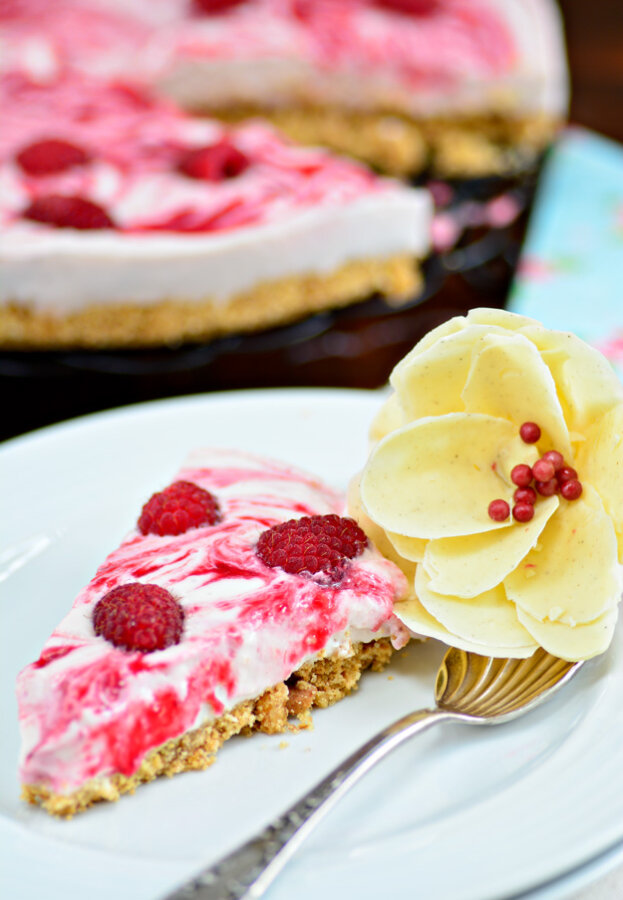 If it has to be darker chocolate try this pretty no bake chocolate keto cheesecake.
How to keep the cake
To store your Raspberry and White Chocolate Cheesecake, make sure to wrap it tightly in plastic wrap or aluminum foil. You can also place it in a resealable bag before placing it in the fridge.
The cheesecake will last in the fridge for up to four days. When you're ready to serve, let the cheesecake sit out at room temperature for about 30 minutes before slicing.
Also try Cherry Bakewell Tart, Fresh Lemon Biscuit Cake, no-bake or Incredible French almond sponge cake.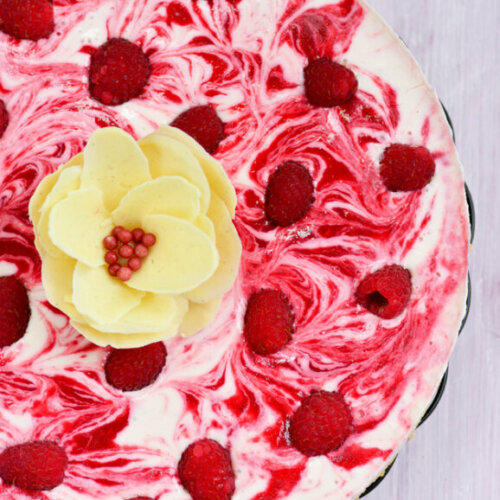 No-bake Raspberry and White Chocolate Cheesecake
This amazing white chocolate cheesecake with raspberries will spoil yourself and your loved ones.
Ingredients
For the base
185

g

digestive biscuits

45

g

butter

melted

30

g

crushed praline

optional
For the cheesecake
300

g

fresh raspberries

300

ml

Greek Yogurt

150

g

soft cheese

Philadelphia

45

g

icing sugar

100

g

white chocolate

melted

3

leaves

fine leaf gelatine
Instructions
Grease a 23 cm round spring-release cake tin.
To make the base
Crush the biscuits until they resemble fine breadcrumbs. Add the melted butter and crushed praline if using. Mix well and pour into your cake tin.

Using the back of a spoon, press down hard until you have a smooth, solid biscuit base. Refrigerate until cheesecake mixture is ready.
To make the cheesecake mixture
Puree 225 g of the raspberries (the rest are for decoration) in a blender, then press through a sieve. Reserve half of the puree; return the rest to the blender, add the yogurt, cream cheese, icing sugar and melted chocolate and blend until well mixed and evenly coloured.

Soak the gelatine leaves in a bowl of cold water for 4 minutes. Remove from the water and squeeze out any excess water. Place in a saucepan over a gentle heat until melted.

Add the melted gelatine to the cheesecake mixture and blend again until well incorporated. Pour the cheesecake mixture into your cake tin.

Spoon in the reserved puree and swirl with a knife to make a marbled pattern. Place he remaining raspberries on top and chill for 3 – 4 hours.
Share on Facebook
Share on Twitter
Share by Email