This Peri Peri Sauce recipe is not for the faint-hearted, but if you are a chili fan then you have to try this. Peri Peri sauce or (Piri Piri sauce) was brought to South Africa by the Portuguese and has since been popularised by Nando's. 
Peri Peri sauce makes a great marinade for roast chicken, and another very popular dish in South Africa is Peri Peri chicken livers.
In our recipe, we use the very hot Scotch Bonnet chillies because they are readily available in most places. If you can get African Bird's Eye chillies, use these. They are used in the original South African recipe.
Did you try our Monkeygland Sauce or Honey Glazed Christmas Ham.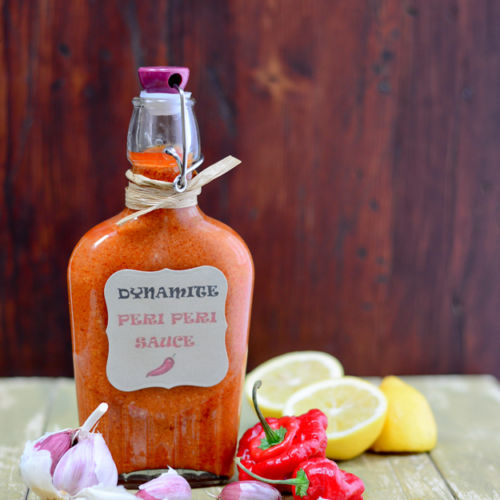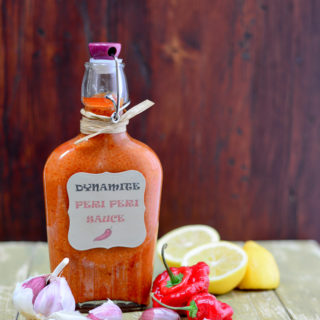 Recipe for Basic Peri Peri Sauce
This yummy chili peri peri sauce is perfect for all lovers of hot food. You can easily make it yourself, instead of buying it. Try it out.
Ingredients
200

g

Scotch Bonnet chillies

deseeded

1

head of garlic

(about 12 cloves), peeled

250

ml

sunflower oil

80

ml

white wine vinegar

2

tblsp

paprika powder

2

lemons

Juice of

2

tsp

salt

2

tsp

sugar

250

ml

water

25

ml

cornflour
Instructions
Place all ingredients except for the water and cornflour into a mini blender and pulse together until well combined.




Pass this mixture through a sieve and into a pan. Bring to the boil.

Mix the cornflour and a small amount of the water to a thick paste.




Add this paste and the remaining water to the chilli mixture and continue to stir until your sauce has thickened.




Remove from the heat and cool completely.




Place your sauce into a sterilised bottle and store in the refrigerator.
Share on Facebook
Share on Twitter
Share by Email